Detail
Yamaha press releases on our motor sports racing activities
Supporting Young Riders in the Asia and ASEAN Regions
13 Riders from 7 teams to Participate in Asia Road Racing Championship 250cc Class
February 6, 2015
SEPANG, MALAYSIA and IWATA, JAPAN, February 5, 2015 – Yamaha Motor Co., Ltd. (Tokyo:7272) announced today that it will enter the newly-established 250cc class of the Asia Road Racing Championship (ARRC) in collaboration with the local Group companies in the Asia and ASEAN regions. Thirteen riders from seven teams (two teams each from Indonesia and Thailand, and one each from Australia, South Korea, and Hong Kong) will ride Yamaha's global model, the YZF-R25, in a competition to become the first ever champion of this series.
Entry in the 250cc class of the ARRC is one of Yamaha Motor's measures to provide (supplement) a step-up structure, an area which has long been considered lacking in race promotion for the Asia and ASEAN regions. Yamaha Motor positions this measure as an important process for giving young riders who have distinguished themselves in domestic races a chance to challenge themselves further, as well as creating an achievable step to the next level. In addition, Yamaha are working on creating further opportunities in this area by offering entry to the All Japan Road Race Championship or wild card entry to the Moto2 class of the World Championship Grand Prix. We also plan to gradually roll out this kind of initiative that supports young riders worldwide.
Details of the challenge by the Yamaha riders across all six rounds of the series will be posted on the specially-established ARRC site (in Japanese and English) accessible from the race information page of Yamaha Motor's website.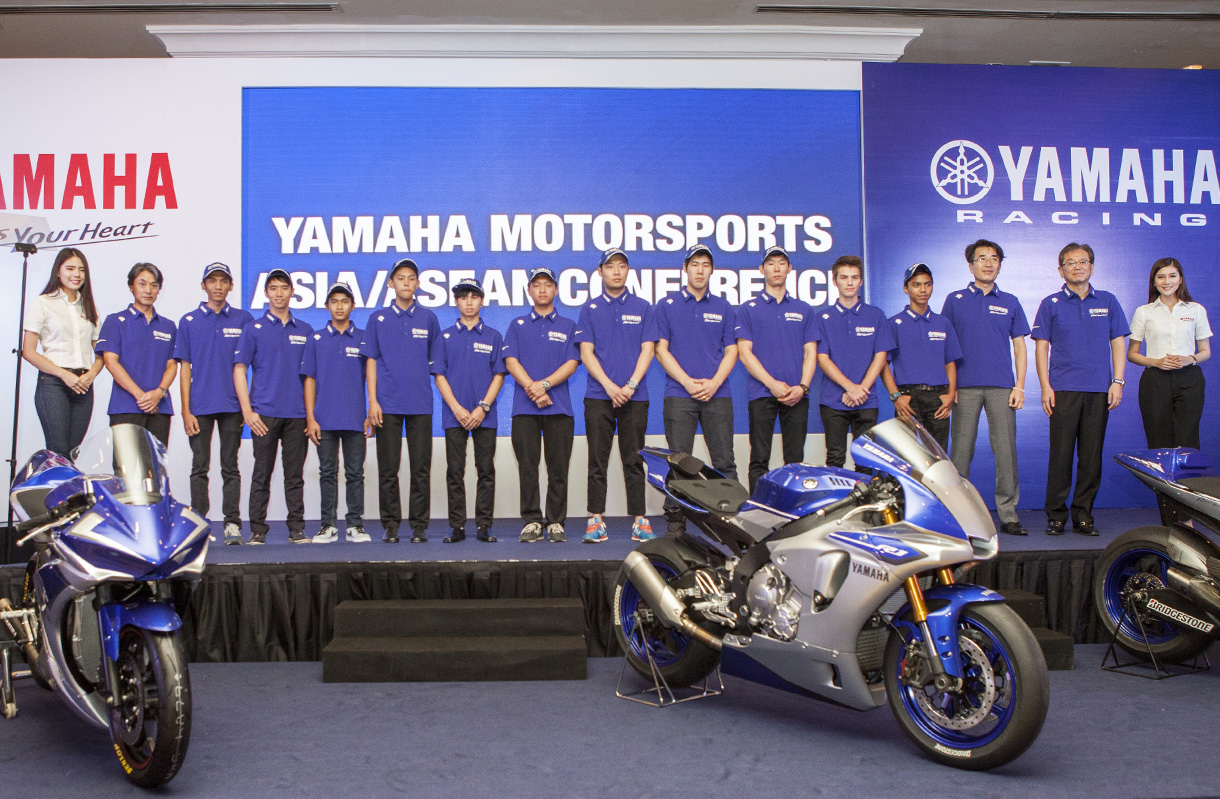 List of Teams Participating in the 250cc Class
of the 2015 Asia Road Racing Championship Series
Team

FINSON Motorsport (Australia)

Riders

Brandon Paul Demmery

Kasma Daniel Bin Kasmayudin

Nationality

Australian

Malaysian

Born

Sep. 7, 1997

Feb. 9, 2000
Team

NOW YAMAHA MLT RACING TEAM CHINA (Hong Kong)

Riders

Meng Xing Bin

Li Zheng Pang

Nationality

Chinese

Born

Nov. 28, 1995

Dec. 1, 1988
Team

Yamaha Racing Indonesia (Indonesia)

Riders

Sigit Purno Harjono

Imanuel Putra Pratna

Galang Hendra Pratama

Nationality

Indonesian

Born

Mar. 1, 1988

Sep. 5, 1996

Mar. 10, 1999
Team

Yamaha Tunggal Jaya Racing Team (Indonesia)

Riders

Muhamad Hasyim Zaki Adil

Rusman Fadhil

Nationality

Indonesian

Born

Oct. 4, 1995

Feb. 18, 1991
Team

TEAM YSK KOREA (South Korea)

Riders

Minseok Baik

Minseok Baik

Nationality

Korean

Born

Dec. 25, 1988

Oct. 1, 1984
Team

Yamaha Thailand Racing Team (Thailand)

Riders

Peerapong Boonlert

Peerapong Loiboonpeng

Nationality

Thai

Born

Oct. 26, 1998

Apr. 24, 1995