Detail
Yamaha press releases on our motor sports racing activities
Yamaha and Jorge Lorenzo Confirm New Two-Year Agreement
August 7, 2014
Yamaha Motor Co., Ltd and Movistar Yamaha MotoGP rider Jorge Lorenzo are delighted to announce that they have signed a new two-year agreement that sees the Mallorcan complete the Movistar Yamaha line up for the next two seasons.
The agreement realises Lorenzo's wish to continue his premier class career with Yamaha, extending the relationship from seven to nine years. Both Yamaha and Lorenzo are confident that the partnership has the potential to deliver a third title and will continue to work towards this goal.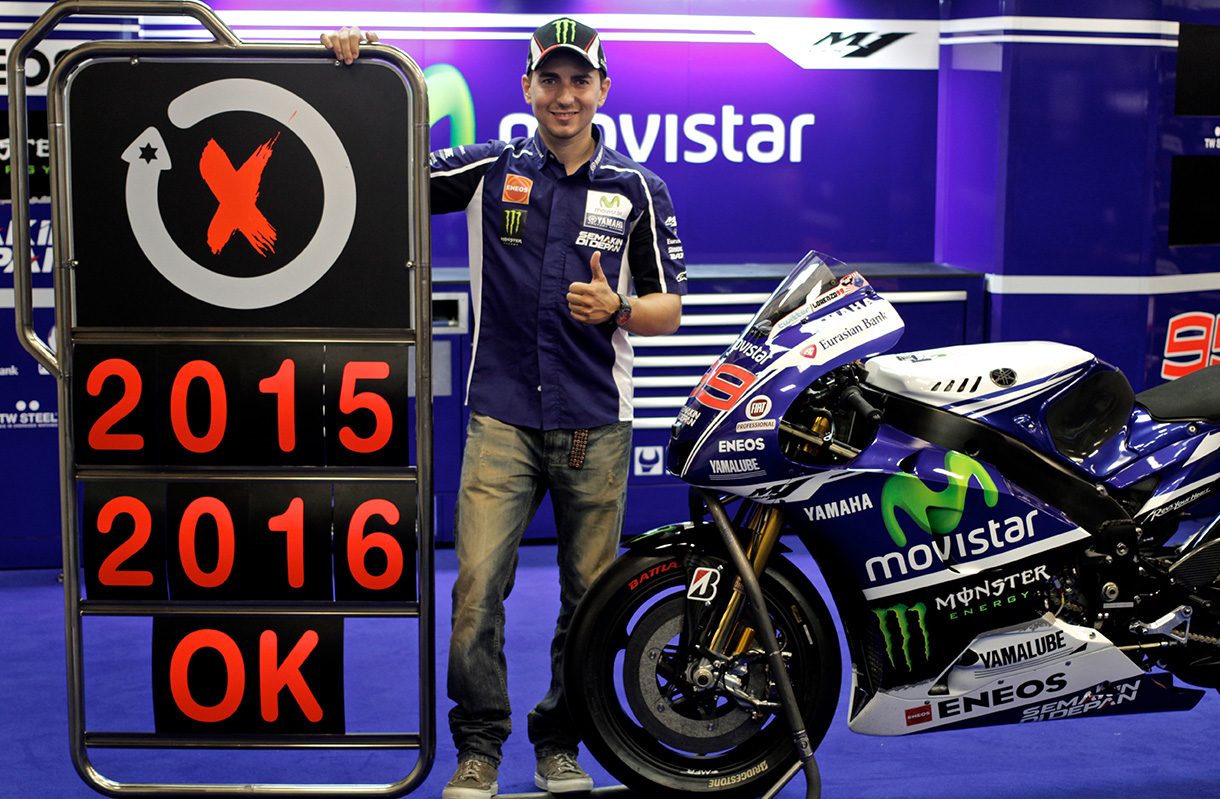 Lin Jarvis
"I am very happy we have reached an agreement for Jorge to continue as a Movistar Yamaha MotoGP rider. The new agreement extends Jorge's seven-year partnership with Yamaha. He started with us as a rookie back in 2008 and together we achieved many great results including 31 GP victories and two MotoGP Rider World Champion titles in 2010 and 2012. The 2014 season has been a tough one for Jorge so far but I am hoping that the confirmation of this new agreement will give him the peace of mind to be able to focus 100% of his energy on the remaining races. Last year we saw what he was able to do when the going was tough and he was fighting back from mid-season injuries so we know that the potential is there for a strong second half to the 2014 season. For 2015 and beyond we have no doubt that Jorge will be a strong title contender and we will do our very best to provide him with the materials and the support he needs to be able to realize our shared ambitions."
Jorge Lorenzo
"I am very happy to finally be able to make this announcement. It is a relief to be able to now completely focus on the remainder of the 2014 season in the knowledge that our relationship will continue for the next two seasons. It has always been my wish to continue my career with Yamaha; I strongly believe we can fight for a third title together. This season has been very challenging after a difficult start, however we will continue to take it race by race, giving 100% until Valencia. I want to thank Yamaha for their continued belief in me and all the Yamaha fans around the world who continue to support me. After the summer break I'm excited to be back at Indy with my team and focused again on riding."