Detail
Yamaha press releases on our motor sports racing activities
Round 2 of the 2014 FIM Endurance World Championship The 37th "Coca-Cola Zero" Suzuka 8 Hours Endurance Road Race
"Monster Energy Yamaha with YSP" team takes 4th place Three Yamaha teams finish in top ten
July 28, 2014
The 37th "Coca-Cola Zero" Suzuka 8 Hours Endurance Road Race was held on July 27, 2014 in Suzuka City, Mie Prefecture. In the race, the "Monster Energy Yamaha with YSP" team completed 171 laps on bike #07 to place 4th overall and the highest among the Yamaha teams. Also, the "Yamaha Racing GMT94 Michelin" team currently competing in the FIM Endurance World Championship finished 9th on their #94 bike and the "Monster Energy Yamaha - YART" team rode the #7 bike to finish 10th. All three main Yamaha teams finished in the top ten.
Just before the start of the race, large drops of rain began to fall, causing the first delayed start in the history of the Suzuka 8 Hours. The race finally got underway about one hour behind schedule at 12:35 PM and the race length was shortened accordingly to 6 hours and 55 minutes.
The weather had improved at the time of the delayed start, and Broc Parkes on the #7 machine got a good start to hold 2nd position in the early running, but he eventually dropped to around 7th position by the end of his stint when he turned the machine over to his teammate, Josh Brookes. After that, as the weather changed time and again to make for difficult running conditions, Brookes and the team's third rider, Katsuyuki Nakasuga, ran at a quick and consistent pace to work their way up through the field. At one point, the team was running in 4th position, but minor machine trouble while Parkes was on the 91st lap dropped him back to 8th position. Afterwards, during Nakasuga's second stint, he was able to climb back into 4th position and hold it until the checkered flag.
As for Kenny Foray, Mathieu Gines and David Checa riding the #94 bike, they had dropped to 26th position by the 23rd lap of the race but succeeded in climbing back steadily from there to finish 9th. The #7 team of Tommy Bridewell, Wayne Maxwell and Rick Olson were also able to run the distance at a steady pace to finish in 10th place.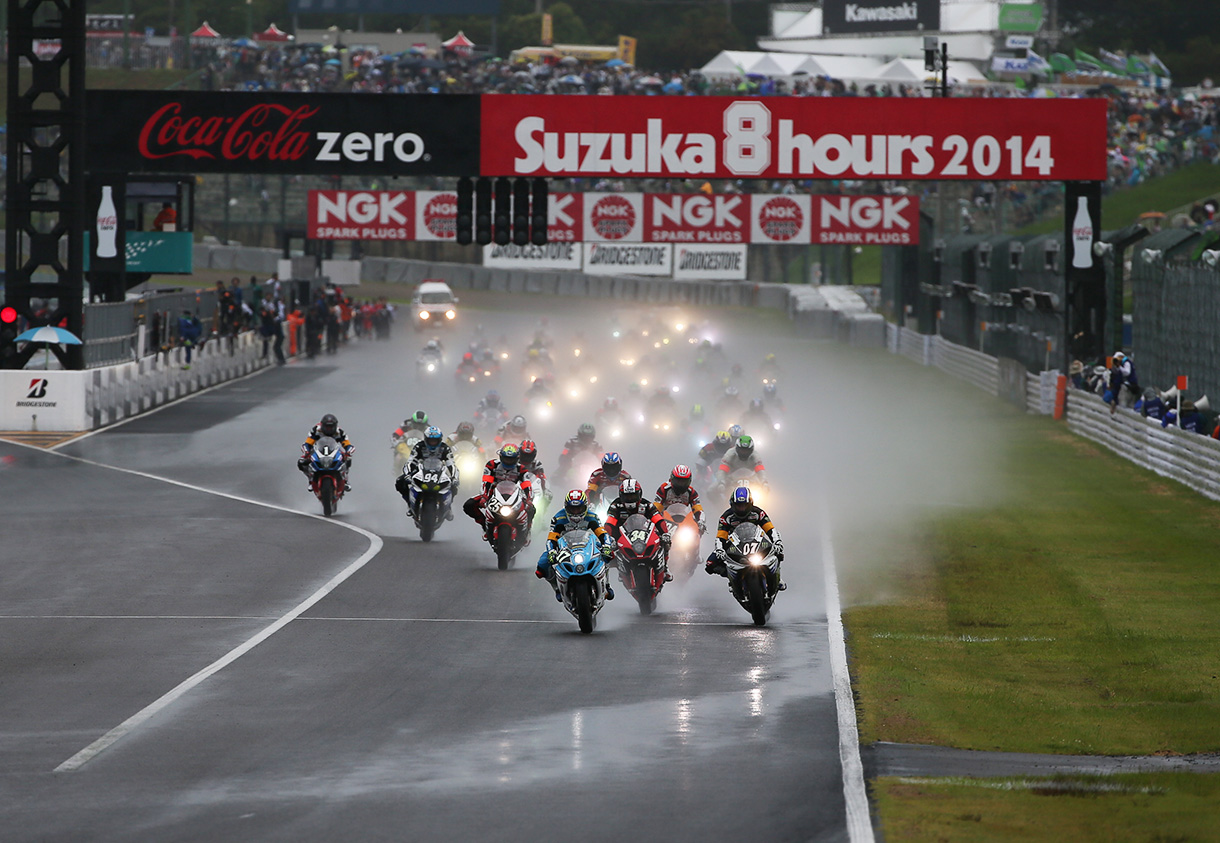 Parkes took a good position at the start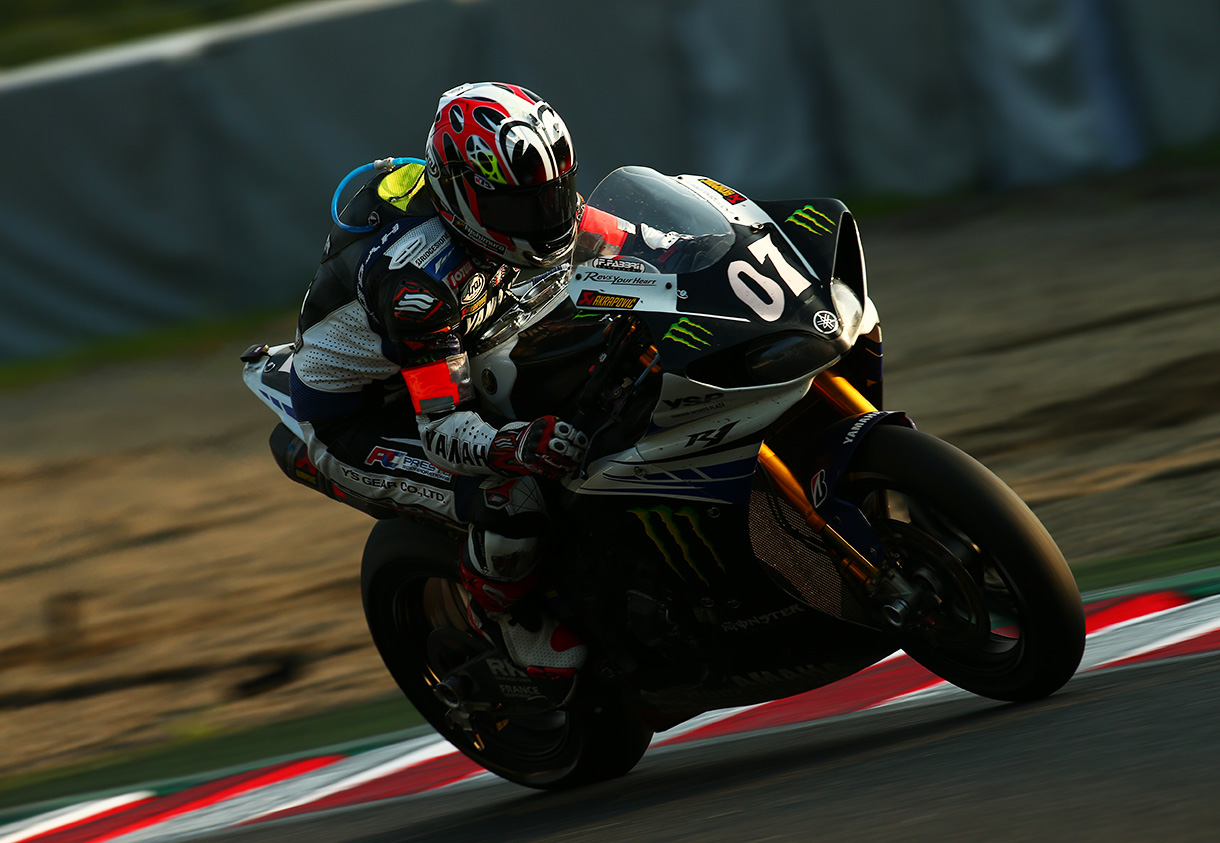 Nakasuga helped the team advance to place among the leaders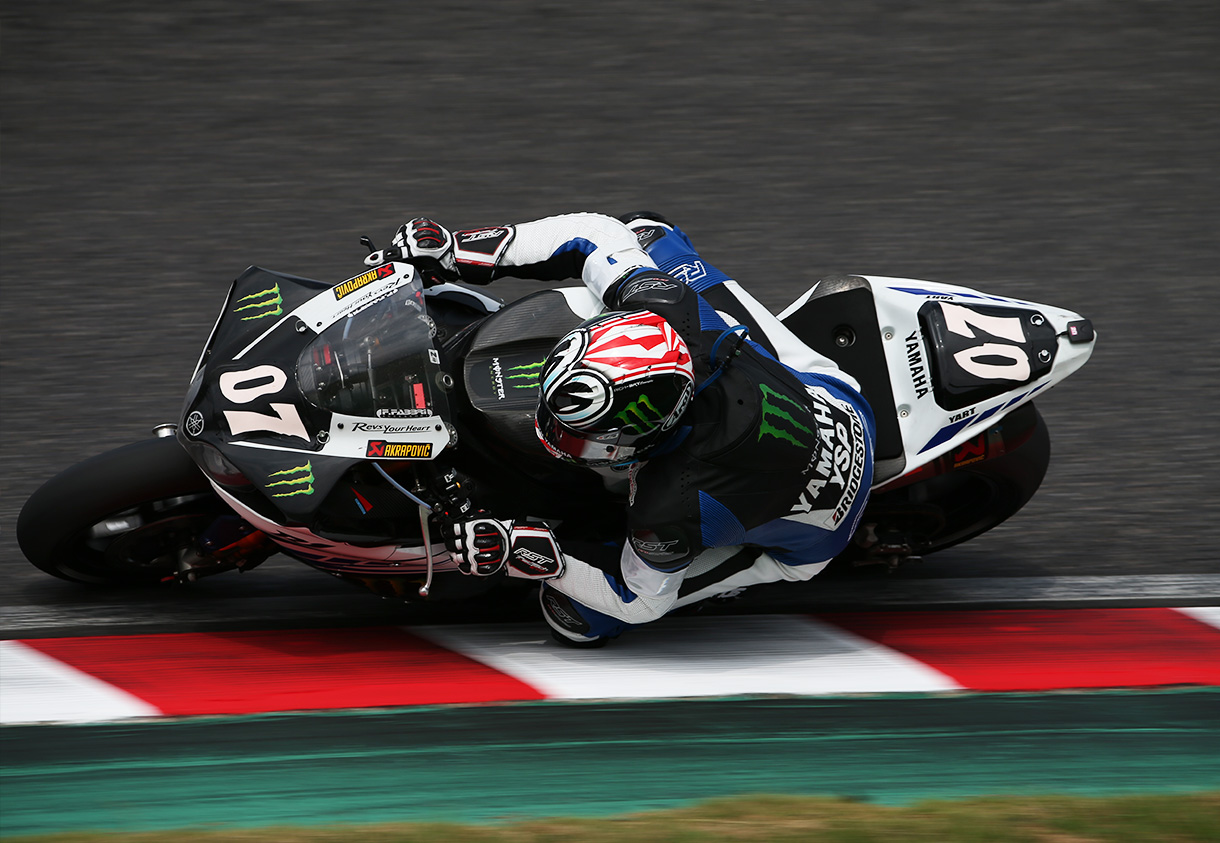 Brookes was a consistent performer throughout the race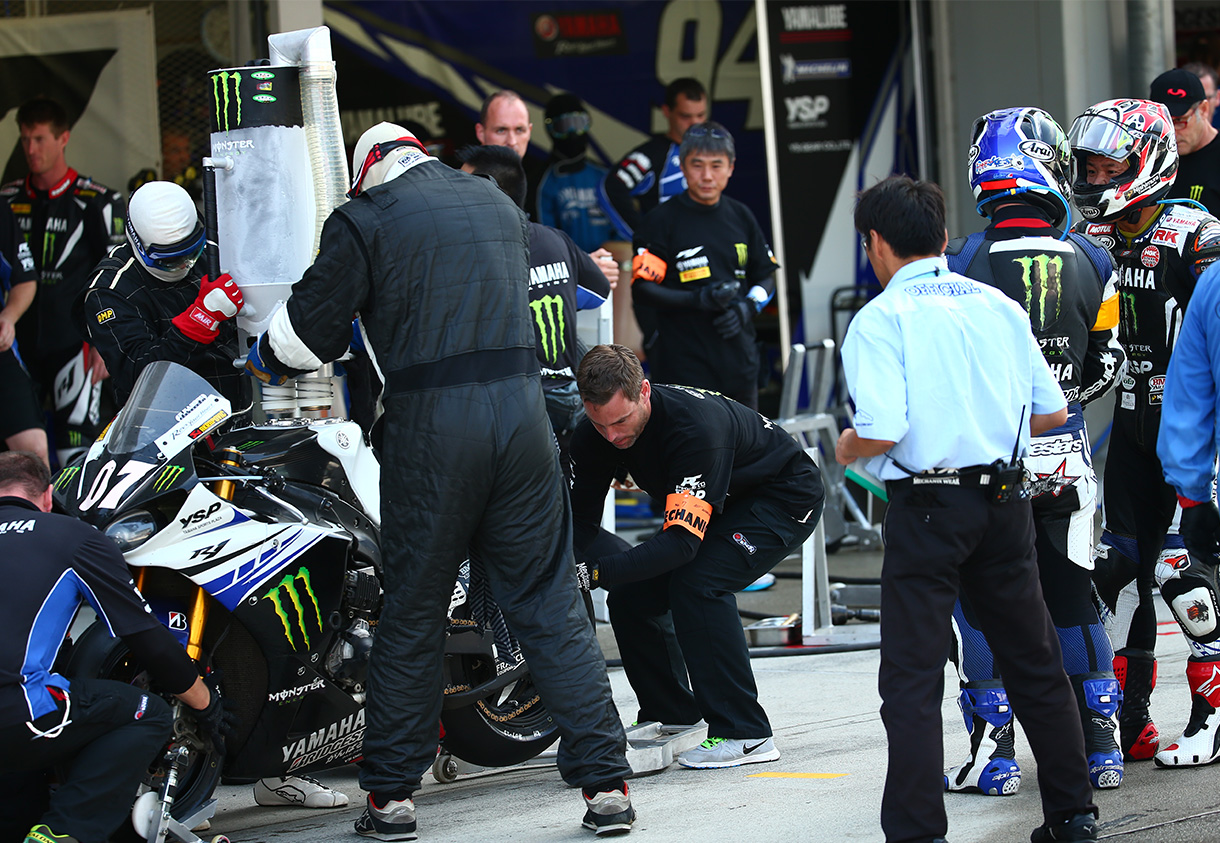 The pit crew solved machine problems to keep the team and the riders in the race
#07 Monster Energy Yamaha with YSP: 4th (171 laps)
Katsuyuki Nakasuga comment
"Some machine troubled caused us to fall out of competition for the podium. It's disappointing to have finished 4th in spite of all three of us riding mistake-free races. I regret that we weren't able to stand on the podium at the end, and I was also disappointed that I couldn't qualify in pole position. But this is my highest career finish in the Suzuka 8 Hours, and I'm confident that we can get a podium finish any time if the conditions are right."
Josh Brookes comment
"Looking at the final result alone, we can't help but feel disappointed. During Broc's stint there was some minor machine trouble that cost us some time, and if it hadn't been for that I think we could have had a podium finish. For me personally, this was my first time competing in the Suzuka 8 Hours on the YZF-R1. I was able to ride a long time and learn a lot. It was a good experience for me. This year's Suzuka 8 Hours wasn't as hot as usual, so physically it was no problem, but as usual, 'You never know what's going to happen in racing.' I recalled a lot of shocking scenes from the past, but I never thought it would happen to us. But, this is what makes the Suzuka 8 Hours such a worthy challenge. I'd really like to come back and race here again next year."
Broc Parkes comment
"This year's Suzuka 8 Hours was a really strange race. It's too bad that our machine couldn't run at a good enough pace in the wet. In the first stint when we still had rain, it took all I had to keep from crashing. But, during my second stint when it was dry, I was able to race well. It took some time to fix the minor machine trouble, and if it wasn't for that I think we could have stood on the podium. That would have been the best reward for the team after working so hard, so finishing 4th was a disappointment. But, that's racing."
Team Manager Wataru Yoshikawa comment
"Both the riders and the team staff did their jobs well and gave it everything they had. The minor machine trouble held the riders back, but the crew was able to deal with it quickly. I want to thank not only the riders and the team staff but also everyone that supported us. Still, we came here to get the win so finishing 4th was a disappointment, but it has been a race that taught me how to compete in the Suzuka 8 Hours."
#94 Yamaha Racing GMT94 Michelin: 9th (168 laps)
David Checa comment
"The tire choice didn't turn out well and that cost us two laps. In the closing stages of the race, we had fast lap times. I just wish the race had been another hour longer [laughs]. The team did a wonderful job, the YZF-R1 was good and so were the Michelin tires. Considering all this, I can only say that the 9th-place finish was disappointing, but this is what makes the Suzuka 8 Hours so difficult. But, with this result we've been able to keep our lead in the World Endurance Championship. I'm going to do everything I can in the remaining races to win the championship title."
Team Manager Christophe Guyot comment
"Among the times we finished the full Suzuka 8 Hours in the past, 7th place was our worst finish. This 9th-place finish was worse than that and I feel ashamed. We got so far behind that our team's race number even went off the timing monitor. At least we've kept our lead in the World Endurance Championship. The early stages of the race were a nightmare, but David and Kenny [Foray] were still able to run at a very fast pace for us. It's sad that we could only get a 9th-place finish despite their efforts, but we will be back next year with a new strategy to go for the podium again."
#7 Monster Energy Yamaha – YART: 10th (168 laps)
Tommy Bridewell comment
"I'm very happy that we were able to complete the race! It's unfortunate that I made a mistake, but I was also able to record the fastest time on our team, which made it a satisfying race for me. It was my first Suzuka 8 Hours, and I think it's a wonderful race. You really have to use your head and you have to stay calm as you ride. It's a difficult race but I loved every moment that I experienced here at the Suzuka 8 Hours. I was also able to learn the course, so I hope I'll be able to race here again next year."
Team Manager Mandy Kainz comment
"This year's Suzuka 8 Hours was full of unbelievable occurrences that really made it a tough race. For team #7, we had a lineup of mainly young riders, but you could see them maturing rapidly during the course of this difficult race, which was impressive. That was good to see, but the result itself wasn't a satisfying one. Next time we will set our sights higher and come back stronger."
Race results
Place
#
Rider name
Machine
Team name
Laps run
1
634
T. Takahashi
L. Haslam
M. van der Mark
Honda
MuSASHi RT HARC-PRO
172Laps
2
34
T. Tsuda
J. Waters
R. de Puniet
Suzuki
YOSHIMURA SUZUKI Shell ADVANCE
172Laps
3
17
Y. Kagayama
N. Haga
D. Aegerter
Suzuki
Team KAGAYAMA & Verity
171Laps
4
7
K. Nakasuga
B. Parkes
J. Brookes
Yamaha
MONSTER ENERGY YAMAHA with YSP
171Laps
5
104
H. Kunikawa
T. Yamaguchi
R. Kobayashi
Honda
TOHO Racing with MORIWAKI
170Laps
6
25
D. Hiura
T. Morii
T. Yasuda
Honda
Honda Suzuka Racing Team
170Laps
9
94
K. Foray
M. Gines
D. Checa
Yamaha
Yamaha Racing GMT94 Michelin
168Laps
10
7
T. Bridewell
W. Maxwell
R. Olson
Yamaha
MONSTER ENERGY YAMAHA - YART
168Laps
17
98
T. Fujita
D. Kruger
S. Oikawa
Yamaha
PATLABOR TEAMJP DOGFIGHT
RACING YAMAHA
165Laps
34
903
T. Nakai
M. Sawamura
K. Adachi
Yamaha
CLEVER WOLF Racing & NOI:Z
158Laps
45
52
J. Tonari
K. Nakao
Y. Sumi
Yamaha
Y's distraction NERGAL
153Laps
54
62
M. Mogi
T. Okada
H. Toyoda
Yamaha
TEAM MASSA-R
141Laps
57
72
D. Sato
T. Sato
Yamaha
FREE RIDE/IMT satoracing
130Laps
NC
96
Y. Hori
T. Wakisaka
T. Fukushima
Yamaha
KUMAMOTO SMART DRIVER Racing Team
155Laps
NC
51
K. Kojima
K. Yoshida
Y. Higuchi
Yamaha
T.MOTO KIDS ICU NAC CSS Kawauso RT
138Laps