Detail
Yamaha press releases on our motor sports racing activities
| | |
| --- | --- |
| Yamaha Celebrate 50th Anniversary of Grand Prix Racing in Red and White | May 17, 2011 |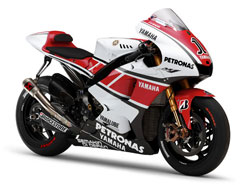 2011 marks a very special moment in two wheeled motorsport as the 50th Anniversary of World Championship Grand Prix racing for Yamaha. As part of a series of ongoing activities to celebrate this landmark Yamaha Factory Racing will run a special livery, the "YZR-M1 WGP50th Anniversary Edition" for the Assen TT and Laguna Seca races.

Reigning MotoGP World Champion Jorge Lorenzo and 2010 Rookie of the Year Ben Spies will unveil the livery at a special event on Wednesday 22nd June close to the Assen circuit.

The unique red and white livery design pays homage to the iconic Yamaha Factory Racing liveries of the past with a modern twist. The red and white livery will be used by Yamaha Factory Racing team riders Jorge Lorenzo and Ben Spies. The colours will also appear on all Yamaha staff and team crew as well as the Yamaha Factory Racing team's pit box.

"I love these colours," said Jorge Lorenzo, "They really have a historic significance. Read, Agostini, they all ran similar colour schemes when they won so the opportunity to use it on the YZR-M1 is really nice. It's a very special year for Yamaha and we hope that these colours will give us luck in these two races."

"I'm really excited about running with these colours," commented Ben Spies. "It's a big year for Yamaha and my first with the Factory Team. To be able to run a special livery like that in Assen and also for my home race at Laguna is awesome. I think it's going to look really good and I'm looking forward to everyone being able to see it."

"It is my pleasure and honour to announce that we will unveil the 'YZR-M1 WGP50th Anniversary Edition' at the Assen TT and Laguna Seca race," announced Shigeto Kitagawa, President of Yamaha Motor Racing. "I believe that the newly designed Red and White livery not only recollects our brilliant memories in the past but also makes us feel the power to create new history. I believe it will be great fun for the fans and racing enthusiasts all over the world to see Jorge and Ben riding to win with this special YZR-M1."

A special 50th Anniversary logo is also being used this season. The logo is proudly displayed on the 2011 YZR-M1 fuel tank, on all Yamaha Factory Racing Team uniforms, within the pit garage of riders Jorge Lorenzo and Ben Spies and also on the Yamaha Factory Racing trucks.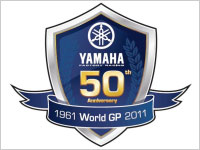 The Yamaha World GP 50th Anniversary is also celebrated online with a special dedicated website. The website features an impressive archive tracking the history of Yamaha's involvement with racing along with detailed historical information. Throughout the season the site will be regularly updated with columns and videos along with exclusive messages and interviews of key people involved in the World Championship Grand Prix racing story of Yamaha.


Road Racing World Championship Grand Prix 50th ANNIVERSARY Special Site
http://www.yamaha-motor.co.jp/race/wgp-50th/

Movie: YZR-M1 WGP50th ANNIVERSARY EDITION
http://www.youtube.com/watch?v=y6okAJgJ3wg