Detail
Yamaha press releases on our motor sports racing activities
| | |
| --- | --- |
| Ben Spies to stay with Yamaha in 2010 and 2011 | Sep. 4, 2009 |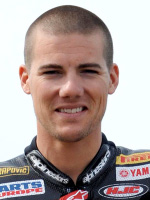 Yamaha Motor Co., Ltd. and Yamaha Motor Europe N.V. are delighted to announce that an agreement has been concluded with Ben Spies for his participation with Yamaha for 2010 and 2011. The program foresees a season in 2010 with the Yamaha World Superbike Team based in Gerno di Lesmo, Italy and a switch to Yamaha痴 satellite MotoGP team for 2011.

Laurens Klein Koerkamp, Racing Manager Yamaha Motor Europe
"We got to know Ben this season in our Yamaha World Superbike Team as a very talented, professional and dedicated person whom we are thrilled to continue working with. Not only is the relationship between Ben, the team and Yamaha in general very successful but also it痴 a pleasure to work with him. This early agreement permits Yamaha and Ben Spies to now fully focus on their 2009 World Superbike campaign in their challenge to achieve their first World Superbike Championship titles together."

Lin Jarvis, Managing Director of Yamaha Motor Racing
"We are truly excited about the prospect of Ben痴 arrival into our future MotoGP program. Ben is doing a great job for Yamaha in his first season in the World Superbike Championship. He is in great shape to challenge for the title this year and we will be rooting for him at the remaining four events this season. Ben痴 primary mission is to win both his and Yamaha痴 first World Superbike title. After that when Ben eventually makes the move to the MotoGP championship we will be ready for him and, in line with the new MotoGP regulations, we will create a place for him within the Yamaha satellite team and give him the support he needs for his next challenge."

Ben Spies
"I am very happy to say that I will remain a part of the Yamaha family and will continue in the WSB series for 2010. This is an exciting period of my racing career and I look forward to even more. Yamaha has been great in the warm welcome that I have received entering the world level and I want to thank them for all they have done, and giving me their trust for a next career step into MotoGP in 2011."