Detail
Yamaha press releases on our motor sports racing activities
| | |
| --- | --- |
| New Yamaha R1 takes victory at Le Mans 24HR | Apr. 21, 2009 |

The Yamaha Austria Racing Team took their first victory of the endurance season on the new 2009 YZF-R1 at Le Mans yesterday. In what was one of the most intense Le Mans Endurance races for some time, YART riders Steve Martin, Igor Jerman and Gwen Giabbani battled flawlessly through difficult racing conditions including heavy rain for nearly 20 hours and a very damp track to take the chequered flag.

The YART team took victory with a clear five lap advantage over the second placed Honda France team. Most competitor teams suffered crashes and incidents due to the adverse weather, making YART痴 victory even more impressive.

The team rode the new for 2009, MotoGP derived Yamaha YZF-R1, building on the racing success already being seen in the hands of Ben Spies in World Superbike. The new machine proved the perfect tool to handle the difficult conditions with its unique crossplane crankshaft design giving the riders essentially smoother torque and more useable power to get through and out of the slippery corners of the Le Mans circuit.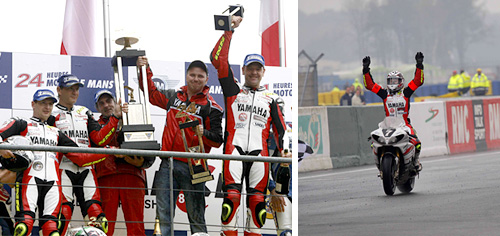 Gwen Giabbani, Yamaha Austria Racing Team
擢inally after 11 years of not winning! Igor waited 11 years for his second victory, for me it痴 my first. There were no issues with the fantastic performance of the bike, and we lost very little time in stops. There were no crashes to be regretted, everything was perfect.・

Steve Martin, Yamaha Austria Racing Team
的t痴 absolutely incredible to win here on my second time at the 24HR. The bike performed faultlessly which made the whole race easier. My team-mates both performed unbelievably, we made the right steps at the right times which gave us an advantage. We were then able to put pressure on the other teams and forced them to make mistakes. I want to dedicate this win to my life-long friend and mentor Peter Kerr who passed away this weekend, making this an exceptionally hard weekend痴 racing for me. ・

Igor Jerman, Yamaha Austria Racing Team
的致e had to wait 11 years to win the Le Mans 24HR Moto. This year the team was very well prepared with the new Yamaha bike and we also changed tyres to Michelins which were great. We need to make some small changes for the next race but our result here was very good.・

Mandy Kainz, Yamaha Austria Racing Team Manager
摘veryone who痴 dedicated to Endurance racing wants to win this race once in his life. I can hardly believe that we actually managed to do it. Igor Jerman, Steve Martin and Gwen Giabbani worked together as a proper team and had hardly any problems. Heavy rain, especially at night caused a lot of dramatic scenes. In the crucial phase of the race my boys managed to capitalize on their experience. I have to give them a lot of respect, they weren稚 only the fastest out there but managed to ride faultlessly.・/p>