Detail
Yamaha press releases on our motor sports racing activities
| | |
| --- | --- |
| Perfect opening day for Fiat Yamaha in Jerez | Apr. 2, 2009 |

The annual pre-season official MotoGP test event was held at the Jerez Circuit in Spain on March 28 and 29. In the official timed sessions on the second day, the Fiat Yamaha Team riders Valentino Rossi and Jorge Lorenzo were both in fine form, placing 2nd and 4th respectively. The Monster Yamaha Tech 3 rider Colin Edwards placed 10th and his teammate James Toseland placed 16th due to a fall. Finishing first to take home the prize of a new car was Casey Stoner (Ducati).

Jerez Test Day One (Mar. 28)

Fiat Yamaha Team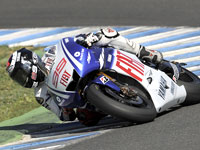 The traditional season curtain-raiser in Jerez looked in danger of being declared a washout this morning, but the sun eventually came out and allowed Jorge Lorenzo and Valentino Rossi to put in a brilliant afternoon痴 work, finishing first and second respectively. The day痴 results bode well for tomorrow痴 倉ualifying・shoot-out, which will see the fastest rider take home a new car. With all riders now on Bridgestone tyres and qualifying tyres resigned to history, the session will have a slightly different feel to previous years and promises to be an entertaining show.

Lorenzo began work quite early, braving a damp track to get some laps in before lunch. Once the track came dry this afternoon he immediately found his rhythm and went on to clock consistently fast laps throughout, finishing well under lap record with a time of 1・9.791.

2008 World Champion Rossi took it easy this morning, preferring to wait until the track had dried out before getting started. He finished the day just 0.070 behind his team-mate and a tenth of a second ahead of Stoner in third, and is confident of putting up a good fight in tomorrow痴 qualifying competition with a few small refinements planned for tomorrow morning.

Monster Yamaha Tech 3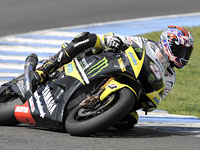 Colin Edwards and James Toseland ended the first day of the penultimate MotoGP winter test session in Jerez with the fifth and 11th fastest times respectively.

After a delay caused by heavy early morning rain, Edwards and Toseland were able to complete 140 crucial development laps together on their Monster Yamaha Tech 3 YZR-M1 machines under sunny skies this afternoon.

Texan Edwards continued his impressive winter testing form by setting the fifth quickest time as three Yamahas finished in the top five. His best time of 1・0.579 was just 0.007s off fourth position as he gained vital data on Bridgestone tyres on the new Jerez track surface.

British rider Toseland had a positive day too, ending 11th on the timesheets. He set a best time of 1・1.122 to finish just 0.073s outside of the top ten, though on his best day yet on the new 2009 YZR-M1, he was consistently running inside the top ten until the closing stages.

Today痴 session also gave MotoGP fans the first chance to see Toseland and Edwards riding in the new eye-catching Monster Yamaha Tech 3 livery, which was unveiled on the eve of the Jerez test.
Test Times (Mar. 28)
(Ambient temperature: 16 degrees Track temperature: 20 degrees Humidity: 59%)
| | | | | |
| --- | --- | --- | --- | --- |
| Pos. | Rider | Team | Machine | Time |
| 1 | J. Lorenzo | Fiat Yamaha Team | Yamaha | 1'39.791 |
| 2 | V. Rossi | Fiat Yamaha Team | Yamaha | 1'39.861 |
| 3 | C. Stone | Ducati Marlboro Team | Ducati | 1'39.906 |
| 5 | C. Edwards | Monster Yamaha Tech 3 | Yamaha | 1'40.579 |
| 11 | J. Toseland | Monster Yamaha Tech 3 | Yamaha | 1'41.122 |
Jerez: Record Lap D. Pedrosa (Honda) 2008, 1'40.116
Jerez: Best Lap J. Lorenzo (Yamaha) 2008, 1'38.189
Jerez Test Day Two (Mar. 29)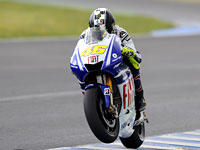 Fiat Yamaha Team
The first competitive outing of the year, the Official Practice Session in Jerez today, saw Fiat Yamaha riders Valentino Rossi and Jorge Lorenzo finish second and fourth after the 45-minute session was interrupted by a red flag before being cut short by rain. In the first 倉ualifying・session since the single-tyre rule came into play the riders were keen to get a feel for the new system and were disappointed not to be able use the session to the full, but both are nonetheless satisfied with the work they致e done this weekend and are now looking forward to the first race in two weeks time, under the Qatar floodlights. Rossi was third in this morning痴 free practice session, continuing to work on fine-tuning the setting of his M1 at this last test before the season. Lorenzo was even faster, finishing the morning second behind Stoner and the pair were looking forward to a competitive showing this afternoon. A crash from James Toseland with 15 minutes to go saw the red flags come out for five minutes and the delay meant the riders were only able to complete a couple of fast laps before the rain came down and spelled an end to the session, with Casey Stoner fastest after a lap of 1・8.646.

Monster Yamaha Tech 3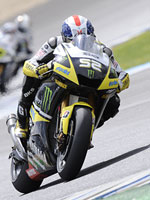 The Monster Yamaha Tech 3 squad ended its 2009 MotoGP pre-season preparations with a day of contrasting fortunes for Colin Edwards and James Toseland in Jerez.

Edwards finished 10th quickest overall, the Texan posting his best time of 1'40.305 in the televised 45-minute BMW shootout that was cut short by heavy rainfall. Edwards was less than 0.2s off a top six finish with his main focus spent working on a front-end setting to help him maximise the potential of the Bridgestone front tyre ahead of the first race in Qatar on April 12.

British rider James Toseland had a lucky escape after he suffered a spectacular crash during the timed BMW session. Toseland fell heavily at Turn Three with 16 minutes remaining while he was in 15th position on the timesheets.

The 28-year-old underwent precautionary scans at hospital in Cadiz this afternoon after suffering concussion in the fall, but having been given the all-clear by doctors, Toseland returned to the Jerez paddock later this evening.

He will fly home to the UK tomorrow to rest and recuperate ahead of the season痴 opening race under the Losail International Circuit痴 floodlights.
Test Times (Mar. 29)
(Ambient temperature: 13 degrees Track temperature: 19 degrees Humidity: 58%)
| | | | | |
| --- | --- | --- | --- | --- |
| Pos. | Rider | Team | Machine | Time |
| 1 | C. Stone | Ducati Marlboro Team | Ducati | 1'38.646 |
| 2 | V. Rossi | Fiat Yamaha Team | Yamaha | 1'39.365 |
| 3 | L. Capirossi | Rizla Suzuki MotoGP | Suzuki | 1'39.829 |
| 4 | J. Lorenzo | Fiat Yamaha Team | Yamaha | 1'39.829 |
| 10 | C. Edwards | Monster Yamaha Tech 3 | Yamaha | 1'40.305 |
| 16 | J. Toseland | Monster Yamaha Tech 3 | Yamaha | 1'41.425 |
Jerez: Record Lap D. Pedrosa (Honda) 2008, 1'40.116
Jerez: Best Lap J. Lorenzo (Yamaha) 2008, 1'38.189
Valentino Rossi (Test Day Two Position: 2nd Time: 1'39.365 Laps: 16)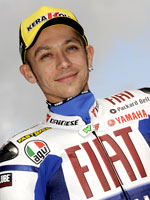 迭eally I was aiming for second place because I don稚 think our sponsor Fiat wanted me to win the prize of a different car! Joking apart though, I am happy enough about this test because yesterday and this morning we worked very well, made some good progress and most importantly we were fast! We have a good setting for the race here and my race pace and speed is good. This afternoon I was quite unlucky because just before the red flag I was on a fast lap and was blocked, then we had the red flag and this meant there wasn稚 much time before the rain came at the end. I am not sure I could have beaten Stoner today though; he was faster over one lap than me. It was strange not to have a qualifying tyre, the grip is not the same but Bridgestone have done a good job and you can still push so I think it will be possible to have some fun. Now we have finished testing and we池e waiting to go racing; I think we池e in good shape and it will be possible to push from the start.・

Davide Brivio - Team manager
的t痴 been a positive test because we致e pretty much got through everything we needed to and at the end of the day we池e in good shape and we致e made further improvements to our bike. Most importantly, Valentino痴 race pace is now very good. It was unfortunate not to win the 倉ualifying・session today because it痴 always nice to start the season off on that note but Casey was very strong, so congratulations to him. We池e leaving here happy and satisfied; we have a few small things to work on for Qatar but we池e basically ready to race.・

Jorge Lorenzo (Test Day Two Position: 4th Time: 1'39.829 Laps: 21)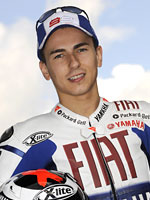 添esterday was good but today it was a lot colder and I found it harder to be as fast because the conditions were quite different. I think that the qualifying this year is going to be quite hard without the special tyres, which always suited my riding style quite well. I was quite a specialist with the qualifying tyres and now I don稚 have that advantage, so I have to learn to adapt. My riding style is better with the harder Bridgestone tyre and so it will be quite difficult for me to be as good in the qualifying sessions this year I think! Today Stoner was so fast with the soft tyre and I didn稚 have a chance to catch him. Anyway, the important thing is that I have felt really good on both days here, I have been consistently fast and I am definitely prepared to fight for the podium at the first race in Qatar.・

Daniele Romagnoli -Team Manager
鄭fter yesterday and this morning痴 sessions we expected to be closer to the front, but we couldn稚 get there today. We used the harder tyre that we selected yesterday, with which Jorge had his best performance, but unfortunately the weather was colder today and so the potential for a few fast laps was higher with the softer tyre today. Our race pace is good, but obviously we still need to keep working to keep up with Casey, because he is very fast. Next time it will be the real thing in Qatar, where we had a very good test, and we池e confident that Jorge can be at the top.・

Colin Edwards (Test Day Two Position: 10th Time: 1・0.305)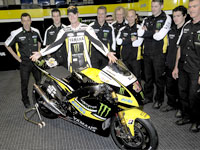 的 started the timed session and I knew I could do a low 40 but to do a 39 I just didn稚 have the right set-up. The harder I tried to push I seemed to get more chatter and it was a bit of a speed limit. We致e got a good idea of how to make it better and we are just a little bit too hard on the front fork spring. When I saw Casey do a 39.1 on only his third lap, I knew my package wasn稚 ready to do that and I知 not going to take any risks with the first race so close. I知 happy with the way the winter has gone. Yamaha has done a great job and at every test we have been competitive. I can稚 wait for the first race to try and get a good start for Monster and Yamaha.・

James Toseland (Test Day Two Position: 11th Time: 1・1.122)
* This is the comment for the first day.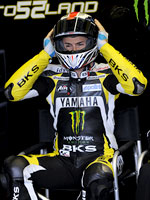 的 felt much better today and the old confidence was coming back. I was back in the top ten for most of the day and I知 back within a second of the guys running at the front. That痴 encouraging because I致e been much further back than that in the previous tests after the big crash I had in Sepang. It is nice to know that the competitive times are coming back again. I did over 80 laps today as well and that was the time on the bike I needed. The development rear tyre Bridgestone is really good and there痴 a lot more I can get out of that, so that痴 another positive from today. It was also good to be out riding the new Monster Yamaha Tech 3 colours. I知 sure we are going to have a good season together and the bike looks unbelievable.・

Herve Poncharal ・Team Manager
的t was obviously not the way we wanted to finish what has been a very positive winter for the Monster Yamaha Tech 3 team. Firstly, I壇 like to thank the team for all their hard work and effort over the winter. I believe we are in a great position to have our best season for a long time, and with our new partner Monster, the future is looking very bright for Tech 3. Colin has done another excellent job for the team and Yamaha here. He never came here to win the car, but he wanted to get more of an understanding of the new bike and the Bridgestone tyres ahead of the first race. I think we can be very optimistic after Colin痴 performance during the winter of a very good season. I am obviously delighted that James is going to be fit for the first race after another big crash today. It is a real pity for him because he was really looking like his old self this weekend after the crash in Sepang and making some big progress with the bike and the tyres. I知 sure he will be ready and determined to give 100 per cent again in Qatar. All of us can稚 wait for the first race.・/p>