Detail
Yamaha press releases on our motor sports racing activities
| | |
| --- | --- |
| Fantastic 1-2 results at first 2008 race for Yamaha Motocross Team | Feb. 21, 2008 |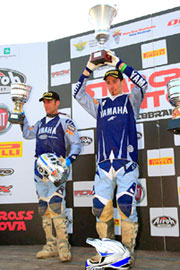 The 25th edition of the Starcross International at Mantova in Italy kick-started the 2008 European motocross calendar and it was a positive meeting for the Yamaha Motocross Team as David Philippaerts took his first overall victory on the YZ450FM and Josh Coppins filled second position. The inaugural race of the year saw factory representation from all the manufacturers and a large quota of world championship riders line the gate.

The team was testing for two days in the week prior to their first competitive appearance of 2008 and would be clocking up kilometres again on the YZ450FM in the days after Mantova. The new Kayaba suspension units have had a benefit, and the improvement in the front end feeling of the chassis - helping the bike turn quicker - has been met with all-round approval from both riders.

Across the three 20 minute and 2 lap motos on the rough and hard-pack sandy Italian terrain, Philippaerts rode strongly and did not drop out of the top three to post finishes of 2nd, 1st and 3rd. Coppins suffered from a spill in the qualification heat that left the New Zealander with a sore shoulder. The 30 year old slipped off again on a chaotic first lap of the opening sprint but recovered to obtain a set of 7th, 4th and 4th positions.
In the MX2 category Martin Barr was Yamaha痴 top performer with a decent seventh place overall. Manuel Monni was also in the top ten with ninth position.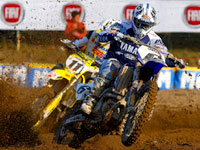 Aside from the motos, that took place under bright sunshine but in modest temperatures, spectators were also treated to the 前ne-on-One・contest in which selected riders from each class fought over one lap. Coppins was particularly sharp with his starts and won three face-offs (including a defeat of 2007 title rival Steve Ramon) to reach the final against 2007 pole position specialist Tanel Leok. Only a brave move from the Estonian through the triple on the second part of the lap prevented Coppins from walking away triumphant from this particular novelty, unique to the Starcross meeting.

Yamaha Motocross Team had an action again last week with the first round of the Italian championship which took place at the Montevarchi circuit. Yamaha Red Bull De Carli rider Antonio Cairoli was present as a spectator in Mantova joined his team-mates Matteo Bonini and Alessandro Lupino at Montevarchi as the Italian squad open their account for 2008.


David Philippaerts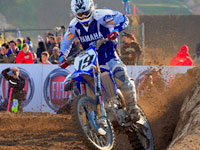 典his is a good start to the year and I am very happy for the team and everybody. The bike was really good today. It is very fast, maybe too fast for me at the moment! In the first race I had a small problem with the brake and had to stop quickly but my riding was good after that and I had some nice lines. In the second I was determined to win and passed many riders in the first corners. It was quite easy in the end. Barragan was fast in the last race but because he had a problem earlier he might have been fresher than the rest of us. We still have some time before the first Grand Prix and we are going in the right direction; my condition is getting stronger and the bike feels better each week. I am especially pleased with my starts today.・

Josh Coppins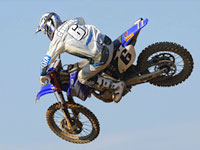 的 am happy it is all over as I don稚 really like this track and I crashed on Saturday and hurt my shoulder. It was a tough weekend. I got to the last round of the 前ne on One・but Leok just got by me on the triple. In the first moto I went down on the first lap and did pretty well to come back to 7th from 15th or 20th; something like that. I fought hard and my shoulder was tight afterwards. The second race was going OK and I moved past Pourcel for third at the end but unfortunately I got caught up with a lapped rider and that pushed me back. In the last I felt the pace with my shoulder. Overall there were too many mistakes and having two crashes was not good. However, we are on the podium so it was not a waste. We also rode the bike for the first time this week and I am pleased with what we have so far.・

Mino Raspanti, Team Co-ordinator
的 am really happy for the riders. The results were not really important this weekend but it was still good to do well and take the momentum we had from testing onto the race track. We had made some changes to the bike but the practice track is always different to the races where everything is much rougher and quicker. We have started our program now and can begin counting down to the first Grand Prix.・/p>