Detail
Yamaha press releases on our motor sports racing activities
MotoGP Sepang Test - Day Three
Lorenzo rounds off Sepang test in forceful fashion
Jan. 28, 2008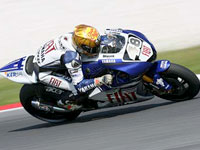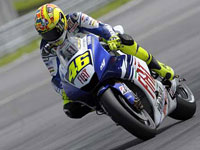 New Fiat Yamaha Team signing Jorge Lorenzo finished what was just his fourth test on a MotoGP bike in fine form today, rounding off testing in Malaysia in third place overall. The Spanish rookie posted his best lap from 63 on a Michelin qualifying tyre but also put in a string of consistently fast laps on race tyres, despite a fall cutting short his long run.

The youngster set out for his race simulation in sweltering conditions this morning and was posting some consistently fast times when he crashed on lap 17. He was unhurt however and was able to continue with Michelin tyre testing for the rest of the day, rounding off with an impressive time of 2・0.766 on a qualifying tyre, just 0.440 seconds off fastest man of the day Nicky Hayden and only 0.161 seconds off the existing Sepang pole record.

Valentino Rossi rounded off the third day of testing in Malaysia with another day痴 solid progress in Sepang today, the Fiat Yamaha Team rider finishing the test sixth overall out of 22 riders testing. Rossi had time to complete a full race simulation of 21 laps and recorded a general improvement compared to last year痴 race, despite slowing down for a lap in the middle in order to give himself a breather as temperatures topped 34 degrees.

Rossi痴 best time after 48 laps, a lap of 2・1.425, was posted on a Bridgestone qualifier but the Italian admits there is more work to do in order to maximise bike set-up when using the softer qualifying tyres. Overall it was an extremely positive test for Rossi and his crew, who managed to complete everything on the schedule thanks to good weather throughout.

The Fiat Yamaha Team will now head to their respective homes for a week before returning to Sepang for another three-day test on 5th, 6th and 7th February.


Jorge Lorenzo (3rd, 2・0.766, 63 laps)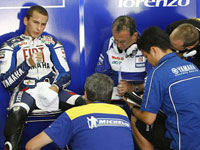 典oday was another positive day for me and it痴 been an encouraging three days overall: I知 pleased with what we致e achieved. I had a little problem this morning because I felt like I had a bit less grip than usual, so we had to work on this. Then I started my race simulation and unfortunately I crashed about three-quarters of the way through; I was a bit out of the line and when I accelerated I lost control of the bike. Before that my pace was not so bad and we had time to gather a lot of information before it happened, so it wasn稚 the end of the world. I wasn稚 hurt and so after that we started again with Michelin tyre testing and at the end I tried a qualifying tyre which was very good; I improved my time quite a lot. I知 really happy with the team痴 work and now we池e waiting for the next test so we can continue improving.・

Daniele Romagnoli ・Team Manager
泥espite the crash in his long run we got some good information and his pace up to that time was good. Overall it痴 been a very good test and we致e had some good improvement from the engine side. We致e continued to progress with regards to the bike set-up and also with tyres, where we致e found some good new material. Thanks to the rider and the team for their hard work and of course we池e looking forward to coming back again in ten days to continue our preparation for the season ahead.・

Valentino Rossi (6th, 2・1.425, 48 laps)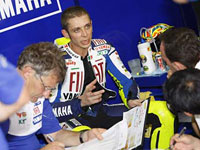 典he overall balance of the three day test has been very positive and we致e worked in many different areas. We致e tested the pneumatic-valve engine and I have a good feeling from it, plus we致e improved our top speed compared to the race here. I知 happy about the engine so far, although we want to make as much mileage as possible with it in order to check its reliability and performance. We致e continued to work with the new electronics in braking and acceleration and the new system is helping us to have more control and make less mistakes. Of course we致e also done a lot of work with Bridgestone on tyres, and we have found some positive things here. We need to improve our performance with the qualifying tyre; we need more time to better understand how to set-up our bike with the soft tyres and so we will continue to work on this next time. We致e given a lot of information to Bridgestone this week and we look forward to more work together next time. Finally I was able to complete a good race simulation and overall my pace was better than in the race last year, even though I had to slow down for a bit in the middle because it was so hot! Anyway I really wanted to finish so I kept going and in the end I was very happy with my performance. It痴 been a good test for us and now we池e looking forward to next time.・

Davide Brivio ・Team Manager
典his has been a very positive test and it痴 clear that Yamaha have worked very hard during the winter, so I would like to say a big thank you to all the engineers. To everyone involved now it looks like we池e on our way to fixing some of the issues and weak points which we had last year and we hope that at every test we will be able to make the same amount of progress. Valentino痴 level is already high but it痴 only the first test after the long winter break and so I am sure he will continue to improve as well. Now we look forward to coming back in ten days time to continue our programme.・

The opening chapter in the 2008 MotoGP campaign for the Yamaha Tech3 team was brought to a close with the third and final day of testing at a sweltering Sepang circuit in Malaysia this afternoon. After clocking the second best effort yesterday there was further good news for Colin Edwards and the French crew as the American rested fourth in the Day 3 standings with a circulation just eight tenths of a second off the top slot. New team-mate James Toseland was eighth and upbeat after just his third run with the YZR-M1.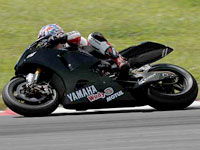 Colin Edwards racked up 34 laps in pursuit of his quickest time of the three day session, which he managed on his 12th attempt and snipped two tenths of a second away from Wednesday痴 impressive feat. The 33 year old was buoyed after the technical crew solved a small matter of chatter with the front end of the motorcycle and he maintained a steady presence in the 2'01 bracket with Michelin race tyres; underneath the fastest lap setting of the 2007 Grand Prix at Sepang.
Herve Poncharal had reason to feel content with the results and progress of his rider line-up as well as the overall usefulness of the test.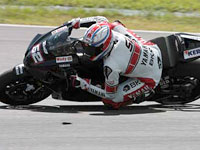 After speeding up through both previous days of action James Toseland hit his stride throughout a stuffy afternoon run. The 27 year old concentrated on familiarising himself with new electronic and traction control systems but still managed a batch of laps in the ・1 and low '02s. Toseland is Britain痴 sole representative in the '08 MotoGP championship and comes into the Tech3 set-up hot from winning eight from twenty-six races and grabbing thirteen podiums on the way to a second World Superbike title.

With their 2008 schedule now active, a busy sequence of work for the Tech3 team lays ahead. Logistical staff were busy Thursday afternoon loading the motorcycles and equipment into crates in preparation for the trip to the Phillip Island circuit in Australia next week and the second stint of testing for both riders. Further outings at the two IRTA dates in February (Jerez and Qatar) are then pencilled in. A little over six weeks remain before the first Grand Prix of eighteen takes place at the Losail circuit in Qatar; the first ever world championship night event.

Colin Edwards (4th, 2・1.179, 34 laps)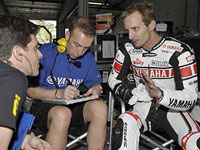 展e got a little bit of a late start today; man I was sore! I am getting old! After six weeks off the bike your hands and butt gets soft and it takes time to build up the calluses. After three days of riding I just have blisters at the moment. We made some improvements again today with the M1. My crew chief and suspension technician had an idea for the front end because we were having some chatter. It was something I had never tried before, but they fixed the problem. It was such a simple thing but they did really well, so a big thanks! We did not do anything new today but played around with tyres. Michelin came up with the goods. I did my best times on the new race tyre and it was phenomenal. Onto Phillip Island now and more of the same I hope.・

James Toseland (8th, 2・1.745, 45 laps)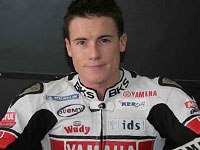 的n November I managed a 2・3.5 lap; just one. So to do a 2・2 on a race tyre and then a ・1 with a qualifier let me finish eighth overall today, which I quite pleased with. We have had quite bad chatter that we have struggled to get rid of, although I am told that this place is one of the worst circuits for this and maybe in Australia I might not have it. I am really happy with how the team is working. I finally got the traction control and the engine system, and this gave an improvement but it is really something that you need to get used to and be confident with to improve your times. It is something I can build-on for the next test. I know Phillip Island very well and it is a much cooler place so I am looking forward to starting again next week.・

Herve Poncharal ・Team Principal, Tech3 Yamaha
的 am very pleased with how things have gone for the first 2008 test. It was important that both riders were quicker every day and the new bike and the tyres from Michelin have let us make a big step. Colin has impressed me with how he was instantly in the good lap-times; I think he has been the fastest on race tyres which is a positive sign. We have been testing a lot of things and for sure the new Yamaha is an improvement over last year. I would also like to thank Michelin for their application and the products that they have brought. Colin feels that there is a huge difference and James is continuing to learn, improve and surprise us; I think you have to go step-by-step in MotoGP otherwise we know how things can end up. We leave Sepang after many laps and with a lot of data for Michelin and Yamaha. We are eager to get to Phillip Island now because we will find some new conditions. Overall it is great to show we are competitive and thanks to the team for their good work.・/p>


Unofficial Lap Times:
| | | | |
| --- | --- | --- | --- |
| Pos. | Rider | Machine | Time |
| 1 | Nicky Hayden | Honda | 2・0.326 |
| 2 | Casey Stoner | Ducati | 2・0.660 |
| 3 | Jorge Lorenzo | Yamaha | 2・0.766 |
| 4 | Colin Edwards | Yamaha | 2・1.179 |
| 5 | John Hopkins | Kawasaki | 2・1.198 |
| 6 | Valentino Rossi | Yamaha | 2・1.425 |
| 7 | Andrea Dovizioso | Honda | 2・1.447 |
| 8 | James Toseland | Yamaha | 2・1.745 |
| 9 | Chris Vermeulen | Suzuki | 2・1.748 |
| 10 | Loris Capirossi | Suzuki | 2・1.778 |
| 11 | Randy De Puniet | Honda | 2・1.873 |
| 12 | Shinya Nakano | Honda | 2・2.032 |
| 13 | Alex De Angelis | Honda | 2・2.198 |
| 14 | Marco Melandri | Ducati | 2・2.725 |
| 15 | Anthony West | Kawasaki | 2・2.978 |
| 16 | Toni Elias | Ducati | 2・2.995 |
| 17 | Olivier Jacque | Kawasaki | 2・3.030 |
| 18 | Sylvain Guintoli | Ducati | 2・3.628 |
| 19 | Niccol・Canepa | Ducati | 2・3.703 |
| 20 | Tamaki Serizawa | Kawasaki | 2・4.354 |