Detail
Yamaha press releases on our motor sports racing activities
| | |
| --- | --- |
| Edwards smashes pole record in Sepang | Feb. 7, 2007 |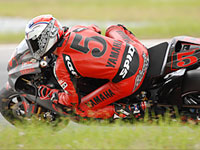 C. Edwards and V. Rossi proved they are more than ready for the challenge ahead with their new 800cc Yamahas by clocking some outstanding times today, on the third and final day of testing in Sepang. Both took the chance to try new Michelin qualifying tyres and Edwards stunned his crew by dipping well under the current pole position record, set by Rossi at last year's race on the old 990cc Yamaha, with a lap of 2'00.248. Rossi also came close to his own pole record with a time of 2'00.793. Both riders spent the day continuing to work on set-up and tyre-testing before completing long runs, enabling them to see the benefits of their latest developments under race-like conditions.

The Yamaha Factory Racing Team will now pack up and head west for the next stage of testing in Qatar on February 13th-15th. It will be the first time this season that the entire MotoGP class will be on track together and Rossi and Edwards are looking forward to seeing how their 800cc bikes fare at a new track alongside a full field of their competitors.


C. Edwards (1st; 2'00.248; 46 laps)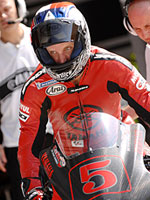 "We started off this morning by testing a couple more front tyres and a different bike setting, just generally playing around with a few things. At the end of the morning we tried another new rear tyre which was pretty good too, and then we had two qualifiers to try. I came in from the first one thinking that I'd probably done a low 2'01; I'd made a couple of small mistakes and thought I could have been faster, so I couldn't believe it when it was around the 2'00.6 mark. The next qualifier was pretty unbelievable and the bike just felt perfect, so I'm really pleased with that time."

"The long run was pretty interesting・'d already done about 30 laps in the morning session and I was feeling pretty tired, I went off a bit too hard at the start and was giving it all I had, it was feeling great but then after about 14 laps I was seeing double! I slowed it down for a bit but there wasn't much point pushing it so I came in a bit early. Anyway things were still improved from the last time here so we were happy. Overall it's been a really great test; the bike is unbelievable, better than ever even with less power!"

V. Rossi (2nd; 2'00.793; 43 laps)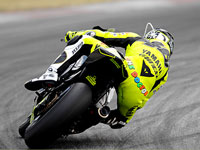 "It was another really positive day for us, and I am so happy because the bike is feeling great. During these three days we have worked a lot on the suspension set-up, in order to fix the problems we had in braking, and I think we've done a very good job on that. We've been pretty fast all week, quicker than during the January test, and the long run today was faster too which is important."

"I am also pleased that Colin is going so well, he made a fantastic time today, he's very fast! We also worked again today on the engine mapping, as I said yesterday; fuel consumption is going to be crucial for everyone this year and we can't afford to make mistakes! I am sure that we can still improve in every area and now we have the chance to carry on like this in Qatar next week, where we will also have the first race in one month. Next week will be a very important test!"

D. Brivio - Team Director
"We leave Sepang in the certainty that we've made a very good test and we have improved the situation with both riders. Colin has made a great improvement since January's test and I think that no one has ever ridden so fast here in Sepang as he did today! This shows that the 800cc bikes are already faster than the 990s! We are working very well and the general development of the new bike is going very well. Now we go to Qatar for the next test and we know that will be a very important test for two reasons: first, we will be testing in a different circuit, so we will have the chance to confirm what we've learnt here at another track and second, we will meet all the other teams there and will be able to see our level alongside them."
Unofficial Lap Times:
| | | | |
| --- | --- | --- | --- |
| Pos. | Rider | Machine | Time |
| 1 | C. Edwards | Yamaha | 2'00.248 |
| 2 | V. Rossi | Yamaha | 2'00.793 |
| 3 | R. de Puniet | Kawasaki | 2'02.071 |
| 4 | O. Jacque | Kawasaki | 2'02.607 |
| 5 | M. Tamada | Yamaha | 2'03.380 |
| 6 | S. Guintoli | Yamaha | 2'04.636 |
| 7 | A. Pitt | Ilmor | 2'07.373 |
Sepang Lap Record (990cc) ; L. Capirossi (Ducati) 2006 - 2'02.127
Sepang Best Lap (990cc); V. Rossi (Yamaha) 2006 - 2'00.605