Detail
Yamaha press releases on our motor sports racing activities
| | |
| --- | --- |
| Second session gives Yamaha more confidence in Sepang | Jan. 23, 2007 |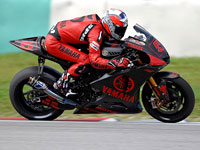 A second day of testing in Malaysia today saw the Yamaha Factory Racing Team continue to come on in leaps and bounds with the development of their new prototype 800cc motorcycle. With rain threatening for tomorrow痴 third and final day of testing, both Valentino Rossi and Colin Edwards elected to take advantage of clear skies and complete their long-run today, the first for either rider on the new bike. Initial feedback was good and Rossi especially was very pleased with the performance of his Yamaha under race conditions. Edwards, who was trying a different set-up and tyre package to his team-mate in order to gather as much information as possible for Yamaha痴 engineers and Michelin, was less comfortable during his long-run, but importantly was able to identify some of the key areas in which the team still need to focus their attention over the coming tests.

Both riders improved on their times from yesterday, with Edwards dipping under the old 990cc lap record pace with a fastest lap of 2・1.930, set during the morning on race tyres. He was just behind Suzuki痴 John Hopkins, who topped the unofficial time sheets for the second day running in a time of 2・1.806. Rossi posted the fifth fastest time of the day after completing 57 laps, with a time of 2・2.619. The Yamaha Factory Racing Team will complete their final day of this first test tomorrow.


Colin Edwards (2nd; 2'01.930; 60 laps)
"I知 not sure if it痴 to do with the fact that I知 getting old, or just that I致e been off the bike for six weeks, but this week it seems that I知 much stronger in the morning than in the afternoon! The morning felt really good today, Michelin had me working in one direction and Valentino in another and I was quite excited about how everything was feeling and about the times I was able to do. I did my best time on a race tyre and it was coming pretty easily. Michelin have worked seriously hard over the winter and the new front tyres they池e bringing us are just getting better and better, so congratulations to them. This afternoon was much harder and it was pretty hot out there too."

"The package I used for the long-run wasn稚 so good, it definitely wasn稚 the right direction for the rear tyre and it was hard work for me. Anyway Valentino's package worked well and that痴 why we池e here after all ・to work out what does work and what doesn稚! It痴 given us some clear answers and now we can use tomorrow to double check what we致e learned this week and finish on a good note."

Valentino Rossi (5th; 2・2.619; 57 laps)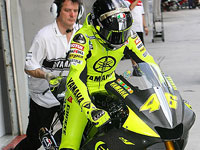 "Today I made my first long-run with the new bike, because I was worried about the weather for tomorrow. It was important to be able to see the level of the bike over a long distance, so we didn稚 want to risk waiting for the last day. I am very happy about how it went; the performance of the bike and tyres was very good. We still need to improve the braking a bit, but I am sure it will get better as we continue to work on the set-up."

"The temperature at noon was very high and the sun felt like a sword beating down on my helmet, but it was still great fun and I really enjoyed myself! Of course with the 990cc bike the top speed was a bit faster, but overall with the new bike the pace on a long-run isn稚 so different, because it puts less stress on the tyres so their performance remains higher for longer. The physical effort is similar for both bikes, and I feel very motivated after the long-run today. "

"We tested the 16" front tyre today; we still need to work more on this, but the initial feeling is very good and the handling is a bit better with it. The bike is more stable in the corner and therefore I have more confidence. I think in the end it could be a good solution, but we need more time to be sure. Tomorrow we have other tyres to test and we will just continue to work on the general set-up of the bike."

Davide Brivio - Team Director
"It has been another good day for us here in Malaysia. Every day we understand more and more about our new bike and we gain more experience about the right way to work and ride with this new 800cc Yamaha. Today both riders made a long-run, which is always an important indication of how we are progressing. Valentino's was very positive and we gathered a lot of important information from it. Colin had more difficulty and showed some of the problem areas we need to work on, but he also gained positives from today and his best time this morning was very fast. Of course we致e got a lot of work to do, but that is the reason for testing! Tomorrow we will continue like this, working on the set-up of our bike and also testing some new tyres for Michelin."
Unofficial Lap Times:
| | | | |
| --- | --- | --- | --- |
| Pos. | Rider | Machine | Time |
| 1 | John Hopkins | Suzuki | 2'01.806 |
| 2 | Colin Edwards | Yamaha | 2'01.930 |
| 3 | Chris Vermeulen | Suzuki | 2'02.275 |
| 4 | Alex Barros | Ducati | 2'02.538 |
| 5 | Valentino Rossi | Yamaha | 2'02.619 |
| 6 | Loris Capirossi | Ducati | 2'02.793 |
| 7 | Randy de Puniet | Kawasaki | 2'02.806 |
| 8 | Nicky Hayden | Honda | 2'02.948 |
| 9 | Dani Pedrosa | Honda | 2'03.098 |
| 10 | Casey Stoner | Ducati | 2'03.190 |
| 11 | Marco Melandri | Honda | 2'03.253 |
| 12 | Shinya Nakano | Honda | 2'03.633 |
| 13 | Carlos Checa | Honda | 2'03.681 |
| 14 | Shinichi Ito | Bridgestone Test | 2'03.700 |
| 15 | Kenny Roberts | Team KR | 2'03.800 |
| 16 | Alex Hoffman | Ducati | 2'03.895 |
| 17 | Toni Elias | Honda | 2'04.124 |
| 18 | Olivier Jacque | Kawasaki | 2'04.171 |
| 19 | Makoto Tamada | Yamaha | 2'04.350 |
| 20 | Sylvain Guintoli | Yamaha | 2'04.892 |
Sepang Lap Record (990cc): Loris Capirossi (Ducati) 2006 - 2'02.127
Sepang Best Lap (990cc): Valentino Rossi (Yamaha) 2006 - 2'00.605