Detail
Yamaha press releases on our motor sports racing activities
Corser and Haga prove new R1's abilities at Losail test
Dec. 19 – 21, 2006 Losail, Qatar
Dec. 25, 2006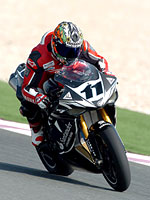 The second significant test session in the run-up to the 2007 season proved to be another giant step for the all-new YZF-R1 and despite poor track conditions in the early sessions and having a mountain of development parts to work through, both Yamaha Motor Italia riders, Troy Corser and Noriyuki Haga, were able to set fast times.

Corser, highly impressive on the new machine at such an early stage in its development, proved to be second quickest rider overall, with a 1'58.9 best lap, while Haga had to wait until he got close to an optimum set-up to record a 1'59.7, less than a second from Corser. Fastest rider on show was 2006 champion, Troy Bayliss, with a 1'58.1.

The Yamaha Motor Italia team had three different chassis specs in Losail, increasing in stiffness from standard to increasingly heavily braced, and the same number of rear swingarms, one near standard and two full race versions. The riders had to work their way through various combinations to choose the best one as a base, as well as try out the new generation of Pirelli tyres. Corser also tried out the full 2007 spec rear suspension unit.


Troy Corser - Yamaha Motor Italia
"Even given the conditions in the first couple of days this test has been good for us. We tried out three different rear swingarms, and three chassis, and worked our way through the various combinations of each. Trying out various new tyres at the same time makes it a bit harder but we are pretty happy overall. The longest run I did was about ten laps on the final afternoon and I think Troy Bayliss and I were about the only ones who could get the tyres to do a longish run. I only stopped my long run because the tyre had spun on the rim. We still have some things to work though, because we lost time by having to go in and out of the pits so much to change tyres. We still have a few things to go over again at Phillip Island but the main thing is that I feel comfortable on the bike after only a short time riding it. We were not that worried about lap times this test, as it was more about getting a feeling with the bike - but the lap times were coming in any case."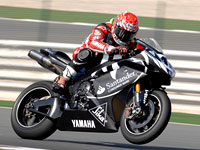 Noriyuki Haga - Yamaha Motor Italia
"We have new swingarms and chassis to test but it is very hard to evaluate them when the track is the way it was in the first couple of days. But in the end we found a good combination of chassis and swingarm, but we did not get such a good feeling from the tyres as we hoped. We still need to work on the set-up of the back end of the bike because with so little grip from the track it is difficult to know the exact direction to take. On fresh tyres we can do the times. We did a long run but we could have made a longer one if we had more duration from the tyre life."

Massimo Meregalli - Team Coordinator Yamaha Motor Italia
"We are really happy about the test and the riders have delivered us a good reward for all the hard work we have put in during the last three months on the new R1. We worked really hard and the bike is already good. We go home to do some more work before we got to Australia, where we can make our final preparations for the start of the season."

Laurens Klein Koerkamp - Yamaha Racing Manager
"The riders had a lot of material to work though, various chassis specs and swing arms to test, and there were a lot of options. Noriyuki found this difficult at first, but near the end he did a large quantity of laps and found a way. He set a constant range of fast laps in his longest run. Troy was fast from the beginning so you can easily see his experience of testing and in set-up. That is what we expected when we signed him, and it is clearly coming out now. His feedback is concise, clear, accurate and easy to understand for the engineers. And he is fast! Now, we need to go to Phillip Island to reconfirm what we found here. The biggest positives are how well the new bike is going, even at this stage, and how well Troy has worked with the team."
Unofficial times:
| | | | |
| --- | --- | --- | --- |
| Pos. | Rider | Team | Time |
| 1 | T.Bayliss | Ducati | 1'58.1 |
| 2 | T.Corser | Yamaha | 1'58.9 |
| 3 | M.Biaggi | Suzuki | 1'58.9 |
| 4 | J.Toseland | Honda | 1'59.1 |
| 5 | L.Laconi | Kawasaki | 1'59.2 |
| 6 | L.Lanzi | Ducati | 1'59.3 |
| 7 | F.Nieto | Kawasaki | 1'59.5 |
| 8 | N.Haga | Yamaha | 1'59.7 |
| 9 | Y.Kagayama | Suzuki | 2'00.1 |
| 10 | R.Rolfo | Honda | 2'01.7 |