Detail
Yamaha press releases on our motor sports racing activities
| | |
| --- | --- |
| Haga Third Fastest and Top Yamaha Rider at Misano | Apr. 20, 2006 |

Noriyuki Haga was once more the fastest Yamaha qualifier at an official SBK test, and had he not found another rider in his path when running qualifying rubber in the final afternoon session, he may even have had the chance to improve his 1'33.870 best. Troy Bayliss (Ducati) was once more the rider leaving a test session with the fastest time, a new track record 1'33.317.

Haga, who had tested new triple clamps and rear suspension linkages on his R1, decided not to continue in the very last moments of the two day test, thanks to the residue left on the track surface after an oil spill at the first corner. He thus had to rely on his best time from the morning session, rather than the final one.

Hagas team-mate Andrew Pitt was a top ten rider on his R1, working steadily through revised engine mapping and also losing out on a final chance to set a faster time than his 1'34.469. Times in general were tight, with 14 riders covered by just over a single second, from second to 15th place.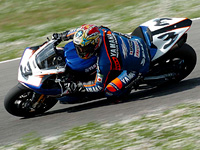 A strong ride in the final session from Sebastien Gimbert, on his Yamaha Motor France Ipone R1, put him 11th fastest, a particularly fine performance from a rider who had not ridden at Misano for 11 years. Norick Abe continued to find Misano a difficult challenge on his Yamaha Motor France Ipone R1, with his efforts to go faster often met by stubborn resistance on the tight and twist Misano layout. World Superbike rookie Shinichi Nakatomi was 20th out of 27 riders at Misano, during his first visit to the Italian circuit, which forms the venue for round six of the championships on 25 June.


Noriyuki Haga, Yamaha Motor Italia
"The balance of the bike was good today and I decided to test a soft tyre. I found Kagayama in front of me but without that happening I think I could have set a lap time closer to Bayliss. When the circuit got covered in oil and then cement dust we decided to stop, so I could not use a soft tyre in the afternoon session."

Andrew Pitt, Yamaha Motor Italia
"It would have been nice to be further up the list but I just didn't put it together on a qualifying tyre. On race tyres the bike was good and we improved it a lot. The bike is much the same as Valencia, which is a good thing. We don't need to change it much now, which is what weve been looking for for a while. We tuned in the electronics a bit more, to make it even easier to open the throttle earlier. It was all pretty good."

Sebastien Gimbert, Yamaha Motor France
"All the team worked very hard and the bike was very good compared to the races in Qatar and Australia. For me it was not so hard to get the bike working well here and set some fast times around the circuit. I am very content with the progress and the good work we have all made."

Norick Abe, Yamaha Motor France
"We tried out many things. Last year I raced here and it was the first time for me. It was the worst race of the year, and this time it still felt no good. So maybe I don't like this track. Step-by-step we did better than before, but compared to most other riders it was not so good. Despite that, I think we are two seconds better than last year. The tyres are much better than last year as well. But I would like to forget this Misano test and just get to Valencia."

Shinichi Nakatomi, Yamaha Motor France
"I have never been here before so it was important to test and make a race set-up for when we come back in June. It is a very different track, with three fast left hand corners onto the back straight. We worked a lot, and I did 162 laps to learn the circuit better."

Massimo Meregalli, Team Coordinator Yamaha Motor Italia
"We had a plan and we got all our work done, the only thing we could not do was to go out at the end on soft tyres, because of the dust on the track. But the test was good. The only question mark we have now is the temperature of the track when we return for the race in June. We hope that for the race the bikes performance, which was very good here, is the same."
Lap times:
| | | | |
| --- | --- | --- | --- |
| Pos. | Rider | Team | Time |
| 1 | T.Bayliss | Ducati | 1'33.317 |
| 2 | T.Corser | Suzuki | 1'33.824 |
| 3 | N.Haga | Yamaha | 1'33.870 |
| 4 | L.Lanzi | Ducati | 1'33.933 |
| 5 | C.Walker | Kawasaki | 1'33.984 |
| 6 | R.Laconi | Kawasaki | 1'34.085 |
| 7 | F.Nieto | Kawasaki | 1'34.181 |
| 8 | Y.Kagayama | Suzuki | 1'34.266 |
| 9 | R.Xaus | Ducati | 1'34.315 |
| 10 | A.Pitt | Yamaha | 1'34.469 |
| 11 | S.Gimbert | Yamaha | 1'34.618 |
| 19 | N.Abe | Yamaha | 1'35.574 |
| 20 | S.Nakatomi | Yamaha | 1'35.684 |