Detail
Yamaha press releases on our motor sports racing activities
| | |
| --- | --- |
| Haga the top R1 rider in Valencia testing | Apr. 7, 2006 |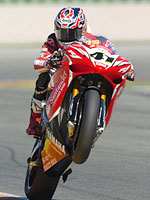 Noriyuki Haga set the fastest Yamaha lap at a three-day official SBK practice session in Valencia, finishing sixth overall on his Yamaha Motor Italia R1, with a time of 1'35.259. He worked his way through a full testing programme and undertook an extensive evaluation of new parts and modified machine settings, in preparation for the forthcoming Valencia race on 23 April. Troy Bayliss (Ducati) set a new Superbike track best in the morning session of the final day, with a 1'33.758.

Haga, unlike most of his 27 rivals at Valencia, set his best time in the final session, held in hotter and winder conditions than the more favoured mornings, and he put it down to the incremental improvements in set-up he and his team had made from the first session on.

Haga's team-mate, Andrew Pitt, took his Yamaha Motor Italia R1 to a more than respectable eighth overall, in what is arguably the most competitive field in World Superbikes relatively short history. Norick Abe, from the Yamaha Motor France IPONE squad, ended his test somewhat prematurely, as he had started to run a temperature, after contracting a flu virus. He was to post a time good enough for 19th place, as he concentrated on trying out new engine specifications and front suspension components.

Japanese World Superbike rookie Shinichi Nakatomi improved on his testing times from previous Valencia winter outings, and in the absence of team regular Sebastien Gimbert, Lorenzo Alfonsi, the 2004 European Superstock Champion, substituted on the teams third bike. Nakatomi would finish the three days 23rd, with Alfonsi 24th.


Noriyuki Haga, Yamaha Motor Italia
"We are quite happy with the test and both bikes are working very well. The newer gas fork seems very good. Generally our settings are quite good already but to go full race distance is another thing. We tried to do a full race simulation, but we could not manage it this time. We also did not get so many laps in on qualifying tyres, but at this moment we are in good condition on race tyres. We were not that affected by the wind that builds up in the afternoon, and it was just a gradual improvement in the settings that allowed me to go faster in the final afternoon session."

Andrew Pitt, Yamaha Motor Italia
"This is the first time we've really had the grip here that we wanted, at previous tests the grip has always been a problem, and that makes it a lot easier to open the throttle sooner. That's a really big thing. We made some improvements to the existing machine and we played around with the engine settings, taking out a bit of power here and a putting it back in there. Just trying to soften the curve a bit, and it seems to be working. I put a soft tyre in this morning and made a reasonable lap but we mostly worked on race tyre consistency, and also tried a lot of front tyres, to work out which one is going to go the distance when we come here to race."

Norick Abe, Yamaha Motor France
"I tried new suspension on the front today and it was a real improvement. The new forks are definitely much better. We tried many different engine specs but they gave us basically the same result. I made my best lap time, 1'35.9 on the last day. I'm happy for that and we did a lot of laps. Unfortunately I now have a fever of 38 degrees, so I decided to finish early and go home to rest."

Shinichi Nakatomi, Yamaha Motor France
"I was riding to be ready for full race distance, and we made a quite good lap time compared to my previous best, which was a 1'37.4. Now I have set a 1'36.7, in race conditions. Things are much better compared to the first test, especially the chassis condition. I have more confidence on the bike now as well."

Lorenzo Alfonsi, Yamaha Motor France
"I could have gone faster near the end, but when I wanted to use my qualifying tyre something hit my front wheel and my brake calliper, damaging both. I think everything will be OK for the race."

Massimo Meregalli, Yamaha Motor Italia Team Director
"I think we had a good test because we came here with a plan, to test four or five different pieces, and we got through everything. We found something to help the increased durability of the tyre, and maybe that was also down to the track conditions. We have been making progress race-by-race, and test-by-test in terms of the engine characteristic. Every time we have new mapping which works well on the development dyno it works well on the bike when we get to the track. I think Andrew and Nori, and all the team, worked very well on all three days."
Lap times:
| | | | |
| --- | --- | --- | --- |
| Pos. | Rider | Team | Time |
| 1 | T.Bayliss | Ducati | 1'33.758 |
| 2 | R.Xaus | Ducati | 1'34.659 |
| 3 | L.Lanzi | Ducati | 1'34.848 |
| 4 | T.Corser | Suzuki | 1'34.933 |
| 5 | S.Martin | Petronas | 1'35.178 |
| 6 | N.Haga | Yamaha | 1'35.295 |
| 7 | F.Nieto | Kawasaki | 1'35.377 |
| 8 | A.Pitt | Yamaha | 1'35.423 |
| 9 | M.Fabrizio | Honda | 1'35.437 |
| 10 | Y. Kagayama | Suzuki | 1'35.538 |
| 19 | N. Abe | Yamaha | 1'35.967 |
| 23 | S. Nakatomi | Yamaha | 1'36.737 |
| 24 | L.Alfonsi | Yamaha | 1'36.900 |
Circuit: Valencia
Circuit Length: 4005km
Lap Record: 1'35.007 (Neil Hodgson, 2003)
Fastest Lap Ever: 1'33.758 (Troy Bayliss, 2006)
Date: 27-29 March 2006
Temp: 24C