Detail
Yamaha press releases on our motor sports racing activities
| | |
| --- | --- |
| Rain interrupts Camel Yamaha Team test on Rossi's birthday | Feb. 17, 2006 |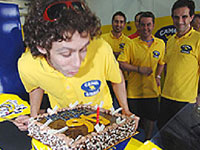 Bad weather again today meant that track time for Yamaha duo Valentino Rossi and Colin Edwards was severely limited on their last day of testing in Sepang. The riders were unable to complete their planned long-runs but Rossi, who turned 27 today, made the most of the inactivity and celebrated with a large birthday cake in the team garage. Despite the rain the riders declared the test valuable and now head back to Europe looking forward to the final stages of preparation, before the first race in Jerez on 26th March.
With track conditions patchy throughout the day, times were slightly slower across the board than yesterday. Rossi and Edwards only completed 34 and 28 laps respectively, Rossi setting the second fastest time of 2'02.06 and Edwards the fourth fastest with a lap of 2'02.33. Loris Capirossi (Ducati) was quickest in a time of 2'01.92.

The Camel Yamaha Team now return home for a short holiday before they reconvene at the Montmelo circuit, outside Barcelona, for the Official MotoGP Tests on 3rd, 4th and 5th March.

Valentino Rossi (2'02.06, 34 Laps)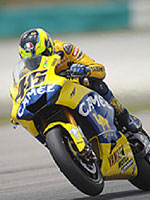 "27 years is quite a lot and I am definitely getting old, although most of the time I still feel like I am only 16! Today we couldn't do much because of the weather but overall it's been a very interesting test. I am especially happy because we have made some good progress to solve the problem with the vibration. We have some new data now and we understand better why it's happening, and how to finally fix it. We're not yet at 100% and I think we can go faster, but I am feeling confident. Before the Jerez GP we might receive a small improvement for the engine, and hopefully we will have a bit more power. The test in Barcelona isn't so important for us but the final one in Jerez is very useful, as it's just a week before the first race and the conditions will be similar. Now we're close to the start of the season and it's already becoming clear who the main challengers will be; Melandri and Pedrosa especially are looking very fast and it also seems like Ducati are strong. I think it's going to be a very exciting year with some wonderful races!"

Colin Edwards (2'02.33, 28 Laps)

"Today was a bit of a wash-out for me! This morning we only tested a couple of tyres and then it looked like it might rain, so we decided to get started on our long run. Unfortunately I only had time for my warm-up and half a lap before it rained, so that was kind of it for the day! Anyway it's been a good test, we've learned a lot more about the bike and we've been able to try quite a lot of new things which seem to make sense. We're definitely not chasing our tails anymore and the bike is better than it was on Tuesday when we started; that's the most important thing. In general the new bike is great, pretty much everything is better than last year and now I am just counting down the days to the start of the season."

Davide Brivio, Camel Yamaha Team Director
"We have concluded our overseas testing sessions and now we're going back to Europe for the final two tests. The conditions in Barcelona won't help us so much with the bike development but anyway we will try to make the most of it. The important test will be Jerez, which will be the final opportunity for some key preparation before the first race. At the moment we still have a small problem to solve with vibration but apart from that everything is going well. Now we have to work in cooperation with Michelin to find the best combination between the new bike and the new tyres, because both have great potential. The Yamaha Tech 3 outfit again surprised with very competitive times of Carlos Checa, who seems to have made the chance to Yamaha and Dunlop effortlessly. Yamaha debutant James Ellison however could not progress on the strong last day test results he achieved in Qatar. He will need some time to digest the input of the last tests to recalibrate himself for the Barcelona IRTA test starting on March 3."

Carlos Checa (2'02.66)
"The times have been really good this week and I am quite happy and surprised with the progress we have made so far. We didn't know what would happen coming here after the good first test we made in Qatar and we were prepared to have some problems, but things have been better than we expected and I am happy. The new bike is excellent, as I said before, and now we're starting to understand more about the tyres with Dunlop and how to work together with what we have. We have tried quite a lot of new things with Dunlop this week and there are some good improvements; we have found much better grip here which is helping me to have more confidence. Anyway despite all this and the times we have set, I don't want to be overconfident or to start to think that things are going to be easy. We have only done two tests and, although the initial signs are good, we can't afford to relax. We have a lot of work to do and a long way to go. The conditions here have been quite strange and now we go to Barcelona, which is a very different track and with much colder weather. Let's wait and see what happens there. Of course it's my home track so it's always nice for me to ride there, but we have a lot of hard work ahead of us so I won't let anything distract me."

James Ellison (2'05.70)
"This test has really been one that I would like to forget! We started with the settings we had in Qatar because everything felt good there, but they were a mile off for this track so we gradually started to go back to what we had here in January. We got the times back to what they were then but I couldn't go any faster. My riding style is all wrong for here, comparing the data with Carlos' it's clear that I am still carrying way to much corner speed, a hang-over from my Superbike days, and I am having a real problem to make the change. I need to be running in fast on the brakes, stopping the bike, turning it and then firing it out, but it's not easy at this circuit, which I find very difficult. The encouraging thing is that I have been losing all my time on just three corners, so if I can crack my corner style, which I know I can, then I believe I can start to be more in touch with Carlos. We've been pretty unlucky with the weather as well. Most of the time I spent on the old tyres, and then when we put some new stuff in yesterday it immediately started to rain! Exactly the same thing happened today; we tried some of the good tyres and the grip was much better straight away, but then we needed to change the bike at the front and as soon as we did that it started to rain again. Anyway, I think I've just been thinking about everything too much! Now I am going to go home and spend some time mountain-biking my second passion after riding motorcycles and my best form of training. I hope that I can clear my head a bit and go to Barcelona in a new frame of mind. I think I just need to just go there, ride the bike, trust in my ability a little bit and stop trying to think about too many things at once! I really like Barcelona so I hope it will be a big improvement there."

Herve Poncharal, Tech 3 Yamaha Team Director
"We are really happy and pleasantly surprised with the performance of Carlos this week. He was fast in Qatar, but it was only the first test and we knew that Qatar has always been a good track for Dunlop. We didn't know what would happen here, since Sepang has always been one of the more difficult tracks for Dunlop. Anyway, Carlos has been fast all week and it's looking very promising, we're very pleased with the situation with him. We certainly didn't expect this level of results that quickly so well done to Yamaha, Dunlop and Carlos for the work they've done together in a short space of time. With James things have been more difficult and we haven't made as much progress as we had hoped. He's done a lot of laps but we haven't been able to find the right way forward for him. This is a difficult track for him and I think, after three tests here, he needs a break and a change of scenery. I hope that a bit of time to rest now will help him so that we can make a new start in Barcelona. Overall it's been an important test and once again we've learned a lot. We also got the chance to do a couple of runs in the rain which was good. The most important thing is that we're leaving with bikes and riders in good shape for the tests in Spain and we're looking forward to the start of the season."
Unofficial Lap Times:
(Ambient temperature: 33°C; Track temperature: 48°C; Humidity: 74%)
| | | | |
| --- | --- | --- | --- |
| Pos. | Rider | Machine | Time |
| 1 | Loris Capirossi (ITA) | Ducati | 2'01.92 |
| 2 | Valentino Rossi (ITA) | Yamaha | 2'02.06 |
| 3 | Shinya Nakano (JPN) | Kawasaki | 2'02.20 |
| 4 | Colin Edwards (USA) | Yamaha | 2'02.33 |
| 5 | John Hopkins (USA) | Suzuki | 2'02.34 |
| 6 | Randy de Puniet (FRA) | Kawasaki | 2'02.47 |
| 7 | Sete Gibernau (SPA) | Ducati | 2'02.65 |
| 8 | Carlos Checa (SPA) | Yamaha | 2'02.66 |
| 9 | Dani Pedrosa (SPA) | Honda | 2'01.70 |
| 10 | Nicky Hayden (USA) | Honda | 2'02.86 |
| 11 | Makoto Tamada (JPN) | Honda | 2'02.87 |
| 12 | Marco Melandri (ITA) | Honda | 2'03.00 |
| 13 | Toni Elias (SPA) | Honda | 2'03.64 |
| 14 | Alex Hofmann (GER) | Ducati | 2'04.18 |
| 15 | Kenny Roberts (USA) | KR Honda | 2'04.30 |
| 16 | Jose Luis Cardosa (SPA) | Ducati | 2'04.82 |
| 17 | James Ellison (GBR) | Yamaha | 2'05.70 |
Sepang Lap Record: 2'02.993 Nicky Hayden (Honda) 2005
Sepang Best Lap: 2'01.731 Loris Capirossi (Ducati) 2005