Detail
Yamaha press releases on our motor sports racing activities
| | |
| --- | --- |
| Rain shower calls early halt to second day of Sepang test | Feb. 16, 2006 |

Work ended early for Valentino Rossi and Colin Edwards today when day two of the Camel Yamaha Team's Sepang Test was cut short by a mid-afternoon rainstorm. The Team spent the morning working on different settings and testing tyres with Michelin, looking to eliminate the vibration that the riders have been experiencing lately, before the rain came down after lunch. Both riders ventured out in the wet on the 2006-spec M1, the first time they have been able to see the performance of the new bike in these conditions, but the track soon started to dry out in patches and they decided to call it a day after just a few laps.

Shinya Nakano (Kawasaki) set the fastest time of the day with a lap of 2'01.80, followed by Loris Capirossi (Ducati, 2'01.87). Rossi, who celebrates his 27th birthday tomorrow, was close behind him with a time of 2'01.89 after 47 laps, whilst team-mate Edwards completed 57 laps and set the seventh fastest time with a lap of 2'02.20. The Camel Yamaha Team has one final day of testing remaining tomorrow.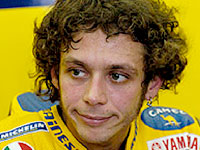 Valentino Rossi (2'01.89, 47 Laps)
"This morning we did quite a lot of laps and we were quite fast and consistent, so I was happy. We worked very well with Michelin and with one or two new tyres that they brought we made some good improvements to the vibration. Unfortunately in the afternoon it rained and we couldn't go on as we wished. We made a few laps in the rain just to see how the new bike was in the wet; we had some new things to try with the electronic mapping in these conditions, but we needed more time. After a few laps the track started to dry and then with the conditions half wet and half dry, we had to stop. Tomorrow we might do a long run and we will also continue with the work we started today."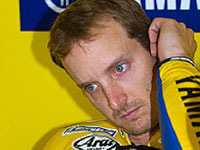 Colin Edwards (2'02.20, 57 Laps)
"The weather was a real disappointment today because we had a lot of work to do and we weren't able to complete as many laps as we had hoped. Anyway in the morning we concentrated on a new front fork setting and generally played around, looking for some improvements to the chatter issue. We didn't have enough time to do everything but we definitely made some steps in the right direction. We tested a couple of tyres for Michelin but then the rain came down. We did a few laps in the rain, just to check some settings and try out a couple of new things for Yamaha, and everything seemed okay in that area. Tomorrow we're going to get started nice and early as we've got a lot still to do; I really hope the weather is better!"

Davide Brivio Camel Yamaha Team Director
"Unfortunately the rain stopped us from completing all the work we wanted to do, but anyway we tried to use these conditions as best we could to check some things with the new bike. Tomorrow is our final day of testing in warm conditions before we return to Europe and we have to try to use all the time we have available to us."
Unofficial Lap Times:
(Ambient temperature: 31°C; Track temperature: 45°C; Humidity: 74%)
| | | | |
| --- | --- | --- | --- |
| Pos. | Rider | Machine | Time |
| 1 | Shinya Nakano (JPN) | Kawasaki | 2'01.80 |
| 2 | Loris Capirossi (ITA) | Ducati | 2'01.87 |
| 3 | Valentino Rossi (ITA) | Yamaha | 2'01.89 |
| 4 | John Hopkins (USA) | Suzuki | 2'01.90 |
| 5 | Dani Pedrosa (SPA) | Honda | 2'01.93 |
| 6 | Carlos Checa (SPA) | Yamaha | 2'02.06 |
| 7 | Colin Edwards (USA) | Yamaha | 2'02.20 |
| 8 | Randy de Puniet (FRA) | Kawasaki | 2'02.37 |
| 9 | Toni Elias (SPA) | Honda | 2'02.62 |
| 10 | Marco Melandri (ITA) | Honda | 2'02.65 |
| 11 | Makoto Tamada (JPN) | Honda | 2'02.66 |
| 12 | Sete Gibernau (SPA) | Ducati | 2'02.87 |
| 13 | Nicky Hayden (USA) | Honda | 2'02.93 |
| 14 | Kenny Roberts (USA) | KR Honda | 2'02.95 |
| 15 | Chris Vermeulen (AUS) | Suzuki | 2'03.18 |
| 16 | Alex Hofmann (GER) | Ducati | 2'04.23 |
| 17 | Jose Luis Cardosa (SPA) | Ducati | 2'04.65 |
| 18 | James Ellison (GBR) | Yamaha | 2'05.08 |
Sepang Lap Record: 2'02.993 Nicky Hayden (Honda) 2005
Sepang Best Lap: 2'01.731 Loris Capirossi (Ducati) 2005