Detail
Yamaha press releases on our motor sports racing activities
| | |
| --- | --- |
| Camel Yamaha Team returns to Sepang for final winter test | Feb. 15, 2006 |

Camel Yamaha Team riders Valentino Rossi and Colin Edwards began their last three-day test in Sepang today, where they rejoined the rest of the MotoGP grid at the popular Malaysian venue. Fresh from their test in Qatar last week, Rossi and Edwards completed more valuable development work with the 2006-spec YZR-M1, both finishing the day in the top five on the unofficial time sheets.

Focusing almost entirely on ironing out the small vibration problems they have been suffering from lately, fast lap times were not the aim of the day for the Yamaha pair. Despite this however, Rossi and Edwards were on the pace and well inside lap record time. Edwards was third behind Marco Melandri (Honda, 2'01.66) and Dani Pedrosa (Honda, 2'01.89) with a best lap of 2'02.00 from 54 laps whilst Rossi, who also completed 54 laps, was fifth with a time of 2'02.20.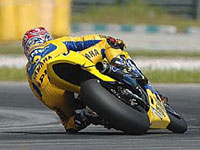 Colin Edwards (2'02.00, 54 Laps)
"It was seriously hot out there today and pretty exhausting! Today we concentrated on fixing the little bit of chatter we've had and played around with some front fork settings, just trying to dial it in. We made some good progress and we have a new front-end setting to try in the morning; we hope that this will be the final key. Honestly we didn't really concentrate much on lap times but it seems that they came anyway, so I'm pretty happy! The bike already feels even better than it did here in January, the new stuff we have from both Yamaha and Michelin is great and after Qatar I am feeling really confident, especially with the front-end. It's all going well so hopefully we can make the final steps we need over the next two days."


Valentino Rossi (2'02.20, 54 Laps)
"Today we worked almost entirely on trying to solve the vibration problems that we have had. We changed many things, tried various different settings and collected a lot of important information throughout the day. Now we are looking forward to using all this information over the next two days and we are confident that we are close to fixing the problem. Once we've been able to fix it, we will be able to use this bike to its full potential. Yamaha has done a great job and the potential of this bike is very high, it's a big improvement to last year's M1 and I am sure that once we've solved this one remaining issue, things will be very good."

Davide Brivio Camel Yamaha Team Director
"Of course fixing this vibration is now our main focus and today we worked a lot with the entire team to try to find the right way forward. We had great cooperation between the two riders and both crews, exchanging information and experience and this is very important for the team's progress. We've been working on data collection today and we will continue tomorrow, trying some new things and gathering more information to help us. We've already done many days testing with this new bike and mostly it's going very well, now we have two more days here to continue with our improvement."
Unofficial Lap Times:
(Ambient temperature: 37°C; Track temperature: 54°C; Humidity: 79%)
| | | | |
| --- | --- | --- | --- |
| Pos. | Rider | Machine | Time |
| 1 | Marco Melandri (ITA) | Honda | 2'01.66 |
| 2 | Dani Pedrosa (SPA) | Honda | 2'01.89 |
| 3 | Colin Edwards (USA) | Yamaha | 2'02.00 |
| 4 | John Hopkins (USA) | Suzuki | 2'02.15 |
| 5 | Valentino Rossi (ITA) | Yamaha | 2'02.20 |
| 6 | Loris Capirossi (ITA) | Ducati | 2'02.64 |
| 7 | Randy de Puniet (FRA) | Kawasaki | 2'02.75 |
| 8 | Nicky Hayden (USA) | Honda | 2'02.86 |
| 9 | Carlos Checa (SPA) | Yamaha | 2'03.40 |
| 9 | Casey Stoner (AUS) | Honda | 2'03'40 |
| 11 | Sete Gibernau (SPA) | Ducati | 2'03.51 |
| 12 | Toni Elias (SPA) | Honda | 2'03.52 |
| 13 | Kenny Roberts (USA) | KR Honda | 2'03.58 |
| 14 | Makoto Tamada (JPN) | Honda | 2'03.66 |
| 15 | Shinya Nakano (JPN) | Kawasaki | 2'04.02 |
| 16 | Chris Vermeulen (AUS) | Suzuki | 2'04.10 |
| 17 | Alex Hofmann (GER) | Ducati | 2'05.40 |
| 18 | Jose Luis Cardosa (SPA) | Ducati | 2'05.81 |
| 19 | James Ellison (GBR) | Yamaha | 2'05.90 |
Sepang Lap Record: 2'02.993 Nicky Hayden (Honda) 2005
Sepang Best Lap: 2'01.731 Loris Capirossi (Ducati) 2005