Detail
Yamaha press releases on our motor sports racing activities
| | |
| --- | --- |
| David Fr騁ign・wins Shamrock | Nov. 8, 2005 |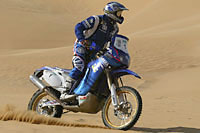 David Fr騁ign・(Yamaha WR450F - Yamaha Moto France Ipone) confirmed his ambitions for the legendary Dakar rally raid by claiming his fourth consecutive win in the Shamrock rally, that took place in the Morroccan Sahara from the 28th of October to the 6th of November. After his season competing in national and international enduro races, 奏he Shamrock' marked Fr騁ign・s traditional switch to rally睦aid. The likeable Frenchman quickly adapted to the terrain and his bike. Fr騁ign・ 35, took five day wins at the eighth edition of the Shamrock and added his fourth overall victory to his already impressive tally. David showed great speed in both fast and technical stages, making the best of his past experience in Morocco. However the main goal of the race was to let Fr騁ign・and his team get used to his new WR450F and prepare for the Dakar.

The 28th edition of the Dakar rally will take place from the 31st of December to the 15th of January 2006. After the rally had already started in France and Spain, it will this time take off from Lisbon, Portugal to end nearly 10,000 kilometres later at the coast of Dakar, S駭egal. In only his second Dakar participation this year David Fr騁ign・finished fifth overall. He was the only rider to have won three specials in 2005 and he repeated his 450 class win of last year.


David Fr騁ign・/font> (Yamaha WR450F - Yamaha Moto France Ipone) ・overall winner
"Above all I have used the Shamrock to prepare for Dakar. It's nice that I have won with an advance of more than 2 hours over the second, but for more it's even more important to know that we have done our homework for the Dakar. I have concentrated on getting the right setting for my suspension over the past week and everything turned out great. Apart from that we did the usual stuff with a new bike: adjusting pedals and handlebars, learning to work with the new GPS and so on. We have not touched the engine, but even under demanding situations the WR450F engine behaved brilliantly. In general the bike gave me even more confidence than before, and we will keep the bike as it is for the Dakar. The next step in my preparation is to rest and perfect my physical shape till the end of November, after that I will start studying the maps to get my mind set for the 2006 Dakar. I will also have the bike with me to continue to ride and practice my navigation."
FINAL STANDINGS SHAMROCK RALLY 2005
| | | |
| --- | --- | --- |
| 1. | David Fr騁ign・/b> | Yamaha |
| 2. | Thierry Bethys | Honda |
| 3. | Christophe Meillat | Honda |
| 4. | Olivier Cubaynes | Yamaha |
| 5. | Patrick Moreno | Suzuki |
| 6. | Andr・Lenoble | Suzuki |
| 7. | Christophe Rougeot | Yamaha |
| 8. | Philippe Pennarun | Yamaha |
| 9. | Jean-Michel Redal | Polaris |
| 10. | Eric Beaudoin | Kawasaki |