Detail
Yamaha press releases on our motor sports racing activities
Double titles for Yamaha in World Motocross MX1 and MX2 classes!
Stefan Everts clinches 2005 MX1 title on the YZ450FM
Antonio Cairoli wins first title in MX2 class on the YZ250F!
Sep. 5, 2005

In the 16th round of the World Motocross Championships MX1 class held on Sep. 4 in the Netherlands, Stefan Everts (Belgium), riding the YZ450FM for the Yamaha L&M Motocross team, won both heats, and in doing so he clinched the 2005 season title by bringing his season point total to 671 points with one round remaining.
This is Everts' third straight world title in the pinnacle class since the new World GP regulation went into effect in 2003. Adding the titles in the 500cc class in 2001 and '02, this adds up to five straight titles for Everts and Yamaha. As for Everts himself, this marked his ninth world title (one at 125cc, three at 250cc, two at 500cc and three in the former MXGP and current MX1 classes).
Meanwhile on the same day in the MX2 class, Antonio Cairoli (Italy) rode his YZ250F to 7th place in the first heat and 8th in the second heat to finish 5th on the day and clinched his first world title with one round remaining by bringing his season point total to 549. This was also the first title for Yamaha's 4-stroke YZ250F in the World Motocross Championships. It was also Yamaha's 4th title overall and first since 1997 in the former 125cc and current MX2 class.
These results bring the total number of Yamaha rider championship titles in the World Championships to 19, since the brand's first title in the 250cc class in 1973 (four in the former 125cc and current MX2, nine in the former 250cc and current MX1, six in the former 500cc classes). Also, this marks the first time that Yamaha has won double titles in the same years since it began competing in the World Motocross Championships in 1972.
Everts & Cairoli entry as wild cards at the final round of the All Japan Motocross Championship

Date

:

October 23 (Sun)

Circuit

:

Sportsland SUGO (Shibata-gun, Miyagi pref.)

Race

:

All Japan Motocross Championship Rd.10 the Grand Prix of Japan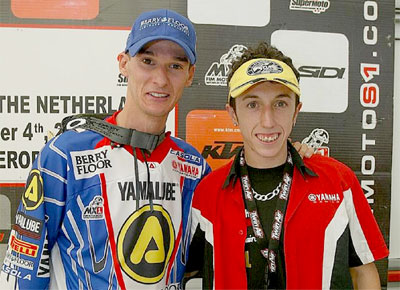 The 2005 MX1 champ Everts and MX2 champ Cairoli (at Dutch GP on Sep. 4)
Stefan Everts (Yamaha L&M Motocross Team) - 2005 MX1 WORLD CHAMPION
"The track was a big advantage for me today. I love the sand and dealing with the difficulties it gives you as a rider. Timing is very important and that is what I like to work on. I felt great yesterday and I carried that same confidence over to race day. I could ride in control in the first race, but I knew Ben (Townley) would be strong here and I had my own game plan to deal with it. It was better to let Ben go by, study his lines and then come back afterwards. The track was really tough, but I still had a little extra to prove myself. In the end it was great to wrap up the title in style by winning both races and it was nice to share this moment with so many fans. Surely this title did not come easy, and today is probably the first GP where I had good starts in both races! I had to work hard to win this year, but it makes the satisfaction even bigger. It's a tough call why, but maybe it's just because I grow older. Now I'm looking forward to my celebration party tomorrow in Neeroeteren, the band Praga Khan will play there and everybody is invited. I'm sure it will be great!"

Antonio Cairoli (Team Yamaha De Carli) - 2005 MX2 WORLD CHAMPION
"If I had to pick a race where I wanted to win the title it would have been here! I really like riding in the sand and because I live close by in Belgium this area has become my second home. I hurt my left wrist yesterday, and my ankle injury already made it hard to push in the deep sand. I fought hard to make it happen here and I kept on believing. In the first race I had a good start, but I could not follow the rhythm of the leaders and I preferred to conserve my energy for the end of the race because realized it was going to be hard. Two laps before the end my team informed me that I had won the title and it was just the most amazing feeling ever. I'm so happy to have won the title! I have now one big goal left and that is to get a good result with the Italian team at the MX of Nations in France."

Tatsuya Watanabe, YMC Motorcycle Development Group director
"After the debut of the Yamaha 4-stroke motocrossers in 1997 the other makers have all introduced 4-stroke machines. The intense level of competition between the makers with these models at the race course and the high level of interest in the market are what has characterized motocross scene in recent years. So, it really makes me happy and proud that we have been able to win double rider titles in the two World Motocross Championship classes (MX1 and MX2) in this important Yamaha 50th Anniversary year, for the first time since Yamaha began competing in world motocross in 1972. I want to thank once again all the fans around the world and our sponsors, our distributors in each country and the team staff whose support has made this great achievement possible. In order to continue to bring Kando to motocross fans everywhere, we are going to continue our machine development efforts without rest and with our eyes fixed always on 'the next victory.' And we will continue to work with everyone involved to make sure that these victories help build the Yamaha brand image. I hope that everyone will continue to root for our Yamaha teams."
Stefan Everts Profile
Name: Stefan Everts
Nationality: Belgian
Born: Nov. 25, 1972
Racing team: Yamaha L&M Motocross Team
Hobbies: Music, golf, karts, marine sports
Race career
1989: 15th in FIM World Motocross Championships 125cc class
1990: 3rd in FIM World Motocross Championships 125cc class
1991: Champion of FIM World Motocross Championships 125cc class
1992: 11th in FIM World Motocross Championships 250cc class
1993: 2nd in FIM World Motocross Championships 250cc class
1994: 2nd in FIM World Motocross Championships 250cc class
1995: Champion of FIM World Motocross Championships 250cc class
1996: Champion of FIM World Motocross Championships 250cc class
1997: Champion of FIM World Motocross Championships 250cc class
1998: 2nd in FIM World Motocross Championships 250cc class
1999:

11th in FIM World Motocross Championships 250cc class
(missed some races due to injury)
2000: Not entered due to injury
2001: Champion of FIM World Motocross Championships 500cc class
2002: Champion of FIM World Motocross Championships 500cc class
2003: Champion of MXGP World Championship
2004: Champion of MX1 World Championship
2005: Champion of MX1 World Championship (decided in 16th round)
Stefan Everts 2005 season record (at end of rd.16)

Date

GP

1st heat

2nd heat

comment

Apr. 3

Rd. 1 Belgian GP

1st

3rd

Overall win

Apr. 17

Rd. 2 Spain GP

8th

2nd

Apr. 24

Rd. 3 Portugal GP

1st

3rd

Overall win

May 8

Rd. 4 Namur GP

2nd

1st

Overall win

May 15

Rd. 5 Europe GP

11th

2nd

May 29

Rd. 6 Japan GP

2nd

1st

Overall win

June 5

Rd. 7 UK GP

1st

1st

Overall win

June 12

Rd. 8 Italian GP

5th

1st

June 26

Rd. 9 French GP

2nd

7th

July 3

Rd. 10 Swedish GP

4th

4th

July 17

Rd. 11 South Africa GP

2nd

2nd

July 31

Rd. 12 Belgian GP

5th

1st

Aug. 7

Rd. 13 Czech GP

1st

4th

Aug. 21

Rd. 14 German GP

1st

1st

Overall win

Aug. 28

Rd. 15 UK GP

5th

5th

Sep. 4

Rd. 16 Dutch GP

1st

1st

Overall win

Sep. 17

Rd. 17 Irish GP
Antonio Cairoli Profile
Name: Antonio Cairoli
Nationality: Italian
Born: Sep. 23, 1985 (19)
Racing team: Team Yamaha De Carli
Hobbies: Mountain biking, mountain trekking
Race career
1992: Began racing
1998: Italian Mini Senior Champion
1999:

11th in FIM World Motocross Championships 250cc class
(missed some races due to injury)
| | |
| --- | --- |
| 2000: | 5th in European 85cc ranking 3rd in Italian 125 'cadet' Championship |
2002: Competed in Italian National 125cc class
2003: 15th in Italian National
2004: 3rd in MX2 World Championship
2005: Champion of MX2 World Championship (decided in 16th round)
Antonio Cairoli 2005 season record (at end of rd. 16)

Date

GP

1st heat

2nd heat

comment

Apr. 3

Rd. 1 Belgian GP

5th

4th

Apr. 17

Rd. 2 Spain GP

1st

8th

Apr. 24

Rd. 3 Portugal GP

1st

1st

Overall win

May 8

Rd. 4 Namur GP

1st

28th

May 15

Rd. 5 Europe GP

2nd

16th

May 29

Rd. 6 Japan GP

1st

4th

June 5

Rd. 7 UK GP

29th

13th

June 12

Rd. 8 Italian GP

1st

3rd

Overall win

June 26

Rd. 9 French GP

No entry

No entry

July 3

Rd. 10 Swedish GP

1st

1st

Overall win

July 17

Rd. 11 South Africa GP

9th

2nd

July 31

Rd. 12 Belgian GP

1st

1st

Overall win

Aug. 7

Rd. 13 Czech GP

1st

2nd

Overall win

Aug. 21

Rd. 14 German GP

1st

1st

Overall win

Aug. 28

Rd. 15 UK GP

3rd

20th

Sep. 4

Rd. 16 Dutch GP

7th

8th

Sep. 17

Rd. 17 Irish GPP