Detail
Yamaha press releases on our motor sports racing activities
| | |
| --- | --- |
| 典eam Yamaha China Tianjian・Participates in Round 3 of the 2005 MotoGP World Championship at the China Grand Prix (GP250 Class) | April 19, 2005 |

Announcing the decision to enter the典eam Yamaha China Tianjian琶n the GP250 class of Round 3 of the 2005 MotoGP World Championships to be contested on Sunday the 1st of May at the Shanghai circuit in the People痴 Republic of China.
Two Chinese riders from 典eam Yamaha China Tianjian・ Huan Shi Zhao (31 yrs) and He Zi Xian (29 yrs), participate as wild cards. Their machines are TZ250s and the team is managed by Yamaha Jianshe Motor Shanghai Marketing Co., Ltd.
Huan and He both have experience of riding TZ250 in the October 2003 MotoGP Malaysia Grand Prix(GP250 class). Huan was the first Chinese rider to advance to the finals in a Grand Prix, and completed the race in 19th place. This is the second time for them to participate in the GP 250cc class race since autumn 2003. These two riders have grown through their race experience over the last year and a half, and draw public attention as to whether they will play an active part on the stage at the first MotoGP in China.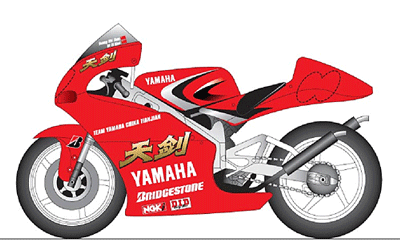 Color scheme of TZ250 (draft)
Profile of HUAN SHI ZHAO
Organization: Guangzhou Motor Sports Association
Birth Date: 30th November 1973 (31 yrs)
Team: Team Yamaha China Tianjian
Race Results
1996-1997: World Endurance Championship, Bol d丹r, Le Mans Race (with the Zongshen Team)
1997-2005: China Championship: GP125 & SP150 Champion (GP125 twice, SP150 once)
2002-2004:China Superbike Championship 600 Pro SuperSports Class Champion
2003: MotoGP Malaysia GP(GP250cc), finished 19th place
2004: World Endurance Championship Zhuhai Contest as a wild card, 3rd place in Asia Group
2004: China Superbike Championship 600 Pro SuperSports Class Champion

Profile of HE ZI XIAN
Organization: Guangzhou Motor Sports Association
Birth Date: 4th February 1976(29 yrs)
Team: Team Yamaha China Tianjian
Race Results
1996-1997: World Endurance Championship, Bol d丹r, Le Mans Race (with the Zongshen Team)
1997-2005: China Championship: GP125 & SP150 Champion (GP125 once, SP150 twice)
2003: China Superbike Championship 600 Pro SuperSports 3rd place
2003: MotoGP Malaysia GP(GP250cc), eliminated in the heat
2004: World Endurance Championship Zhuhai Contest as a wild card, 2nd place in Asia Group, sidelined other races by injury