Newsletter: Accelerating the Future of Smart Factories with Automated Transportation -- New Proposals Put Forward at the 2022 International Robot Exhibition --
March 31, 2022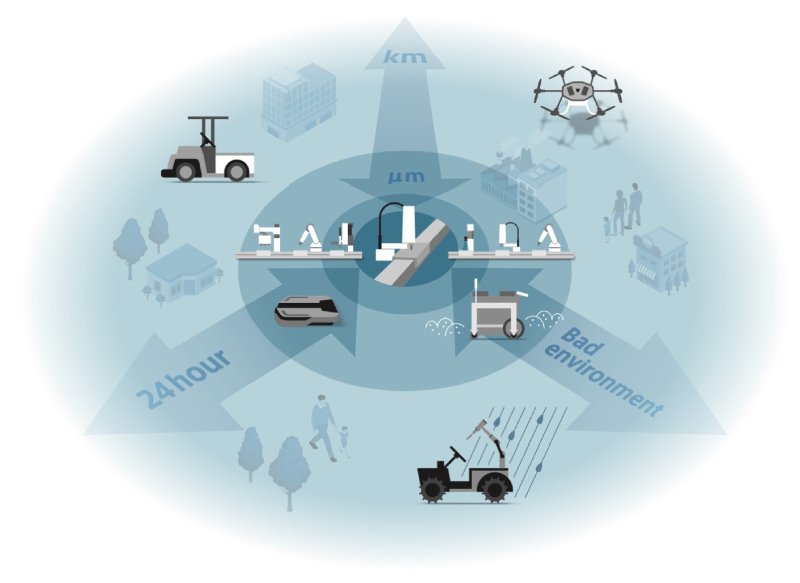 Various efforts are underway around the world to make factories "smarter," but it is said that the automation and efficiency-raising of transportation at facilities is lagging behind advances in production. In response, at the 2022 International Robot Exhibition, Yamaha Motor, which develops both robots and mobility products, integrated concepts and resources from both fields to offer new proposals with a focus on transfers and transportation at factories, linking one plant or operation to another from the micrometer level to kilometers.
Automating Transportation to Link Manufacturing Sites Together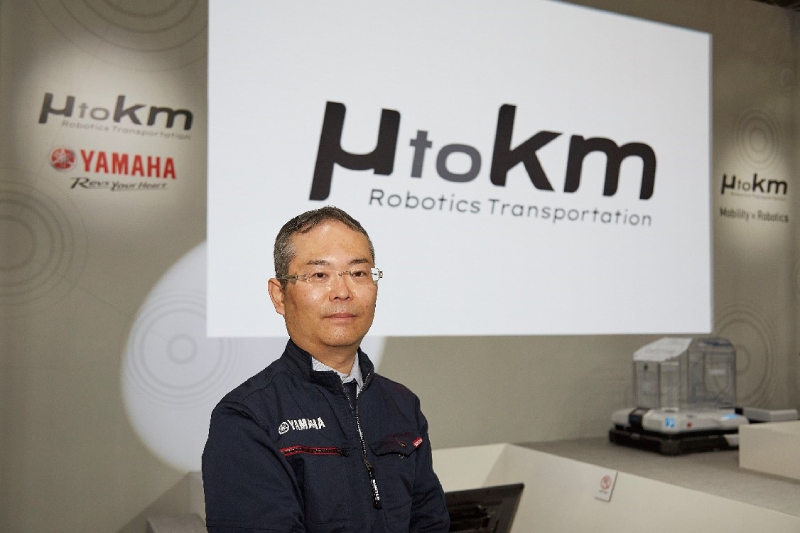 It has already been 10 years since advocacy of Industry 4.0 (the Fourth Industrial Revolution) began, headed by the German government and private companies. With the start of this movement, Yamaha Motor is moving forward with initiatives to create smart factories by leveraging advanced technologies, such as the Internet of Things and artificial intelligence, at its manufacturing facilities around the world. However, differences remain in the definition and perception of what a "smart factory" is and there are many sites facing challenges in achieving what this term entails.

At the 2022 International Robot Exhibition (iREX 2022)--one of the world's largest robotics trade shows--held at the Tokyo Big Sight from March 9 to 12, numerous companies proposed a variety of products and technologies aimed at making smart factories a reality. The Yamaha Motor booth also drew attention with its focus on transportation at manufacturing and production sites under the concept of "μ to km."

"Manufacturing sites are constantly moving things, from transporting small components to fully assembled parts. But when compared to work to build or assemble things, transport processes and operations have yet to be fully automated or streamlined," says Kentaro Hoshi from the Sales & Marketing Section of Yamaha's Robotics Business Unit. "Accordingly, we integrated our unique ideas and resources in robotics and mobility, as we are involved in both, to make proposals focused on transportation, from the micrometer level to medium-range transportation for linking plants and factories."
Creating Value Unique to Yamaha Motor through Collaboration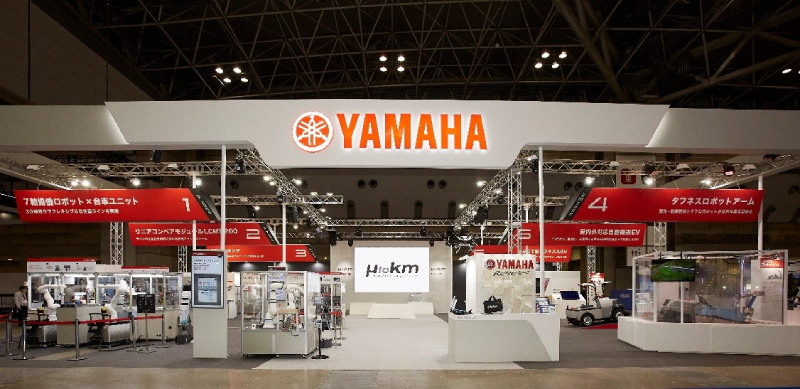 A variety of factors are involved in improving transportation efficiency, from distance and time to the environment in question. In doing this, the integration of robot and mobility technologies is indispensable for smooth linkage between processes, equipment, and plants.

"At iREX, we exhibited a variety of products, such as our linear conveyor module, unmanned vehicles, and an EV for automated transportation both indoors and outdoors," continues Hoshi. "However, although we're all part of the same company, everybody involved in creating these products actually work independent of each other, such as doing their own R&D and sales. This was the first time that we exhibited our work together, and we not only reaffirmed that we could create value unique to Yamaha Motor by collaborating but it also helped motivate us to take things up a notch by adopting the mindset of a startup."

The response and praise from visitors were also high: "With Yamaha Motor's achievements in robotics and mobility as well as their involvement in a wide range of businesses, the approach understands their strengths and what makes them different, and they could carve out a real presence in the space." Some 1.4 times more business negotiations were conducted at the venue as well.

"Until now, the time spent on transfers and transportation did not always directly contribute to production efficiencies. We intend to accelerate the automation of production sites by adding functionality to these processes and bridging them together. This will in turn free up labor resources taken by the heavy burden of running transport operations and lead to solutions that enable people to work smarter," concludes Hoshi.
Main Models Exhibited at iREX2022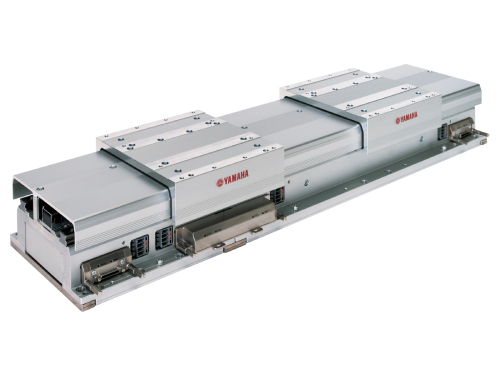 LCMR200 (Linear Conveyor Module)
A transport platform that dramatically increases line productivity. At the International Robot Exhibition, a demo setup for eliminating bottlenecks by branching production lines and overtaking processes with the newly developed traverse LCMR200 unit was unveiled for the first time. In addition, Yamaha exhibited the utilization of a non-contact power supply that takes advantage of linear transfers and an example of combining the LCMR200 with a line scan camera.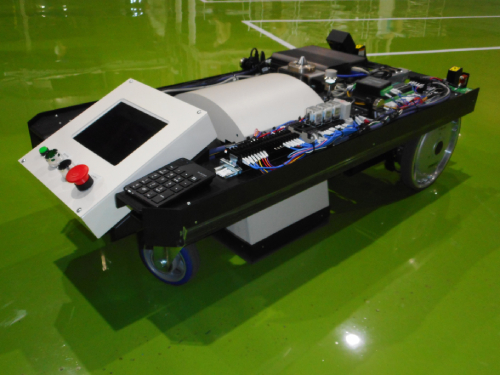 COW-el: Assembled Toughness AGV
This is an automatic guided vehicle created under the concept of "Simple, Smart, Strong." To designate a route to run, laying down strips of vinyl tape is all that is required; no guide rail installation or programming to map a route is needed. Since the unit can be adapted for tough environments that conventional AGVs are not suitable for, it is being used at our casting factories that use casting sand.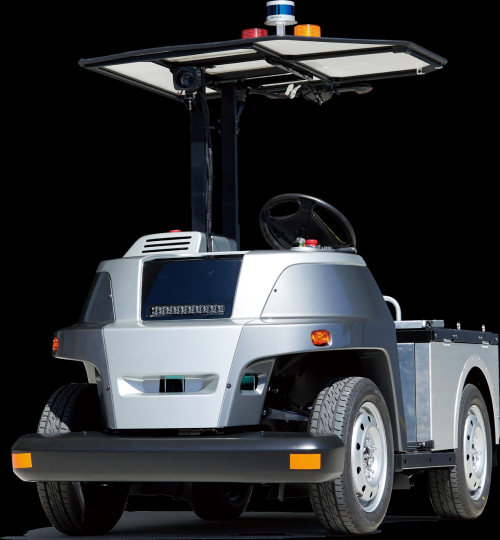 Autonomous EV for automated transport service indoor or outdoors
This EV is equipped with automated driving technology and is used for the "eve auto" autonomous transportation service under the banner of "automation starting today." The unit can be operated outside as well, including for traversing slopes, traveling between buildings, and under rainy conditions. Routes can also be easily edited by the client. Group company eve autonomy, inc. will begin offering this service from this summer.