Outline of the New Medium-Term Management Plan
February 10, 2022
IWATA, February 10, 2022--Yamaha Motor Co., Ltd. (Tokyo: 7272) has formulated its new Medium-Term Management Plan for the three-year period of 2022 through to 2024.

Based on our Corporate Mission to be a Kando* Creating Company, we are working to promote growth strategies and to reinforce our management foundations toward achieving our Long-Term Vision for 2030 of "ART for Human Possibilities: Let's strive for greater happiness." In addition to these, we will step up our efforts for sustainability in the new Medium-Term Management Plan that starts in 2022. To that end, the basic policies of the new plan are to strengthen the earning power of our core businesses, invest in new and growing businesses contributing to a more sustainable world, and accelerate digital initiatives and co-creation to boost our growth potential, and thereby raise our corporate value.
*Kando is a Japanese word for the simultaneous feelings of deep satisfaction and intense excitement that we experience when we encounter something of exceptional value.
Business Portfolio and Business Strategy
In the new Medium-Term Management Plan, we have clarified the positioning of our businesses based on sales growth rate and return on invested capital (ROIC) to manage our business portfolio and appropriately allocate management resources. We have designated "new" and "growth" businesses under "strategic business fields" and will actively distribute management resources to them in order to develop them into future core businesses.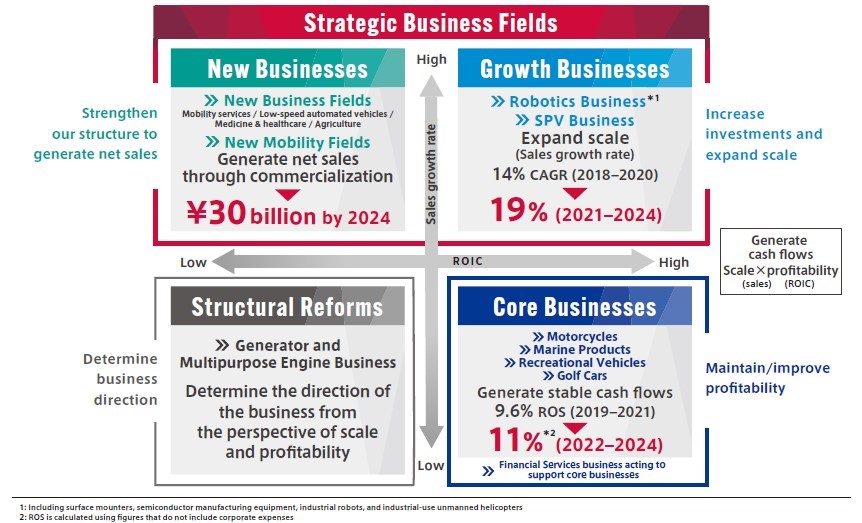 Strategic Business Fields
New Businesses
One of the focus areas in our Long-Term Vision is Rethinking Solution. We will call on the technologies and know-how we have accrued to date as well as engage in co-creation with our partners to create new, uniquely Yamaha value and accelerate the development of businesses that contribute to solving the numerous societal issues present today.

In the area of mobility services, we will establish new companies in India and Nigeria and expand our asset management business through collaborations with local partners. With low-speed automated vehicles, we will move forward with commercializing the transport of goods and conduct feasibility studies for public transit options. By establishing automated driving technologies for operation under specific conditions, we aim to provide labor savings in logistics operations as well as provide solutions to mobility issues in areas where public transportation is unavailable or not easily accessible. Regarding the medical & healthcare and agricultural automation fields, we will continue with our work toward commercialization with the goal of these contributing to our sales figures by 2030.
Robotics Business (Growth Business)
The Robotics business is helping support the foundations of our increasingly digital-based society and is a growing market where we aim to further expand our business scale and fields of operation by enhancing product competitiveness, production capacity, and sales operations to accelerate growth. Also, we will aim for increased profitability through greater synergies with Yamaha Robotics Holdings Co., Ltd., which became part of the Yamaha Motor group in the previous Medium-Term Management Plan period.
SPV Business (Growth Business)
The prolonged global COVID-19 pandemic has changed people's attitudes about how to move and act, triggering a shift in preferences to stay closer to home and avoiding crowded spaces. This has resulted in a spike in demand for small personal mobility. Additionally, the rise in public awareness and concern for the environment has drawn greater attention to electric mobility. In response to this market potential, we will aim to expand our business scale at a rate outpacing the market's growth and double our net sales by offering e-Kits customized to client needs and introducing new complete Yamaha-brand e-Bike models.
Core Businesses
Motorcycles
We will move to improve profitability by continuing with our premium segment strategy in emerging markets, where demand is recovering. In ASEAN markets and in India, we will target the upper-middle class--which is expected to grow rapidly over the next 10 years--and not only offer attractive products in premium model segments but also launch marketing initiatives combining the digital and real worlds to create firm ties with customers.
Marine Products
We will work to expand the range of value we offer and to maintain as well as strengthen our high-profit structure. To enhance our business competitiveness, we will bolster our lineup of large outboards, raise their sales ratio, and increase our production capacity. Further strengthening the R&D role of the U.S. market will expedite the development of connected systems and technologies as we drive our Marine CASE strategy to offer customers marine lifestyles with greater comfort and peace of mind.
Financial Strategies (Enhancing Economic Value)
We are targeting net sales of over 2,200 billion yen (CAGR of over 7%) and a three-year average operating income margin of over 9% by FY2024. In terms of efficiency, our goal is to create a structure that continuously generates returns exceeding the cost of capital, with ROE, ROIC, and ROA in the 15%, 9%, and 10% ranges, respectively (three-year averages for all).
For shareholder returns, our basic policy will be to emphasize making consistent and ongoing dividend payments while taking into consideration the outlook for business performance and investments for future growth, distributing returns to shareholders in a flexible way based on the scale of our cash flows.
As we allocate 480 billion yen in resources to building business foundations and our core and strategic businesses, we will set a target total payout ratio of 40% (cumulative period of the new Medium-Term Management Plan) for shareholder returns, including share buybacks.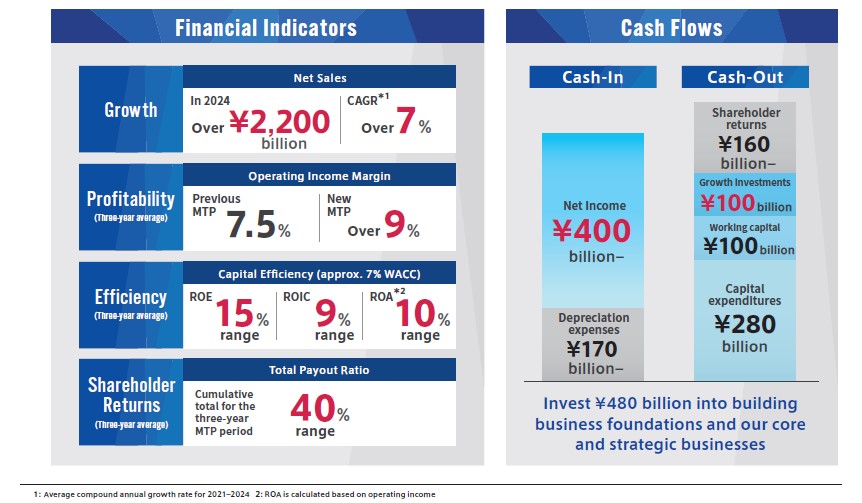 Non-Financial Strategies (Enhancing Social Value)
Contributing to a More Sustainable World
To reduce the CO2 emissions produced by company operations, we will deploy energy-saving and renewable energy equipment in more than 10 countries and begin using carbon-free electricity at businesses sites in Japan this year. For reducing CO2 emissions produced by product use, etc., we will accelerate the move to electrification as well as conduct development for compatibility with a variety of powertrains. Furthermore, we will establish an environmental technology investment fund to expedite the exploration of new technologies and business models.
Connecting with People and Thriving as a Company
We will not only bolster the safety riding support features on our products but also expand the activities and level of support for riding skill improvement to deliver greater safety and peace of mind to users. Further, we are promoting our digital transformation (DX) strategy to create lifetime Yamaha fans by building new connections with customers worldwide. And for our human resources strategy, we will make employee engagement an important indicator and promote diversity and inclusion as well as human resource development.