Yamaha Motor Launches YK610XE-10 and YK710XE-10 SCARA Robots — Adds High-Payload Models to Low-Cost YK-XE Series —
April 6, 2020
IWATA, April 6, 2020—Yamaha Motor Co., Ltd. (Tokyo: 7272) announced today that it will add the YK610XE-10 (610mm arm length) and YK710XE-10 (710mm arm length) models to the YK-XE Series of SCARA robots. Launching on April 16, the two new models build on the high motion performance and low cost of the current YK-XE Series. Both models deliver high performance - in the shape of 10kg maximum payload and standard cycle time of 0.39 seconds (YK610XE-10) or 0.42 seconds (YK710XE-10) - contributing to improved productivity. In addition, the accessible pricing for these models enables developing production facilities with low cost high performance.

Together with the YK400XE-4 (400mm arm length) launched last year, the YK-XE Series now includes three models. The expanded product lineup also covers a broader range of applications, encompassing not only assembly, conveyance, and sorting etc. of small components such as in smartphones and PCs, but also of large components such as in home appliances and automobiles.

Yamaha Motor has a 40-plus year history in SCARA robots, since the first was installed in one of our factories in 1976. Since then, we have expanded our product lineup, which now features industry-leading product variations. The great diversity of alternatives we provide means that customers can choose the models which best suit their particular requirements, optimizing their production facilities while also working to reduce their capital expenditure.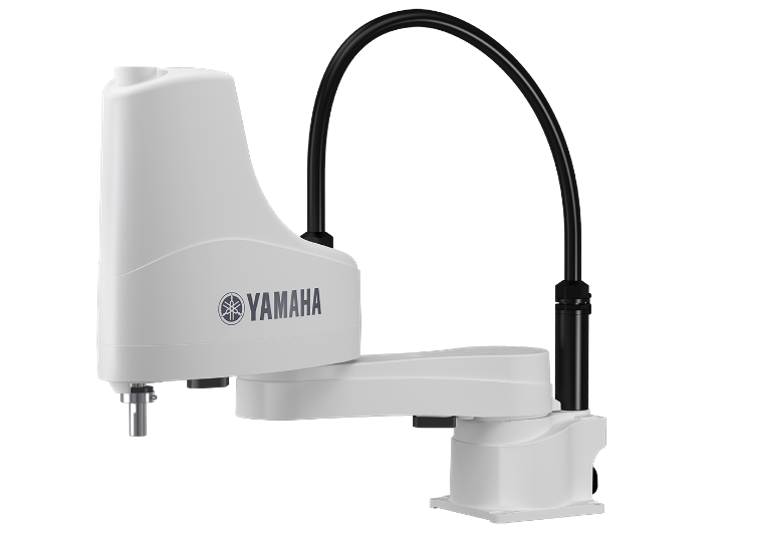 Models
Launch Date
Target Sales
YK610XE-10 SCARA Robot
April 16, 2020
2,000 units


(total across the two models)

YK710XE-10 SCARA Robot
YK610XE-10 and YK710XE-10 SCARA Robot Basic Specifications
YK610XE-10
YK710XE-10
Axis Specifications
X Axis
Arm Length
335mm
435mm
Rotation Angle
±134°
±134°
Y Axis
Arm Length
275mm
Rotation Angle
±152°
Z Axis
Stroke
200mm
R Axis
Rotation Angle
±360°
Motor Output AC
X Axis
400W
400W
Y Axis
200W
200W
Z Axis
200W
200W
R Axis
200W
200W
Maximum Speed
X-Y Axis Synthesis
8.6m/sec
9.5m/sec
Z Axis
2m/sec
R Axis
2600°/sec
Repeatability1
X and Y Axes
±0.01mm
±0.02mm
Z Axis
±0.01mm
R Axis
±0.01°
Maximum Payload
10kg (Standard Specifications)
Standard Cycle Time: With 2kg Load2
0.39sec
0.42sec
R Axis Allowable Inertia3
0.3kgm2
User Wiring
0.2sq x 20 Wires
User Piping (Outer Diameter)
φ6 x 3 Pipes
Motion Limit Settings
1. Soft limit 2. Mechanical stopper (X, Y, Z Axes)
Robot Cable Length
Standard: 3.5m (Optional: 5m, 10m)
Weight
25kg
26kg
Applicable Controller
RCX340
1:

Values under constant ambient temperature (X, Y axes)
2:

When reciprocating 300mm horizontally and 25mm vertically with rough positioning in an arch motion
3:

The inertia must be input in the actual usage environment