Yamaha Motor to Exhibit at CES 2019, World's Largest Consumer Electronics Tradeshow -Exhibiting Five Models Including the PPM Low-Speed Automated Driving-Based Mobility Service System with Onboard AI Conductor-
November 9, 2018
IWATA, November 9, 2018—Yamaha Motor Co., Ltd. (Tokyo:7272) announced today that it will exhibit five models at CES 2019, the world's largest consumer electronics show, to be held in Las Vegas, U.S.A. over four days from January 8 to 11, 2019.

The Yamaha booth will feature a total of five models, including 1) the Public Personal Mobility (PPM), a people service system based on low-speed autonomous driving, which has many potential applications such as in transport infrastructure and business utilization, 2)the next-generation concept model of industrial-use unmanned helicopters, which will have a higher payload to provide unprecedented air solutions, 3) the TRITOWN concept model, which offers completely new electric personal mobility through its two front wheel LMW mechanism, 4) the NIKEN large sports bike launched in 2018, which also utilizes the LMW mechanism, and 5) an installation of artificial intelligence technology developed by Yamaha Corporation, with which Yamaha Motor shares the Yamaha brand. In addition, Yamaha Motor will conduct demonstrations of the PPM featuring an "AI conductor" on the dedicated paths adjacent to the venue during the period of the tradeshow.

This exhibition aims to discover new partners from any field of endeavor, creating technological innovation and new businesses through open innovation.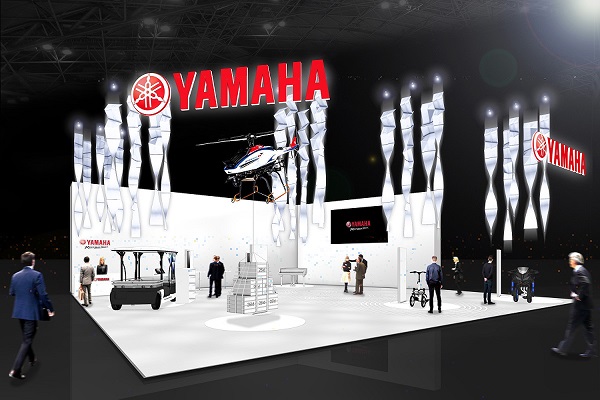 Yamaha Motor Booth Overview
Models Exhibited
Public Personal Mobility (PPM) (Concept model)
Mobility service system with a wide range of potential applications based on low-speed autonomous driving and passenger-cargo shared usage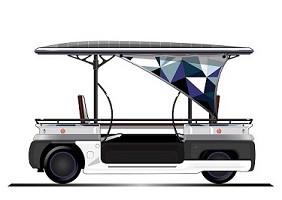 PPM is a form of comfortable and convenient on-demand compact low-speed mobility for "one-mile" short-distance travel. Its simple construction enables customization for a variety of applications, such as transportation of passengers, and/or cargo, or further conversion into a mobile sales kiosk. In anticipation of further future autonomous travel, provisions for a variety of user-friendly mobility service applications will be showcased such as the AI-based facial recognition registration and communication between the vehicle (robot) and the passenger (human).

PPM demonstration
During CES2019, Yamaha Motor will conduct demonstrations of the PPM featuring an "AI conductor" on the dedicated paths adjacent to the South Hall which houses the Yamaha Motor booth. After facial recognition registration on devices provided at the Yamaha Booth or the boarding point, the passenger can control the specific AI conductor on their demonstration vehicle. In addition, the AI conductor controls the start and stop of the vehicle through the passenger's gestures. Visitors can experience the future of personal travel made possible by the Yamaha autonomous systems.
Next-generation Industrial-use Unmanned Helicopters
Delivering an impressive 70kg payload and long range capable of providing new solutions in aerial delivery and surveillance. (Concept model)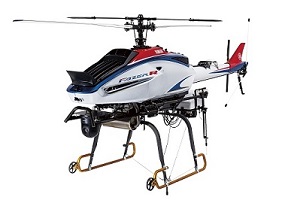 Building on Yamaha Motor's 35 years of experience in industrial-use unmanned helicopter, this concept model features series of innovations that enables the payload of 70kg, double that of the latest model. Flight controls will also be updated to feature latest technology such as collision avoidance ,stable flight in atmospheric turbulence, and terrain following flights in mountainous areas. In addition, utilizing its autonomous flight capabilities, this model can provide unprecedented air solutions for a range of applications such as aerial delivery, measurement, inspection, aerial photography, and surveillance through attachment of application-specific equipment.
(The image shown here is the latest FAZER R G2, Automated Navigation Unmanned Helicopter.)
Unveiling of New TRITOWN Design (Concept model)
Electric personal mobility for enjoyable and comfortable last-mile travel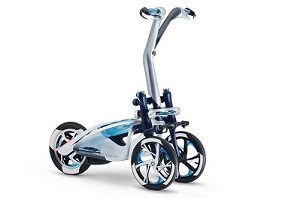 Compact electric stand-up riding mobility with LMW (two front wheel mechanism). The simple structure in which the rider's posture controls the balance of the vehicle means that it can be brought to a stop while still in a riding position. The lightweight and compact body makes for easy operation, creating a short-distance mobility tool accessible to a diverse range of people, and making last-mile travel enjoyable and exciting. The TRITOWN concept exhibit was the talk of the Tokyo Motor Show 2017, and the new design will be exhibited for the first time at CES2019.
(The image shown here is of the Tokyo Motor Show 2017 concept model.)
New Leaning Multi Wheel NIKEN launched in 2018
Motorcycle that delivers both relaxation and excitement via two front wheels(Production vehicle)
New model LMW with an 845cm3 liquid-cooled in-line three-cylinder engine. The NIKEN is a next-generation LMW that provides advanced LMW technology with a combination of unwavering cornering capability supported by a sense of stability, and a high-quality cruise performance that maintains rider comfort even over long distances. By adopting a new and exclusively-developed steering mechanism, not only is the sense of stability unique to LMW, but also sporty and smooth cornering as well as a natural steering feel are provided. In addition to the sense of stability, with the introduction of a range of other control technologies, NIKEN owners are treated to a relaxed ride even during long distance touring. This new model enables the riders to enjoy both the trip to the destination and also after arriving at the destination.
Installation of artificial intelligence technology
Exhibition by Yamaha Corporation, with which Yamaha Motor shares the Yamaha brand(Concept model)
This installation showcases artificial intelligence technology developed by Yamaha Corporation. The system analyzes and corrects the music performance in real time, aiding the performer to create a natural performance close to the musical score.