Yamaha Motor Launches LEXi in Indonesia — New 125cc Scooter Enters Premium Class in Growing Market —
April 18, 2018
IWATA, April 18, 2018—Yamaha Motor Co., Ltd. (Tokyo:7272) announced today that April will see the company launch its new LEXi and LEXi-S scooters powered by the BLUE CORE*1 125cm3 engine, for the expanding premium class in the Indonesian scooter market.

The LEXi has been developed under the concept of a High Value Utility Commuter, which is intended to be an entry model for the regions premium class, and therefore help further broaden the market of the class there.
LEXi features include 1) Stylistic status reminiscent of European scooters, 2) A body size that evokes the sense of a higher class, 3) Water cooled 4 stroke BLUE CORE engine with a VVA*2 mechanism, 4) STOP & START SYSTEM*3 that brings about greater economy, 5) Full-scale features such as a LED headlight, hazard lamps, full digital meter, and a power socket, 6) Extra wide flat foot boards

The LEXi-S is a higher-grade model equipped with a smart key, and a sub-tank fitted rear suspension.

The Indonesian scooter market has now moved into a scale of 4.8 million units*4 annually. While classified roughly into three classes based on price ranges - basic, standard, and premium - demand in the premium class has been increasing on the back of rising personal income pointing to even further growth in the future. It is in this class where LEXi answers customer demand for high-quality in tune with a higher level of advanced style, ample size, along with full-functionality and performance.
Manufacturing will be carried out in Indonesia at PT. Yamaha Indonesia Motor Manufacturing (YIMM).
*1:

BLUE CORE has been promoted by the company since 2014, this is an engine design philosophy that incorporates the compatibility between the joy of riding, and fuel efficiency with environmental performance. The LEXi engine has also been developed based on the BLUE CORE philosophy of achieving performance by focusing on the three points of high-efficiency in combustion, higher-cooling performance, and power loss reduction. Trademark registration 5676267
*2:

VVA = Variable Valve Actuation
*3:

Stop & Start System: Yamaha Motor name for Idle Stop/Start mechanism
*4:

2017 Survey by industry related groups in the country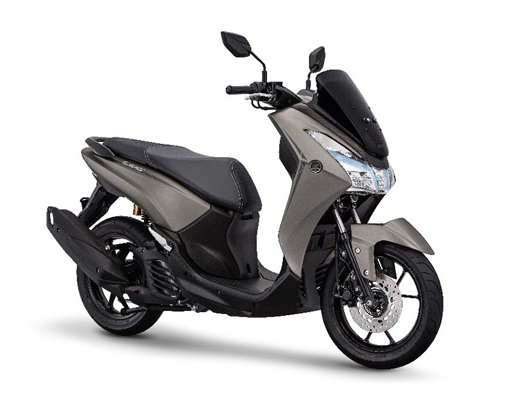 Model
Launch Date
Recommended Retail Price
Target Sales
LEXi (GDS125-I)
April 2018
19,950,000 rupiah


(Jakarta dealership price)

150,000 units


(one year from release, in Indonesia)

LEXi-S (GDS125-F)
April 2018
22,800,000 rupiah


(Jakarta dealership price)