Yamaha Motor Exhibits CELL HANDLER at U.S. Cancer Research Conference — Cell Picking and Imaging System with Expanded Applicability Including Ex vivo Tissue Picking —
April 11, 2018
IWATA, April 11, 2018—Yamaha Motor Co., Ltd. (Tokyo:7272) announced today that it will exhibit the CELL HANDLERTM cell* picking and imaging system at the AACR (American Association for Cancer Research) Annual Meeting 2018 to be held from April 14 to 18 in Chicago, Illinois.

The AACR Annual Meeting 2018 is one of the largest conferences in the world for cancer researchers and clinicians working in academic research, research and development and related biomedicine. (In 2017, approximately 500 companies exhibited and 17,600 attendees visited the conference).

The CELL HANDLERTM provides an innovative high speed and high precision platform for automated cell selection, picking, and imaging to replace the conventional manual pick and transfer method. It can efficiently, rapidly and accurately pick target spheroids/organoids cultured in media or gels, and its range of applications was recently further expanded to include Ex vivo tissue*1 image selection and direct picking.

In addition to displaying the CELL HANDLERTM, Yamaha Motor will also provide an "AI Experience" at the AACR Annual Meeting 2018. Visitors can experience in a hands-on manner the process in which the CELL HANDLERTM learns exactly which targeted cells to pick using artificial intelligence (AI). Presentations are also planned to introduce examples of joint research on cancer biomarkers.
Showcasing the CELL HANDLER, which enables high-throughput screening and testing of single cell and multicellular aggregates, will attract many cancer research and biomedicine specialist visitors at the AACR Annual Meeting 2018. Yamaha Motor aims to spread awareness of the CELL HANDLER, and contribute to the development of therapeutic drugs, as well as the acceleration of precision medicine and cost reduction of developing future medicines.
*In this news release "cell" refers to a single cell and/or aggregated cells including spheroids and organoids.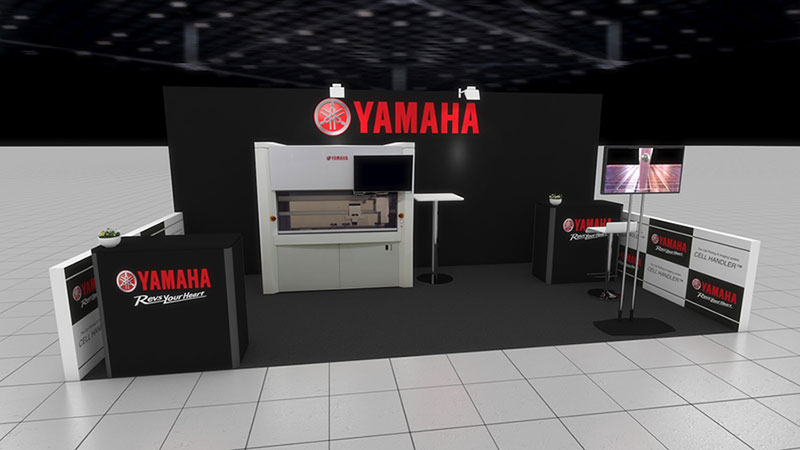 ACCR Annual Meeting Official Website
http://www.aacr.org/MEETINGS/PAGES/MEETINGDETAIL.ASPX?EVENTITEMID=136#.WsXGZi5ubiw
CELL HANDLER Product Website
https://global.yamaha-motor.com/business/hc/
*1: Ex vivo tissue:
Tissue or organ is extracted from an organism by surgery or biopsy for experimentation in vitro. After slicing and processing, the CELL HANDLER can select the target tissue pieces.
Overview of AACR Annual Meeting 2018
Event Period:
April 14 to 18, 2018
Venue:
McCormick Place North/South (Chicago, Illinois)
No. of exhibitors:
Approximately 500
No. of Attendees:
17,600 people*       

*Previous event (2017) attendance

Official website:
http://www.aacr.org/Pages/Home.aspx
Overview of Yamaha Motor Exhibit
Exhibit Space:
#4307
Exhibition Features:
◎Products Exhibited

CELL HANDLERTM

Precision ChamberTM

Precision TipTM

◎AI Experience
◎Introduction of joint research examples