Yamaha Motor Begins Limited Sales of YMR-08 Industrial Drone, Coaxial Rotors Provide Excellent Agrochemical Spraying Performance
March 30, 2018
IWATA, March 30, 2018—Yamaha Motor Co., Ltd. (Tokyo:7272) announced today that it will begin limited sales of the YMR-08 industrial multi-rotor drone from June 2018 in Japan. Featuring coaxial rotors to provide excellent agrochemical spraying performance and a lightweight carbon body enabling continuous spraying of one hectare per flight*1, the YMR-08 delivers spraying quality comparable to Yamaha Motor's industrial-use unmanned helicopters. It is anticipated that this new drone product will be used for agricultural chemical spraying of cultivated fields such as rice paddies once sales begin through the Yamaha Motor distributor network. Full commercial sales of the YMR-08 in Japan are planned for this fall.
Yamaha Motor has over 30 years of experience in the agrochemical spraying business using unmanned helicopters, with the total area sprayed each year in this business exceeding one million hectares, covering more than 40% of Japan's rice paddy cultivation area. On the other hand, recently there has been a growing trend toward the use of drones to avoid manual work where small plots can be difficult to spray with unmanned helicopters.
The new YMR-08 was developed based on the concept of completing continuous spraying of one hectare per flight in 15 minutes. As well as spraying quality, the dedicated battery and motors have been developed to ensure controllability, operability, and safety, delivering performance which satisfies professional agricultural users.


*1: Based on continuous spraying on flat land. Varies depending on the field conditions.
Main Features
1)

"Vertical coaxial" rotors and optimized spraying nozzle layout deliver spraying quality comparable to Yamaha Motor's industrial-use unmanned helicopters
2)

Battery and newly-developed lightweight, high-output motors for safety and operability
3)

Carbon hybrid rotors with impact-absorbing resin on the leading edge to reduce impact and prevent debris scattering in the event of damage
4)

Lightweight, rigid, and well-balanced monocoque shell structure carbon body
5)

The two-eye face brings a sense of liveliness, and the double air intake design emphasizes electrical system cooling performance
6)

Resin skids soften the impact on landing
7)

The included "Turn Assistance" function simplifies operation and increases spraying accuracy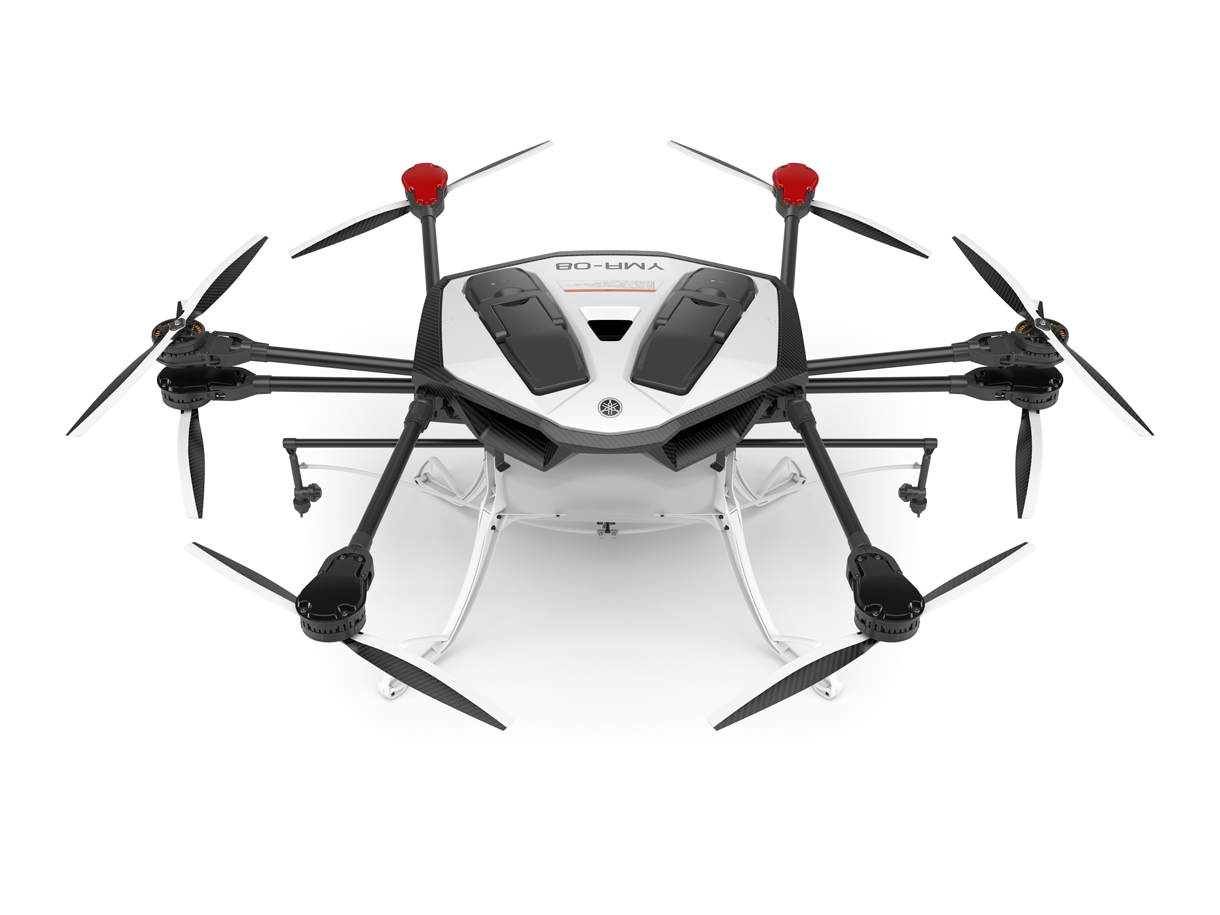 Model
Launch Date
Recommended Retail Price
YMR-08
June 2018
2,754,000 yen*2
(Unit price 2,550,000 yen
+ 204,000 yen consumption tax)
*2: Includes unit transmitter, two battery packs, charger, and charging cable. Sprayer unit is sold separately.



Key Specifications
 
Item
Specification Value
Dimensions/Other
Maximum width in flight
2,181mm
Maximum length in flight
1,923mm
Height*3
669mm
Minimum width when stored
1,799mm
Minimum length when stored
559mm (frame)/573mm (skids)
Rotor diameter
26 inches
Rotor type
Hybrid rotor
Number of rotors
8
Rotor layout
4X + 2 coaxial rotors on the sides
Battery
Rated capacity
852Wh
Rated voltage
44.4V
Size
L:360㎜ W:149㎜ H:166㎜
Battery management system
BMS for high-power batteries
Average power consumption
2.5kw
Performance/Other
Maximum take-off weight*4
Up to 24.9kg
Frame type
Monocoque shell
Arm storage type
Straight
Sprayer unit
Maximum tank capacity
10L
Number of nozzles
2
Spraying width
4m
Spraying speed
10-20km/h
*3: Estimated maximum take-off weight.
*4: Performance may vary depending on ambient temperature etc.