Release of the New Σ-G5S II Premium Modular Mounter, Rotary head design for a "1-head solution" with both high speed and versatility Improves productivity by approx. 20% with mounting speed of 90,000 CPH
January 11, 2018
IWATA, January 11, 2018—Yamaha Motor Co., Ltd. (Tokyo: 7272) announces the April 1, 2018 release of the new Σ-G5S II, a surface mounter model that further improves upon the Σ-G5S premium modular mounter that achieved both high speed and versatility, and caters to various components with its rotary head design based on our "1-head solution" concept.

The Σ-G5S II retains all the features of its predecessor, including the high-speed high-accuracy rotary direct-drive head, the overdrive motion for highly efficient production by picking up components from either the front or rear feeder on the machine, and the Super Loading (SL) feeder that facilitates splicing-less*1 component supply. It also gains new head designs, an improved PCB feeding sequence, an enlarged internal buffer size for feeding larger PCBs and more to improve productivity. Additionally, its mounting speed of 90,000 CPH*2 (under optimum conditions)*3 represents an improvement of approximately 20% compared to the Σ-G5S.

Quality has also been improved by extending the detection range of components held by the mounter to immediately before placement. In addition, reliability has been further enhanced due to better balance for the beam motors to bolster stability, lower internal temperature by improving cooling performance, extending the service life of important components like the high-speed multi-purpose head and more.

The Σ-G5S II will be on display at the 47th Internepcon Japan electronics manufacturing and mounting technology exhibition to be held at the Tokyo Big Sight (Koto-ku, Tokyo) from January 17 to 19, 2018.
*1: Eliminates the need to splice new tape to the existing tape being used when feeding components into the tape feeder, the device feeding electrical components.
*2: CPH (Chips Per Hour): Total number of chips that can be mounted per hour (unit time). Indicates processing capacity under various conditions.
*3: Mounting capacity (CPH) under optimal conditions using a 2-beam high-speed multi-purpose head x 2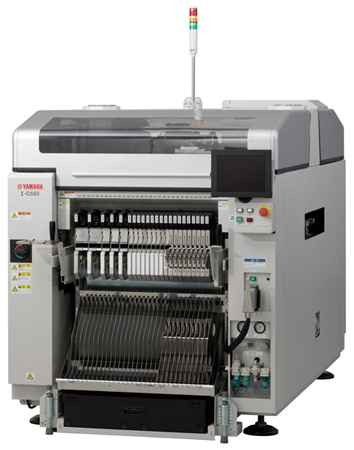 Model
Launch date
Target sales
Σ-G5S II
April 1, 2018

270 units

(First full year from release, domestic and international sales)
Market Background and Product Outline
In recent years, various products including household appliances, personal computers and mobile phones have become more compact, denser and with greater functionality and diversity. Moreover, their lifecycles have become increasingly shorter. Consequently, the mounting process for the electronic components in these products has seen calls for higher speeds, but also the flexibility to efficiently accommodate wide variations in component types and quantity as well as handle mass production on the same production line.

At the same time, in order to achieve both productivity and compatibility with a wide range of components as sizes have become extremely small and parts more diverse, manufacturers typically selected and swapped different mounting heads to suit the characteristics of the mounted components and production volume.

However, head replacement has caused a number of major issues including production downtime during replacement and investment loss from the need to purchase and store spare replacement heads. In addition, if there was even one large component that needed to be mounted on a PCB, the manufacturer could not use high-speed mounting for small components and would have to replace the head with a low-speed multi-purpose head. This resulted in critical disadvantages such as losses in efficiency due to reduced throughput and/or bottlenecking.

The Σ-G5S II premium modular mounter is based on the Σ-G5S, which has been highly regarded for its "1-head solution" using a rotary head that achieves both high speed and versatility without the need for head replacement to cater to a wide variety of components. The Σ-G5S II adopts new head designs and other features to further improve productivity and supports super-small 0201 (0.25 × 0.125 mm) size components.

Tapping into our strength as a comprehensive manufacturer offering a full lineup of surface mounters, printers, dispensers, inspection systems and more, Yamaha Motor will continue to make its mounting equipment operate seamlessly and thus further improve overall line production efficiency and quality.



Product Features
1) Two new head types in an evolution of the "1-head solution" to achieve high productivity: Accommodates super-small 0201 (0.25 × 0.125 mm) size components and large components
Both the high-speed multi-purpose head and multi-functional head have been further enhanced in pursuit of Yamaha's "1-head solution" concept to accommodate a wide range of components without the need for replacing heads while maintaining high-speed operation.


•

High-speed multi-purpose head with extended life: While the nozzle count remains at 15, due to weight reductions and higher output from the direct-drive motor, mounting capacity per head has increased by approx. 20% to 45,000 CPH (under optimum conditions) compared to the Σ-G5S. At the same time, the Σ-G5S II has the versatility to handle a wide range of component sizes, from super-small 0201 size components to larger L44×W44×H12.7 mm components. Important parts like brushless slip rings and high-rigidity couplings have been reengineered to offer longer service life and improve reliability.
•

Multi-functional head: In addition to increasing the number of nozzles to three, the frame rigidity has been increased to boost mounting capacity per head by approx. 20% to 10,800 CPH (under optimal conditions) compared to the Σ-G5S. The Σ-G5S II accommodates a wide range of components, whether large or irregular in shape, from 1005 (1.0 × 0.5 mm) size components to L72×W72×H25.4 mm components, as well as connectors as large as 150×26 mm.
2) Extended detection range of components held for better mounting quality
Previously, detection of held components was limited from pick-up to component recognition, but now extends to immediately before placement. The high-speed multi-purpose head uses a side-view recognition camera to track components and identify them, and allows the operator to select from three detection timing modes (for high-speed nozzle components): 1) arrival on PCB, 2) during placement operations, or 3) immediately before placement.

The multi-functional head uses nozzle flow rate to detect holding state from after component recognition to immediately before placement (not applicable to some parts sized L5×W5 mm or smaller).
3) Larger internal buffer size to reduce feeding loss with large PCBs
By improving the feeding sequence, PCB feeding time has been reduced from 2.0 seconds to 1.8 seconds. In addition, PCBs can now be put on stand-by across mounting areas and the buffer space in front of the placement area has been increased from 280 mm to 410 mm. Feed time is up to 55% shorter than with the Σ-G5S, thereby improving productivity with the applicable large PCBs.
4) Further detail revisions and refinements for added reliability
The load subjected to the left and right motors when the beam is being driven has been balanced by changing the cable positioning and more. This suppresses motor heat buildup to reduce device deformation and vibration.

Improved cooling performance also reduces the mounter's internal temperatures. This not only helps stabilize machine accuracy, but also extends the service life of hardware components.
5) Compatibility with previous models
The Σ-G5S II is compatible with the main optional features available for the Σ-G5S, such as the nozzles, tape feeder, trolley and nozzle stocker replacement parts. Clients already using the Σ-G5S can purchase the Σ-G5S II with the confidence that they can continue to use their current assets.
Basic Specifications
Model
Σ-G5S II
Applicable PCB dimensions
Single lane
L610×W510 mm to L50×W50 mm
(Optional: L1,200×W510 to L50×W50 mm)
Dual lane
L610×W250 mm to L50×W84mm (dual feed)
L610×W415mm (single feed)
Mounting capability
High-Speed Multi-Head×2 specifications: 90,000 CPH
(single lane/dual lane) 
Applicable components
High-Speed Multi (HM) Head
0201 to L44×W44×H12.7 mm or under
Flexible Multi (FM) Head
1005 to L72×W72×H25.4 mm or under
Connector: 150×26 mm
Mounting accuracy
High-Speed Multi (HM) Head
0201/03015: ±25μm/80,000 CPH
0402: ±36 μm/85,000 CPH
0603: ±40 μm/90,000 CPH
Flexible Multi (FM) Head
±15 μm
Component types
120 types max. (8 mm wide tape equivalent)
Power supply
3-phase AC200V ±10%, 50/60Hz
Air supply
0.45 to 0.69 MPa (4.6 to 7 kgf/cm²)
Exterior dimensions
L1,280×W2,240×H1,450 mm
Weight
Approx. 1,800 kg