The 45th Tokyo Motor Show 2017 Yamaha Motor Main Display Models
October 12, 2017
IWATA, October 12, 2017 - Yamaha Motor Co., Ltd. (Tokyo: 7272) will participate in the 45th Tokyo Motor Show 2017 (Organizer: Japan Automobile Manufacturers Association, Inc.) to be held at the Tokyo Big Sight from October 27 (Fri.) to November 5 (Sun.) (Preview Day on Oct. 27). The theme of the Yamaha Motor booth will be the "Yamaha Future Garage: Resonate the Future," and the booth will be located in the venue's East Hall 7.
A total of 20 models—including six world premiere models and four Japan premiere models—will be on display. These will include electrically power-assisted bicycles, scooters, motorcycles, Leaning Multi-Wheelers (LMW), and an automobile design concept model. We will also have technology exhibits like an experimental machine to explore concepts for creating new forms of personal mobility in which the rider resonates harmoniously with the machine, and an autonomous motorcycle-riding humanoid robot. The booth will offer an experience of the "ever-growing world of personal mobility" unique to Yamaha, a specialist in small vehicles for personal mobility.
Overview of Main Display Models
MOTOROiD (Reference vehicle)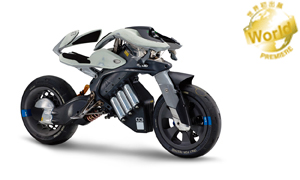 In order to bring people new experiences of Kando,* this experimental machine employs artificial intelligence and explores the feasibility of concepts for creating new forms of personal mobility in which the rider resonates harmoniously with machine. MOTOROiD's development concept was an "Unleashed Prototype," and it is capable of recognizing its owner and interacting in other capacities like a living creature. By undertaking these kinds of development challenges, Yamaha is aiming to acquire technology for creating new value for our customers.
*Kando is a Japanese word for the simultaneous feelings of deep satisfaction and intense excitement that we experience when we encounter something of exceptional value.
MOTOBOT Ver. 2 (Technology exhibit)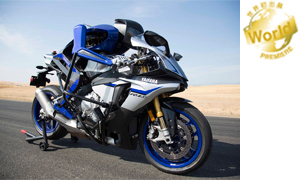 This autonomous motorcycle-riding robot combines the latest in motorcycle and robotics technology, and is helping pioneer previously unexplored realms of motorcycle R&D. Focusing on operation of the machine from a rider's standpoint without making any fundamental modifications to the motorcycle itself, MOTOBOT is now capable of riding at high speeds around a racetrack. The project goals set for 2017 were to clear the milestone of hitting over 200 kilometers per hour on a racetrack and to challenge MotoGP star Valentino Rossi to a battle of lap times. The complex underlying technologies and knowledge gained from the MOTOBOT project will be applied toward creating new value in our existing businesses as well as toward pioneering new businesses.
MWC-4 (Reference vehicle)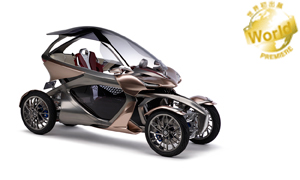 Looking to expand upon the possibilities for personal mobility stemming from motorcycles, this Leaning Multi-Wheel (LMW) vehicle has two wheels front and rear and was developed under the concept of "Half-Sized Mobility." The MWC-4 is powered by an electric motor equipped with a range-extender and uses attitude-control technology, giving it a ride that feels like nothing else and a level of comfort not found with a conventional motorcycle. This is all expressed with styling inspired by the features of both motorcycles and musical instruments.
YPJ-XC (Reference vehicle)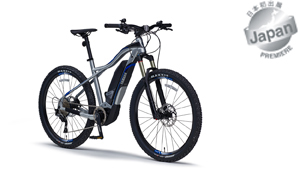 This model is a new proposal for our YPJ Series that brings new value to electrically power-assisted bicycles (e-bikes). Based on the YPJ-MTB Concept model exhibited at the 44th Tokyo Motor Show in 2015, the YPJ-XC mounts our latest PW-X drive unit and is much closer to a production-ready model. In addition, three more YPJ Series models will be on display, all mounting the PW-SE drive unit highly acclaimed in Europe for more power and a larger capacity battery: the YPJ-ER "crossover" (multi-purpose) road bike, the YPJ-EC flat-bar road bike and the YPJ-TC touring (trekking) bike.