Yamaha Motor Launches NEW 2018 FAZER R Industrial-Use Unmanned Helicopter, "Turn Assistance" Provides Even Greater Spraying Accuracy
October 10, 2017
IWATA, October 10, 2017- Yamaha Motor Co., Ltd. (Tokyo: 7272) announced today that it will launch the 2018 FAZER R agricultural high-end industrial-use unmanned helicopter from December 1.

The FAZER R features the new "Turn Assistance" function as standard equipment to improve controllability and spraying performance by turning to maintain fixed spraying spacings, holding evenly-spaced flying paths, and maintaining flying speed. Operated simply by turning the spraying switch on and off, this function enables further improvement in spraying accuracy without relying on individual flying skill.
First launched in November 2016, the FAZER R features a class-leading maximum 32 L agrochemicals payload, allowing the spraying of approx. 4 hectares without reloading chemicals or refueling. This updated 2018 model retains the strong base functionality of the original, with easier operation and further improvements in spraying accuracy.
The new FAZER R will be exhibited at the 4th Next Generation Agriculture Expo Tokyo to be held at the Makuhari Messe in Chiba from October 11 to 13.

2018 FAZER R Features/Benefits
1) Easier operation and further increased spraying accuracy with the new "Turn Assistance" function
2) Reduced operator burden and fatigue

Continued Features/Benefits
1) Powerful horizontally-opposed 2-cylinder fuel-injected engine (20.6 kW)
2) 3D airfoil-shaped tail rotor design developed with technical guidance from JAXA
(Reduced energy loss during flight through improved aerodynamic characteristics)
3) 32 L capacity tank
4) 10 selectable control frequencies (reduces frequency cross-overs)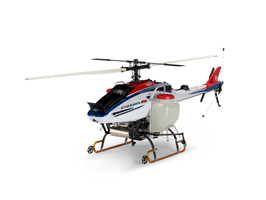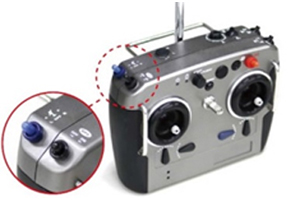 Model
Launch Date
Recommended Retail Price
Target Sales
FAZER R
December 1, 2017
12,852,000 yen


(unit price 11,900,000 yen + 952,000 yen consumption tax)

140 units


(annual sales within Japan, excluding OEM sales)
Development Aims and Benefits
The "Turn Assistance" function was developed with the aim of increasing the functionality of industrial-use unmanned helicopters, and specifically to address the issues of (1) further increased spraying accuracy and (2) reducing operator burden and fatigue. The system makes use of GPS and gyroscope assistance to calculate the helicopter's speed and distance, enabling turning to maintain fixed spraying spacings, holding evenly-spaced flying paths, and maintaining flying speed.

When spraying agrochemicals with unmanned helicopters, the operator has previously had to walk along farm roads or paths between rice paddies, measuring the spraying spacing by pacing it out as they walk, controlling the helicopter while taking care of safety around them. In addition, significant operational experience was required to control the helicopter on fixed spraying spacings - to maintain parallel tracks in order to ensure consistent spraying accuracy - through visual estimation and communication with a navigator as the aircraft flies up to 150 m away. The "Turn Assistance" function provides a practical solution to such issues faced in the field.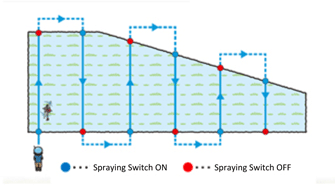 "Turn Assistance" function concept: Spraying is initiated in Auto Cruise mode. Once the helicopter reaches the end line of the paddy, turning the spraying switch off activates the "Turn Assistance" function, which decelerates the helicopter, turns it at a fixed spacing, and accelerates it back to the original speed in the opposite direction. The operator then only needs to toggle the spraying switch again when the helicopter reaches the next end line.
FAZER R Main Specifications
 
Item
Specification Value
Dimensions and Weight
Length x Width x Height
3,665 mm x 770 mm x 1,078 mm
Main Rotor Diameter
3,115 mm
Tail Rotor Diameter
550 mm
Wet Weight*
71 kg
Engine
Engine Type/Cylinder Arrangement
Liquid-cooled, 4-stroke, OHV,
2-valve,horizontally-opposed 2-cylinder
Total Displacement/Bore x Stroke
390 cm3/66.0 mm x 57.0 mm
Maximum Output
20.6 kW at 6,000 r/min
Fuel Type/Fuel Tank Capacity
Regular gasoline/5.8 L
Performance
Payload
32kg/Altitude of approximately 300m at 30°C
(24kg/Altitude of approximately 1,000m at 30°C)
Frame Type
Trapezoid carbon frame
Control System
YACS II (YAMAHA Attitude Control System-Cruise Control)
Control Frequencies
73MHz 10 selectable frequencies
* The wet weight is the weight when the sprayer unit (not including the sprayer tank) is attached to the machine with the oil and fuel tanks full.