Yamaha Motor Releases Compact High-Speed Modular YSM10 — 46,000CPH World Leading, 1-Beam/1-Head Class, Entry Model Surface Mounter —
January 11, 2017
IWATA, January 11, 2017—Yamaha Motor Co., Ltd. (Tokyo: 7272) announced today that the new YSM10, a surface mounter*1 that is the world's fastest in its class*2 at 46,000CPH*3, will be available for purchase from February 1, 2017. This new addition to the line-up is a compact, high-speed model with space-saving qualities, and provides a combination of component compatibility and versatility. In addition to the high-end ultra-high-speed modular Z:TA-R YSM40R, and the upper-middle class all-round versatile high-efficiency modular Z:LEX YSM20, this new release enables the YSM series line-up to provide a range of optimum lines designed for a variety of production formats and scale sizes.

The YSM10 is newly developed based on the three "Ones" concept and provides 1) a combination of a mounting speed that is number one in its class, 2) a one-head-solution that does not require replacement, and 3) an integration of three models of the YS12 type into one platform.
While in pursuit of the ideal concept – a 1-head solution with versatility from small chips to large components, the world's fastest speed in its class, and without the need for head replacement - the new model also has a high-speed general-purpose head similar to that used in the Z:LEX YSM20, and a new generation servo system etc. creating a high-class model with the latest technology.
Simultaneously, the specifications of all three current models of the YS12 series have been integrated into one platform featuring the flexibility and mobility of the compact high-speed modular YS12; the partly simplified version of the compact economy-modular YS12P, and the highly-versatile compact modular YS12F.
In addition, pickup and recognition errors are suppressed along with reduced loss in machine stoppage due the integration of the common functionalities of the two high level machines, the Z:TA-R YSM40R and the Z:LEX YSM20 with their e-Vision for automatically creating and tracking component data, Smart Recognition for easily creating component data from complicated shapes, and Pickup MACS system for automatic correction of the component pickup position.

Yamaha Motor is set to exhibit the new YSM10 at the 46th INTERNEPCON JAPAN trade show for electronics manufacturing and surface-mounting technology (SMT), to be held from January 18-20 at the Tokyo Big Sight (Koto-ku, Tokyo).
*1 Surface mounters: Production equipment designed to mount various electrical components onto PCBs (Printed Circuit Boards), which are then incorporated into electronic products.
*2 World's fastest surface mounter in the 1-Beam, 1-Head Class in comparison of mounting capacity (CPH) under optimal conditions. January 10, 2017, Yamaha Motor data
*3 CPH (Chips Per Hour): Total number of chips that can be mounted per hour (unit time). Indicates processing capacity under various conditions.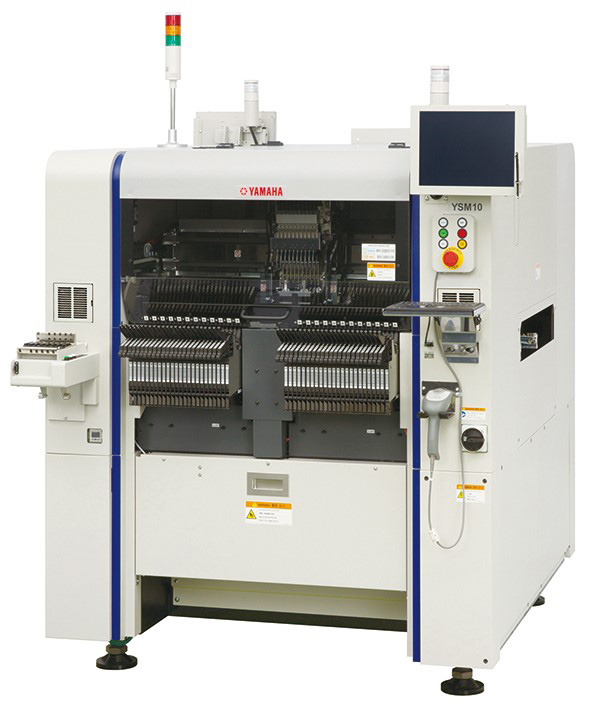 Model
Launch Date
Target Sales
YSM10
February 1, 2017
1,000 Units


(one year from release, both within Japan and internationally)
Market Background and Product Outline
In recent years, miniaturization, high-densification, high functionality, and diversification as well as shortened product cycles have been accelerated for a variety of products such as domestic appliances, personal computers, and cell phones. In the mounting process for the above types of electronic products, over and above the mass production of a single product over a long time-frame, there is now a requirement for flexibility in order to efficiently accommodate varied production as well as mass production on the same line.

Meanwhile, digitalization and networking of products will rapidly expand due to the spread of IT in automobiles, the expansion of IoT, etc. The mounting industry is expected to further grow with new electronic circuit boards being produced and many companies aiming for entry into the assembly industry. Within this environment, the Company's line-up of the small modular YS12, YS12P and the YS12F which are at the entrance-machine level end, are relatively easy to invest in, being reasonable priced, and popular due to their compactness yet high-functionality and performance. This is a mass-production model that will become the top sales unit in our surface mounter range.

The integration of the three YS12 models consolidated into one platform provides the same high-speed general-purpose head as upper models. The YSM10 has been developed to bring further improvements in both speed and versatility as well as investment efficiency as a compact, high-speed modular entry model for the YSM series.
The Company takes advantage of its full line-up of surface mounters, solder paste printing equipment, dispensers, testing systems, etc. to achieve improvements in production quality and efficiency in all production formats through total line solutions.
Product Features
1) Speed increases of 25% or more on conventional models and achieving the world's fastest mounting capacity
HM head adopted with new scan camera for broader range of component size compatibility
Based on the ideal concept 1-head solution capable of handling a wide range of components while maintaining high speed without the need for head replacement, we introduced various technologies cultivated from upper model Z:LEX YSM20. By adopting the latest technology such as the same lightweight and compact universal type HM (High-Speed Multi) head as the upper model and the new generation servo system, increases of 25% or more are achieved compared with conventional machines (YS12) in the 1-Beam 1-Head machine class to realize a mounting capacity of the world's fastest at 46,000 CPH (in the Company's optimum conditions) At the same time, it is versatile enough to handle from 03015 (0.3mm x 0.15mm) ultra-small chips to large components of 55mm x 100mm and 15mm in height.

In addition, by improving the performance of the scan camera, we have expanded the range of component size compatibility for high-speed mounting from 8mm to 12mm, further enhancing real productivity.

Although the standard HM head is a ten-nozzle based specification, the HM5 head with 5 nozzle specification is also available and can be selected according to the production type and budget.
2) Scalability for flexibly adjust to production site requirements
A range of options are available for selection including the sATS15, an automatic replacement type tray component supply device, the ANC, an auto nozzle station capable of automatically changing nozzles, the multi camera which recognizes components exceeding 6.5mm in height or over 12mm square in size at high speed and high precision. This machine can flexibly adapt to a range of circuit board sizes and mounted components.
The tape feeder is supported by the electric intelligent feeder SS feeder and ZS feeder used in the YS series.
3) Enhanced functionality to provide for table production
Pickup and recognition errors are suppressed along with reduced loss in machine stoppage due the integration of the common functionalities of the top machines of the Z:TA-R YSM40R and the Z:LEX YSM20 with their e-Vision for automatically creating and tracking components data, Smart Recognition for easily creating components data from complicated shapes, Pickup MACS*1, the component pickup position automatic correction system, and CE marking*2 to ensure safe device design.
*1: MACS (Multiple Accuracy Compensation System)
*2: Representative name of safety standard required for machines in the European region.


Basic Specifications
Model
YSM10 
Applicable PCB Dimensions 
L 510 x W 460mm - L 50 x W 50mm 
* Option: Up to L610 mm available 
Mounting Capacity
(The Company's optimum conditions)
HM Head (10 Nozzle) Spec.
46,000CPH
HM5 Head (5 Nozzle) Spec.
31,000CPH
Mounting Accuracy
In the Company's optimum conditions
(standard material used for evaluation)
±0.035 mm (±0.025 mm) Cpk≧1.0 (3σ) 
Applicable Components
03015- W 55mm x L 100mm(divided recognition for over W 45mm), H: 15mm or less


*Multi camera requirement (optional) for components over 6.5mm in height, or over 12mm square in size

 
Number of Component Types 
Setting Plate
Max 96 types (8 mm width tape feeder conversion)
Tray
15 types (sATS15 equipment, Max, JEDEC)
Power Supply
3-phase AC 200/208/220/240/380/400/416 V ±10% 50/60 Hz 
Air Supply
0.45 MPa or more, clean and dry state 
External Dimensions (excluding protrusions)
L 1,254 x W 1,440 x H 1,445 mm 
Weight
1,270kg