Yamaha Motor Releases New 2017 TMAX for Europe — Enhancements Including YCC-T (Yamaha Chip Controlled Throttle) Deliver Greater Riding Quality —
November 8, 2016
IWATA, November 8, 2016—Yamaha Motor Co., Ltd. (Tokyo: 7272) announced today that it will revamp the TMAX 530cc sports commuter, with the 2017 model to be launched in Europe in March 2017.
Since its launch in 2001, the TMAX has been highly regarded especially in European markets as a commuter model which offered an unprecedented level of motorcycling experience, and has maintained its leading popularity in the European large-capacity scooter category.
Developed based on the "Master of Scooter" concept, the new TMAX is Yamaha Motor's first scooter to feature the YCC-T (Yamaha Chip Controlled Throttle)*1 system, and along with other advancements such as the newly-designed, lightweight body frame and improved styling, delivers greater performance, riding experience, and comfort.
Main features include 1) the adoption of electronic control technology such as YCC-T and TCS (Traction Control System), 2) a new, sporty up-muffler contributing to greater torque, 3) greater weight reduction and a new frame (total 9kg lighter than current model)*2 contribute to a more sporty ride, and 4) link-type rear suspension which delivers a comfortable ride. In addition to the standard specification, the SX, which emphasizes sporty riding, and the DX, which features a cruise control system and electronically-adjustable screen etc. for superior comfort, will also be available. All three specifications feature ABS as standard equipment.
The styling inherits the TMAX DNA, in new proportions achieving a harmony between sportiness and elegance. In addition to the intense front mask, the iconic "boomerang motif" of the TMAX has been incorporated into the rear cover to evoke an impression of nimbleness and rising up toward the tail.
*1: YCC-T (Yamaha Chip Controlled Throttle) is a system, in which an ECU instantaneously calculates the ideal throttle valve opening upon detecting accelerator inputs, and operates the throttle valve via a servo motor to control the intake air volume.
*2: Compared to models equipped with ABS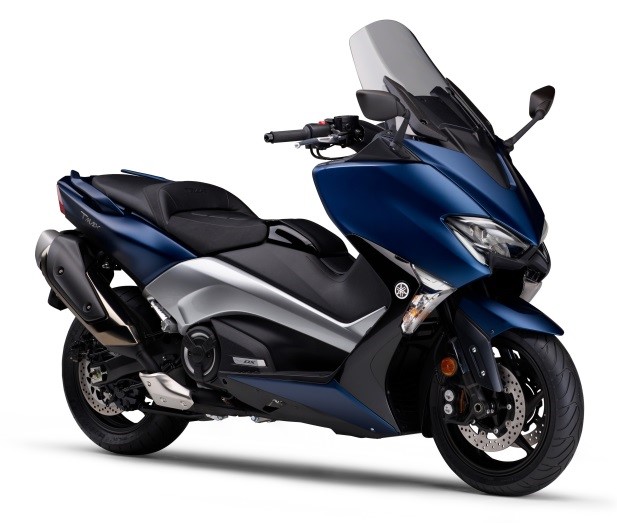 Model
Launch Date
Target Sales
TMAX
Around March 2017
15,000 units


(first full year from release, in the euro area)

TMAX SX
TMAX DX
2017 Model TMAX New Features
1) The Adoption of New Electronic Control Technology such as YCC-T and TCS
The TMAX is Yamaha Motor's first scooter to feature YCC-T. This enables delivering both smooth response and sporty power. The TMAX also features TCS to support smooth acceleration on wet or unsealed roads.
2) New Design and Frame 9kg Lighter than Current Model
The newly-developed motorcycle is 9kg lighter than the current model. Apart from the adoption of a newly-designed aluminum frame, the secondary drive belts have been changed to a lightweight 25mm-wide high-strength type, and new pulleys have been adopted to match. The synergistic effect of lightweight tires with a tuning-optimized internal structure, new 4.50 width rear wheel to reduce unsprung weight (currently 5.00), and resin rear frame resin etc. have enabled a significant weight reduction.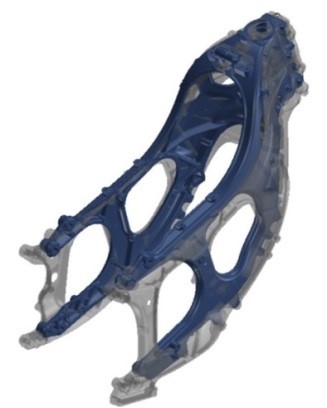 3) Newly-designed Rear Arm and Link-type Monocross Suspension Enhance Power Drive Feeling
The newly-designed aluminum rear arm is 40mm longer than the current model to optimize ground posture according to changes in drive force. This has been combined with a newly-designed link-type Monocross suspension. The lever ratio has been set so that damping forces can be received softly at low loading, and harder under high loading. The settings are designed to smoothly convey a feeling of power drive to the rider while maintaining excellent shock-absorbing properties. The synergistic effect with the lightweight body provides an enjoyable, natural handling feel, excellent maneuverability, and quick turning performance.
4) Large-capacity Under-seat Trunk

The combination of the newly-designed frame and resin box has increased space efficiency in the under-seat trunk, creating a large-capacity storage space which can store two jet type helmets*. *Some helmets may not fit depending on size.
5) New Styling Improves Sense of Nimbleness and Quality
The styling inherits the TMAX DNA. The right view visualizes the riding performance, the muffler design has been revamped, the rear arm has a greater expression of length to emphasize a feeling of power drive, and the engine case incorporates an elaborate new design to present a mechanical expression. The interior has more decorative features to show off the model's new style and increase the sense of quality. In addition, the tunnel shaped left and right covers and the left and right lids on the leg shields have the motorcycle industry's first (Yamaha Motor survey) textured trim line created on a shaping mold hand-crafted by a craftsman, building an image like a luxury sedan. The coloring has been chosen to suit the character of each specification. These include "Matt Dark Purplish Blue Metallic 1," a new color to promote the presence and quality of the new TMAX used on the top-spec DX, as well as "Matt Silver 1," used in combination with Yamaha Blue wheels to emphasize the sportiness of the SX.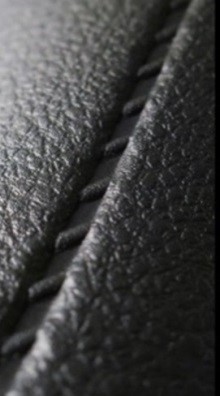 6) Other New Features
A two-piece analog & 3.5 inch monochrome TFT instrument panel, a new riding position to suit the feel of true motorcycle riding, a smart key with enhanced functions including main stand lock/unlock, Yamaha Motor's first scooter with D-MODE (riding mode changeover system with selectable engine characteristics to suit the rider's preference/SX, DX), grip heater and main seat heater (DX), rear suspension initial loading/damping adjustment function added (DX), etc.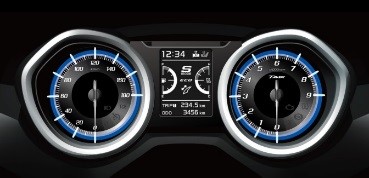 Features Continued from Previous Model
■360° crankshaft inline 2-cylinder engine ■Reciprocating piston balancer with aluminum sleeves ■Lightweight aluminum forged pistons ■Semi-dry sump ■41mm diameter inverted front suspension ■Front radial-mount calipers (4-pot opposing pistons, floating)
2017 Europe Model TMAX Main Specifications
| | |
| --- | --- |
| Overall Length x Width x Height | 2,200mm x 765mm x 1,420mm* |
| Seat Height | 800mm |
| Wheelbase | 1,575mm |
| Vehicle Weight | 213kg (STD, SX), 216kg (DX)  |
| Engine Type | Liquid-cooled, 4-stroke, DOHC, 4-valve |
| Cylinder Arrangement | Inline 2-cylinder |
| Total Displacement | 530cm³ |
| Bore x Stroke | 68 x 73mm |
| Compression Ratio | 10.9:1  |
| Maximum Output | 33.8kW / 6,750r/min |
| Maximum Torque | 53.0 N/m / 5,250r/min |
| Starting System | Electric |
| Fuel Tank Capacity | 15L |
| Fuel Delivery | Fuel Injection |
| Tire Size (Front/Rear) | 120/70-R15 / 160/60-R15 |
* At the lowest position of the adjustable screen
TMAX Changes Feature Map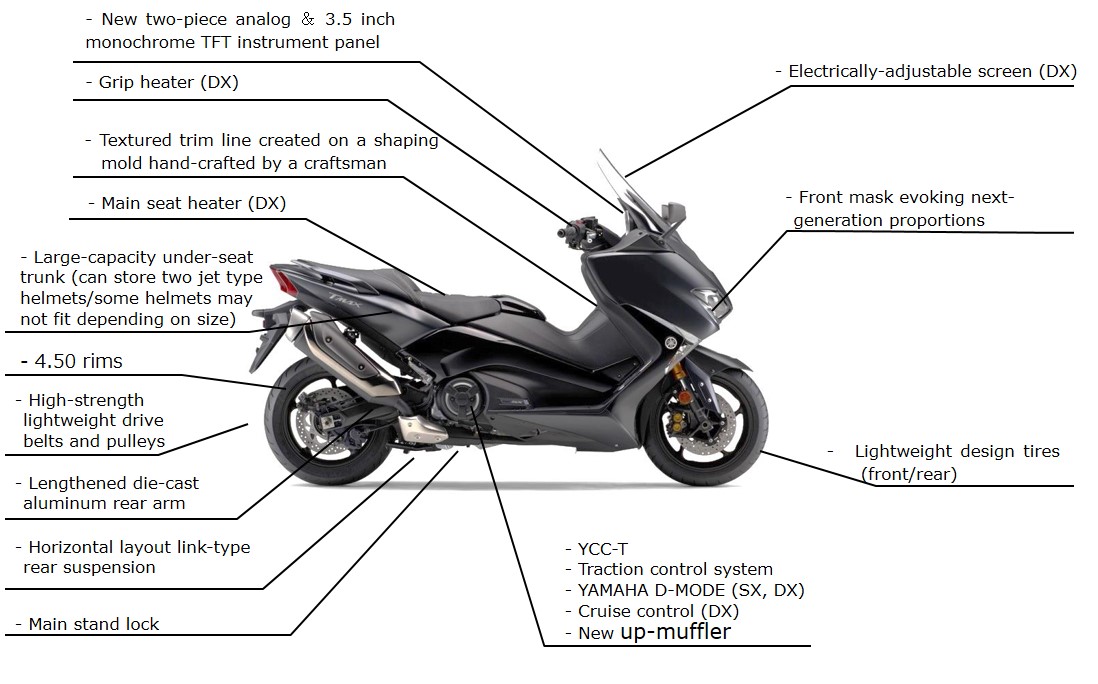 Retail Price
TMAX

TBC
(to be announced before launch)

TMAX SX
TMAX DX