Yamaha Motor Releases New 2017 XMAX300 for Europe, Lightweight Scooter with Motorcycle Front Forks and New Engine
October 19, 2016
IWATA, October 19, 2016—Yamaha Motor Co., Ltd. (Tokyo: 7272) announced today that the new model XMAX 300 - a scooter designed with a new body that achieves a fine harmony between fun riding and practical use - is to be released in Europe from March 2017. The XMAX 300 represents a model change from the current XMAX 250 sold in Europe, and is not only destined for European markets, but is planned to be rolled out as a global model. Manufacturing will be carried out by Indonesian Group company YIMM (PT. Yamaha Indonesia Motor Manufacturing).

Demand in the 126~300cc scooter market throughout Europe totals approximately 90,000 units (2015 Yamaha Motor data), and, as such models are principally for commuting use, stable demand trends are forecast. The XMAX 250 has been highly rated for many years due to its combination of styling and riding performance, building deeply-rooted popularity in Europe. However, in recent years, increasing attention has been paid to 300cc models which provide more comfortable performance, leading to the development of the new XMAX 300.

Based on the concept of "MAXimize, commuting FUNction," the XMAX 300 was designed as a model to handle global rollout, achieving a harmony between fun riding and practical use. Main features include 1) a new liquid-cooled BLUE CORE engine developed to deliver class-leading acceleration and excellent environmental performance, 2) a lightweight 179kg body and motorcycle front forks to help with sporty riding, 3) ABS and TCS (traction control system) for comfortable riding, 4) a trunk underneath the seat with enough storage capacity for two helmets, 5) Smart Key system which enables starter switch operation without taking out a key, and 6) a new design which evolves the XMAX while inheriting the MAX series DNA.

While evolving the "boomerang motif" and double-headlight design features of the MAX series, the XMAX 300 adds face and tail styling with an "X" motif, paying careful attention to detailed finish and quality.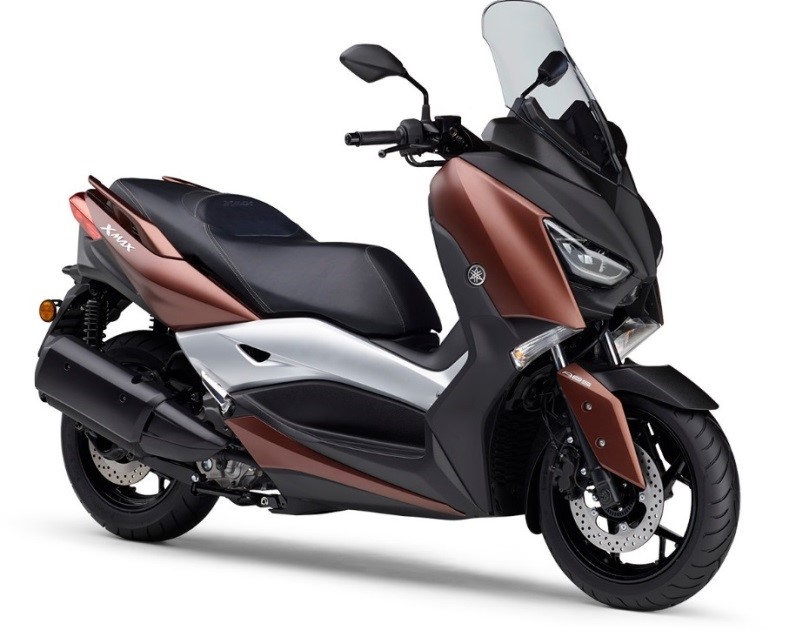 Model
Launch Date
Indicative Retail Price
Target Sales
XMAX 300
March 2017

5,499 euros
(Indicative Retail Price in Europe*)

6,000 units
(first full year from release, in the euro area)
*Indicative retail price in Europe: an indicative price calculated by Yamaha Motor; actual retail price may differ due to varying tax rates and other factors in European countries.