Yamaha Motor Develops "BREEZE10" Unmanned Boat — Autonomous Compact Electric Craft for Dam Lake Bed Sediment Surveying —
July 7, 2016
IWATA, July 7, 2016—Yamaha Motor Co., Ltd. (Tokyo: 7272) announced today the development of the BREEZE10, an autonomous unmanned compact electric survey craft. Yamaha Motor has designed this new product to support sounding work such as measuring the sediment levels of dams, and will commence business rentals principally aimed at commercial surveyors in August 2016.

BREEZE10 is an electric FRP craft*1 approximately three meters in length which has been developed to enable easy mounting of measurement equipment such as narrow multibeam sonar*2 which is increasingly popular in measurement work, including domestic dam silt level measurement. The BREEZE10 uses GNSS (a satellite positioning system) positioning data and azimuth angle data, which allows unmanned autonomous navigation and supports improvements in efficiency and labor-saving efforts for surveying the beds of bodies of water using sonar etc. In addition, usage of the craft is expected to expand from the surveying field into surveillance and defense support in the future.
Main features of "BREEZE10"
1)

A dedicated mount allows sonars to be quickly fitted to the installation space in the center of the craft.


2)

Operation in shallow locations is also possible due to the special-purpose hull fitted with a Yamaha Motor marine electric motor.


3)

Three operating modes which can be selected to suit the environment of the survey location: programmed auto-navigation mode, remote-controlled operation mode, and on-board joystick operation mode.


4)

A long operating time thanks to a lithium-ion battery and an on-board compact generator. (6 hours continuous)


5)

Navigational routes can be saved which allows the exact same route to be used when resurveying.


6)

An overall length of 3.2 meters and a beam of 1.2 meters allows transportation in a suitably sized mini-van*3.



*1

As the fitted motor has a rated output of 0.5 kW, a license to operate small-capacity boats in Japan is not required.


*2

The BREEZE10 is compatible with the "Sonic2024" (narrow multibeam sonar) manufactured by U.S. company, R2Sonic.


*3

May not fit in all vehicles.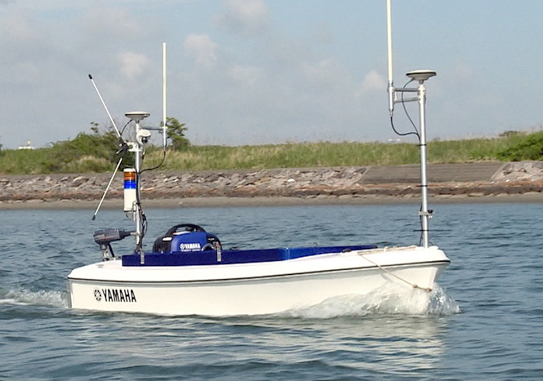 | Model | Date of Rental Commencement | Rental Region |
| --- | --- | --- |
| BREEZE10 | BREEZE10 | Japan |
Dams have a variety of roles including irrigation, flood prevention, and power generation. In modern Japan, they are owned and managed by the Ministry of Land, Infrastructure, Transport and Tourism, prefectural governments, power companies, and other entities. The silt which builds up at the bottom of a dam must be removed via periodic dredging to prevent it from affecting the dam's fundamental water collecting functions. Ascertaining information regarding the silt conditions on the dam bed prior to dredging is essential. Many silt surveys are currently performed from the water surface with all-purpose small-capacity manned craft equipped with sonar. However, this presents a variety of issues, including the accuracy of navigation routes and the half day required for mounting and adjusting the measurement equipment. Furthermore, surveying work is often performed in winter, when there is little rainfall, and the work becomes very taxing on workers performing surveys at dams in mountain regions in frigid temperatures.
The new BREEZE10 was planned and developed as a solution to these problems. Thanks to measurement equipment that can be mounted on land quickly as well as programmed auto-navigation, the BREEZE10 makes work more efficient and saves labor. In addition, as well as featuring the mounting of narrow beam sonar, the ability to carry one occupant, and having a long operating time, its compact design means that it can even be transported in some minivans.
Furthermore, operating the BREEZE10 together with Yamaha Motor industrial-use unmanned helicopters provides the possibility of comprehensive surveys of the surrounding topography, an approach that leads to more effective application of dam resources.
Main Specifications*1
| | |
| --- | --- |
| Length × Width × Height | 3.21 m (registered length 2.88 m*2) × 1.17 m × 0.89 m (excluding antenna and trailer) |
| Cargo weight/max. occupants | 166.5 kg/1 person※3 |
| Maximum output | 500W (Yamaha Marine Motor M25) |
| Speed | Max. 4 knots (7.2 km/h) |
| Continuous operating time | Approx. 6 hours max. |
| Traversal line navigating accuracy | ±1.5 m (using DGNSS) |
| Battery | Li-ION 20Ah 24V |
| Generator output | Max. 1.6 kW (Yamaha inverter generator EF1600iS) |
| Supported sonar | SONIC2024, SONIC2022 (R2Sonic) ※4 |
*1

Main dimensions, performance, and exterior may change without notice.


*2

Boats with a registered length of under 3 m and propulsion mechanism output under 1.5 kW are exempt from small boat inspections, and do not require a small boat license for operation in Japan.


*3

Always wear a life jacket while traveling on water.


*4

Please make separate inquiries regarding specification changes in other measurement equipment.