Yamaha Motor Launches Modular Z:TA-R YSM40R Surface Mounter, Ultra-High-Speed Rotary Head Achieves World-Leading 200,000 CPH
April 21, 2016
IWATA, April 21, 2016—Yamaha Motor Co., Ltd. (Tokyo: 7272) announces the release from May 3, 2016 of the new Z:TA-R YSM40R surface mounter*1, which boasts the fastest production in the world*2 at 200,000 CPH*3.

The Z:TA-R YSM40R is an ultra-high-speed modular mounter that has been developed under the Revolutionary productivity concept. With the adoption of a 1m-wide compact platform with a 4-beam 4-head layout, and the combination of high-speed production with flexible and versatile production formats, this new model will be the successor of the current high-density modular Z:TA YSM40.
While providing the functionality of a rotary head, the newly developed ultra-high-speed RS (Revolutionary Speed) head is also capable of simultaneous pickup. With the adoption of new high-speed algorithms, the synergistic effect of faster control of the servo motor and the ZS feeder allows the new model to deliver a mounting speed of 200,000 CPH - the fastest in the world - while also realizing an outstanding surface area and line length productivity.
Placement accuracy and mounting reliability is also improved due to the adoption of a new high-rigidity base frame, new light-weight X beam, and a newly-developed high-speed side view camera that checks the status of components in real time immediately after pickup, and before and after mounting. All of these improvements enable the Z:TA-R YSM40R to be compatible with extremely small-sized components down to 0201 (0.25mm x 0.125mm).
In addition, machine stoppage losses have significantly decreased and improved production rates achieved thanks to the adoption of new features in Nozzle Health Care that perform nozzle self-diagnosis and self-restoration without interrupting production. Enhanced precision of automatic components data generation functions such as e-Vision that help prevent pickup and recognition errors - which have been standard features since previous models - have also contributed to decreased machine stoppage losses.

The Z:TA-R YSM40R will be on display at the NEPCON China 2016, an electronics manufacturing and mounting technology exhibition held from April 26 to 28, 2016 at the Shanghai World Expo Exhibition And Convention Center (Shanghai Pudong New Area).
*1

Production equipment designed to mount various electrical components onto PCB's (Printed Circuit Boards), which are then incorporated into electronic products.
*2

Comparative mounting capacity (CPH) under optimal conditions for surface mounters in the 4-Beam, 4-Head Class. April 2016, Yamaha Motor data
*3

CPH (Chips Per Hour): Total number of chips that can be mounted per hour (unit time). Indicates processing capacity under various conditions.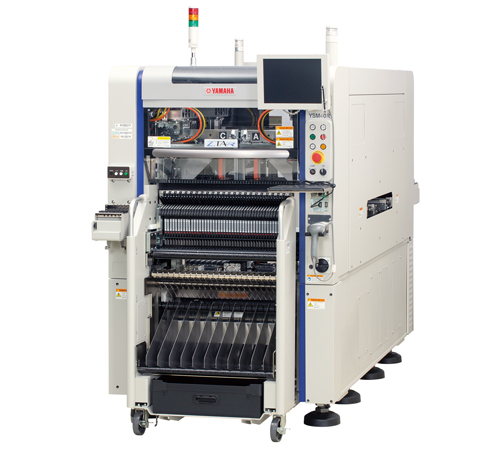 Model
Z:TA-R YSM40R
Launch Date
May 3, 2016
Target Sales
100 Units
(one year from release, both within Japan and internationally)
Market Background and Product Outline
Recently, we have seen tablets, wearable devices, smartphones, and various other digital equipment products becoming ever smaller and more precise with higher functionality and versatility. Furthermore, in response to ever-shortening product cycles, there is strong demand for outstanding productivity which enables greater mass production within the space at production facilities made available to the mounting process of electrical components. At the same time, there is demand for high mounting accuracy and quality as there is an increase in the adoption rate of miniature chip components such as the 0402 (0.4mm x 0.2mm), with mounting of the 0201 (0.25mm x 0.125mm) and 03015 (0.3mm x 0.15mm) sized components already started.
In order to respond to these requirements for further improvements in productivity and mounting quality in mass-production, Yamaha Motor has developed the ultra-high-speed modular Z:TA-R YSM40R to achieve more innovative productivity with the adoption of the ultra-high-speed RS head and also compatibility with mounting 0201 sized miniature chips, all while keeping the compact size of the high-density modular Z:TA YSM40. At the final stage of development, evaluation was carried out through two months of actual production at Korean company Sun Micro Electronics Co., Ltd. (which mass produces memory modules). Compared to the customer's existing 4-beam, 4-head high-speed mounters, the Z:TA-R YSM40R delivered twice or more production in half or less line length with a pickup rate of 99.98% or more while achieving an operation rate of 96% or more, demonstrating its outstanding innovative capabilities.

The Company takes advantage of its full line-up of surface mounters, solder paste printing equipment, dispensers, and testing systems etc. to achieve improvements in production quality and efficiency in all production formats through total line solutions.
Z:TA-R YSM40R Main Features
1) World-leading productivity with the ultra-high-speed rotary head
New development of the ultra-high-speed RS head which is capable of pickup in half the time of conventional rotary heads is achieved due to its industry-first revolutionary simultaneous pickup mechanism. The heads have a weight 50% lighter compared to previous HS heads, as well as faster servo motor control and ZS feeder due to new model algorithms, and thanks to leading-edge technology including new model multi-cameras featuring even faster recognition speeds, the heads achieve the world's fastest speed of 200,000 CPH with their 4-beam, 4-head configuration. This outstanding innovative production capability is packed into a compact design with a width of 1m, achieving the world's highest area and line length productivity.
Note: ZS Feeder with the Ultra-high-speed mode is also possible by upgrading the previous-model ZS feeder using a tune-up station (optional).
2) High precision, high quality mounting for miniature chips
The stronger suction achieved via a high-performance vacuum pump allow more stable and reliable pickup performance. Newly-developed Yamaha Motor-exclusive high-speed side-view cameras check the status of components in real time without loss immediately after pickup and then before and after mounting.
In addition, adoption of a new high-rigidity base frame and new lightweight X beam, combined with the MACS (Multiple Accuracy Compensation System), achieve a high accuracy of ± 35μm (25μm) Cpk ≧ 1.0 (3σ). This allows the machine to handle 0201-sized miniature chip components and achieve high reliability and high-quality mounting.
3) Long term reliability and easy maintenance
The RS head is fitted with a filter at the tip of the shaft to help prevent the inside of the head from becoming dirty. Standard provision of a Blow Station enables automatic self-cleaning of the nozzle shaft, reducing the amount of maintenance work required. Moreover, the machine is equipped with an automatic changeover function Nozzle Health Care which automatically self-diagnoses nozzle appearance and functionality, and replaces any faulty nozzles with spare ones without interrupting production. In addition, the pump operation time is shortened via its Idling Stop function which automatically stops the vacuum pump when not required for production, thereby extending maintenance intervals.
Additionally, machine stop loss is significantly reduced by the automatic prevention of pickup and recognition errors due to - such as e-Vision, the component data auto generating and tracking system, Smart Recognition, which easily produces complex shaped component data, and Pickup-MACS, an automatic correction system of pickup position.
4) One platform, wide flexibility
Capable of working flexibly in a wide range of production formats thanks to (1) the two-typed two-beam layout that can operate with odd-shaped chips as well as the four-beam layout suitable for ultra-high-speed production, (2) the three head types including the ultra-high-speed (RS) Head, the Multi (MU) Head, and the Flexible (FL) Head, and (3) the dual lane layout conveyor device able to achieve a wide range of variations.
Basic Specifications
Model
Z:TA-R YSM40R
4-Beam, 4-Head Spec.
(YSM40R-4)
2-Beam, 2-Head Spec.
(YSM40R-2)
Applicable PCB Dimensions
L700mm x W460mm - L50mm x W50mm
Applicable Components
Ultra-High-Speed
(RS) Head
0201* - 6.5mm x 6.5mm
(2.0mm or less height)
—
Multi (MU) Head
03015 – 45mm x 60mm
(15mm or less height)
0402 – 45mm x 100mm
(15mm or less height)
Flexible (FL) Head
03015 – 45mm x 60mm
(15mm or less height)
0402 – 45mm x 100mm
(25.5mm or less height)
Side View
Compatible
Mounting Capacity
(The Company's optimum conditions)
200,000 CPH
(In 4-Beam, 4-Head, RS Head Spec.)
Mounting Accuracy
*In the Company's optimum conditions
(standard material used for evaluation)
±35μm (25μm)
Cpk ≧1.0 (3σ)
±40μm (30μm)
Cpk ≧1.0 (3σ)
Number of Component Types
(Max, 8mm width tape conversion)
80 x RS Heads
88 x MU Heads
92
Power Supply
3-phase AC200/208/220/240/380/400/416V ±10%
Air Supply
0.45 MPa or more, clean and dry state
External Dimensions
(excluding protrusions)
L1,000mm x W2,100mm x H1,550mm
(excluding protrusions)
Weight
Approx. 2,100kg
*Optional 0201 mounting spec.