Yamaha Motor to Release M-SLAZ in Thailand, Dynamic New 150cc Sports Featuring Inverted Front Fork
December 2, 2015
IWATA, December 2, 2015—Yamaha Motor Co., Ltd. (Tokyo: 7272) announced today that the new 150cc sports model, the M-SLAZ - a motorcycle that fits with global trends by featuring its extreme sports feel design balanced in harmony with around-town practicality - is scheduled to be on sale in the Thai market from December 2015. Manufacture and sales of this new edition are to be carried out by the Thai Yamaha Motor Co., Ltd.
The M-SLAZ was developed based on the concept of "Just Size Ultimate Fashion Street Extreme".The engine and chassis have been developed off the platform of the sports model YZF-R15 which has won popularity in the Asia region to provide new dynamic styling concentrated around power as well as superior maneuvering agility.

The main features of the M-SLAZ are: 1) High-rigidity inverted front suspension that achieves a superior riding performance 2) Enjoy a sense of oneness with the bike's fun-focused upright riding position for urban use, 3) External design based on a "Street Extreme" image, 4) A LED headlight with an advanced and minimalist presence and much more.

The popularity of sports models has continued to increase in the ASEAN region in recent times, with the Company introducing the YZF-R15, YZF-R3, and MT-03 one after another expanding its lineup. While the M-SLAZ incorporates a sports-model style, it is a motorcycle that aims for an easy-riding experience for beginners, as well as being a model targeted for sales expansion to young riders who yearn for a sports bike.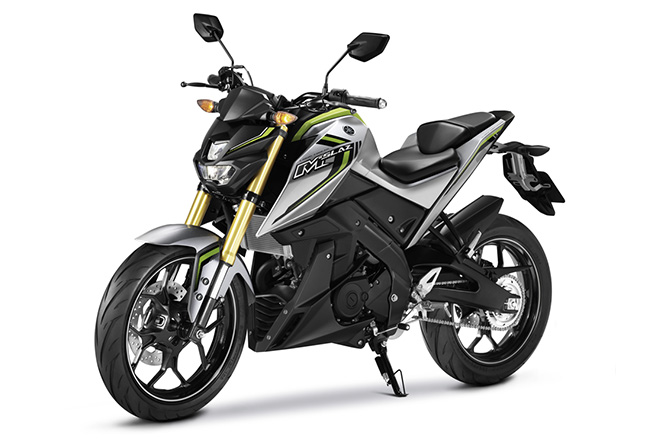 Model
M-SLAZ
Launch Date
December 2015
RRP
Open price
First Year Target Sales
48,000 Units
(one year from release, within Thailand)