The 44th Tokyo Motor Show 2015 - About the Yamaha Booth
October 28, 2015
Main Display Models
MWT-9 (Reference vehicle / Experimental vehicle)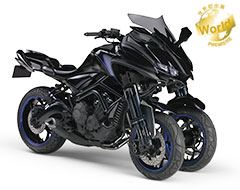 MWT-9 This Leaning Multi-Wheel (LMW) concept model proposes a new type of category in the realm of sport riding. Under a development concept of a "Cornering Master," the MWT-9 mounts a 3-cylinder 850 cm3 engine on a seamless and dynamically styled body. The exceptional cornering performance provided by the twin front wheels and the bank angle maximized by the outward positioned front suspension forks enable a high level of performance that lets the rider go freely through twisty roads with ever-changing road surfaces and dotted with tight curves in succession.
[Engine type]=Liquid-cooled 4-stroke, DOHC
[Cylinder arrangement]=In-line 3-cylinder
[Displacement]=849 cm3
[Fuel supply system]=Fuel injection
Resonator125 (Reference vehicle / Experimental vehicle)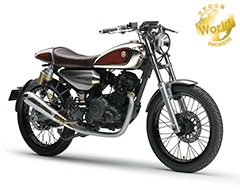 Resonator125 The Resonator125 is a concept model that proposes a lifestyle with an authentic sport bike for young people who have not yet discovered the joys of motorcycling. With a lightweight, slim and compact chassis and an instrument panel assembly using an innovative device, this model melds elements of the near future with the nostalgic for a new fusion of motorcycle eras. It also sports wood panels on the fuel tank and seat cowl with authentic wood grain material used in guitars and engravings on the muffler, fuel tank cap and more done with same intricate techniques used for brass wind instruments. The result is a motorcycle that seeks to inspire young people with concepts and qualities that only the Yamaha brand can deliver.
[Engine type]=Air-cooled 4-stroke
[Cylinder arrangement]=Single-cylinder
[Displacement]=125 cm3
[Fuel supply system]=Fuel injection
PES2 (Reference vehicle / Experimental vehicle)
PED2 (Reference vehicle / Experimental vehicle)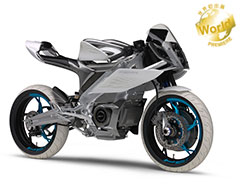 PES2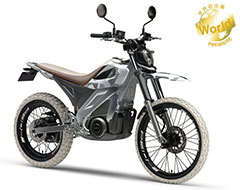 PED2 In addition to the characteristics unique to an electric motor, these two EV (electric vehicle) motorcycle concept models have an operational feel that will seem natural even to today's motorcycle enthusiasts and they achieve a new kind of riding experience that will inspire the Passion in riders. The Street sport "PES2" and Dirt sport "PED2" share a new power unit (Yamaha Smart Power Module) with a monocoque structure that also functions as the frame.
The PES2 on-road sport model has an additional electric motor built into the hub of the front wheel to make it a 2WD motorcycle, and it is designed to pioneer new boundaries of performance never experienced before. In contrast, the PED2 is a partner for hitting mountain trails designed to capitalize on the clean, quiet performance character of an EV to better enjoy riding through the natural world. Both models are equivalent in performance to Class II (50–125cc) mopeds and motorcycles.
PES2 [Length×Width×Height]=1,920 mm×680 mm×1,060 mm
[Motor type]=DC brushless motor
[Battery type]=Lithium-ion
[Vehicle weight]=130 kg or less
PED2 [Length×Width×Height]=2,045 mm×775 mm×1,205 mm
[Motor type]=DC brushless motor
[Battery type]=Lithium-ion
[Vehicle weight]=100 kg or less
SPORTS RIDE CONCEPT (Special exhibit / Experimental vehicle)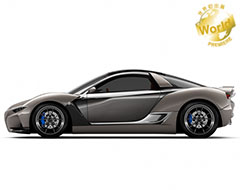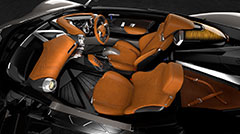 SPORTS RIDE CONCEPT This design concept mode takes a uniquely Yamaha approach by putting the involved and active feeling of riding a motorcycle, or "Live and Ride," into a vehicle with quintessential sports car proportions that adults can enjoy in daily use. Like the MOTIV (displayed at the 43rd Tokyo Motor Show 2013), it employs the iStream* process and is designed to express a driver-machine relationship close in feeling to the world of motorcycle riding. We devoted much attention to the high-quality details and were inspired by the artistic style of Elementarism in designing this proposal for a sports car.
*iStream: A process developed by Gordon Murray Design Limited to produce lightweight, high-rigidity vehicle structures rooted in Formula One technology.
[Length×Width×Height]=3,900 mm×1,720 mm×1,170 mm
[Vehicle weight]=750 kg
[Seating capacity]=2
YPJ-MTB CONCEPT (Reference vehicle / Experimental vehicle)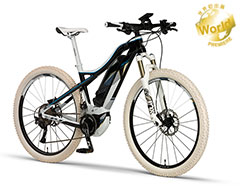 YPJ-MTB CONCEPT This electrically power-assisted mountain bike mounts an electric motor on a high-performance bicycle and is designed for adults who want to enjoy the freedom of being able to ride on virtually any terrain. It lets you feel the presence of the power unit where it is most appreciated, like in starts, acceleration and hill-climbing, but with a design that minimizes the visual presence of that same power unit. For added assurance in riding longer distances on any type of terrain, the model is fitted with a large-capacity 400 Wh battery and a multi-function instrument panel. This YPJ project is about offering new value and new scenes for bicycle riding, and this mountain bike concept model redefines the positioning and functions of electrically power-assisted bicycles from a vehicle that makes riding easier to one that opens up a new realm of sporty recreational riding.
[Motor type]=Brushless motor
[Rated output]=250 W
[Battery type]=Lithium-ion
[Battery capacity]=400 Wh
NMAX125 (Production vehicle)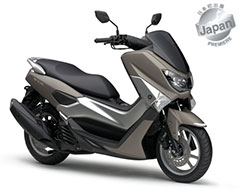 NMAX125 This sporty scooter mounts an engine newly developed in line with Yamaha's BLUE CORE development ideal in a body designed with the flavor of the Yamaha "MAX" scooter brand marketed mainly in Europe. It is a global market model manufactured and sold in Indonesia, and marketed in other ASEAN region countries and developed markets. The model on display is the Japanese-market version.
[Length×Width×Height]=1,955 mm×740 mm×1,115 mm
[Engine type]=Liquid-cooled 4-stroke, SOHC, 4-valve
[Cylinder arrangement]=Single-cylinder
[Displacement]=124 cm3
[Fuel supply system]=Fuel injection
[Transmission type]=V-belt automatic
[Vehicle weight (wet)]=127 kg