Yamaha Motor Launch New ACRUZO Scooter in Vietnam, Development Aimed at Women with Busy Lives
October 6, 2015
IWATA, October 06, 2015—Yamaha Motor Co., Ltd. (Tokyo: 7272) announced today that it will launch the new ACRUZO scooter onto the Vietnam market from mid-October 2015. Aimed at female riders, the ACRUZO features a lightweight, easy-to-handle and stylish body, as well as an air-cooled 125cc engine developed using the BLUE CORE concept, which delivers both riding enjoyment as well as excellent fuel efficiency and environmental performance. This is the second model for Vietnam utilizing the BLUE CORE engine, after the Nozza Grande, launched in August 2014.

Based on the 'smart lifestyle useful scooter' concept, the ACRUZO is targeted at young, married, urban women juggling multiple responsibilties such as work and children. In additional to fashionable styling and sufficient frame size to suit the preference of Vietnamese women for relatively large motorcycle bodies, this model meets requirements for economy and practicality in a well-balanced way.

Its main features include excellent fuel economy from its BLUE CORE engine, a lightweight 99kg body which is easy to handle, and a new shape seat which enables easy straddling and smart mounting/dismounting. The ACRUZO also boasts large-capacity underseat storage and comfortably wide flat foot boards, and a fuel filler port located on the leg shield, which allows refuelling without opening the seat.

The Vietnamese motorcycle market recorded a demand level of approximately 2.71 million units in 2014 (Yamaha Motor survey), of which scooters comprised approximately 40%. The new ACRUZO is Yamaha Motor's first model launch in the medium-priced automatic scooter category. By launching models in the standard class in addition to the premium-oriented, high-priced Nozza Grande, Yamaha Motor aims to expand sales in the Vietnamese market through enriching its product lineup.
Manufacturing and sales will be carried out by Vietnamese Group company, Yamaha Motor Vietnam Co., Ltd. (YMVN).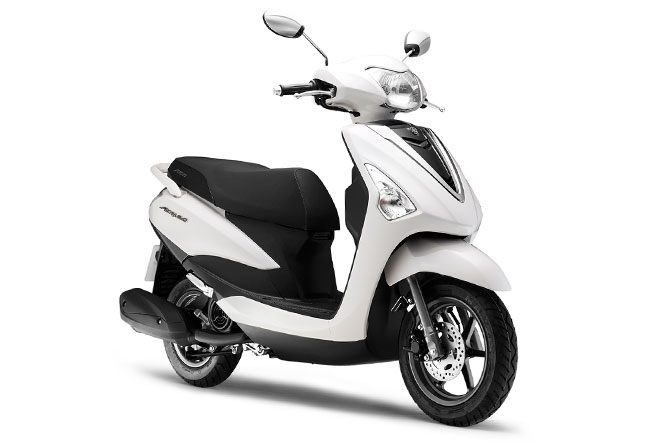 Model:
ACRUZO
Launch Date:
Mid-October 2015
RRP:
Standard: 34,990,000 Vietnamese dong
Deluxe: 36,490,000 Vietnamese dong
First Year Target Sales:
80,000 units