Yamaha Motor Releases YSB55w, a High-speed, High-accuracy Flip-chip Bonder, Caters to Mass Production by Nearly Tripling Productivity and Doubling Placement Accuracy
August 26, 2015
IWATA, August 26, 2015 - Yamaha Motor Co., Ltd (Tokyo: 7272) announced the development of the new YSB55w, a high-speed, high-accuracy flip-chip*1 bonder that achieves industry-leading productivity and high-accuracy bonding. This model will be released in December 2015.
The new YSB55w is a flip-chip bonder specially designed to bond flip-chips onto printed circuit boards, etc., with the flip-chips that are used in IT communications devices and digital appliances being manufactured in increasing numbers. It features a high-rigidity frame and dual bonding heads, and is fitted with a flip-chip recognition system employing a high-resolution camera. Developed to cater to a market increasingly focused on mass-production, Yamaha Motor has realized the high accuracy demanded of the latest leading-edge flip-chips, almost tripling the bonding capacity of existing Yamaha models at 13,000 UPH*2 for flip-chips from wafer supply (under optimal conditions, includes processing time), and doubling the bonding accuracy at ±5μm (3σ).
*1

Flip-chip: A type of semi-conductor integrated circuit (chip) that enables more compact and functionally-enhanced semi-conductor devices.
*2

UPH (Units Per Hour): Total number of chips that can be bonded in one hour. Yamaha Motor's existing model, the YSH20, operates at 4,500 UPH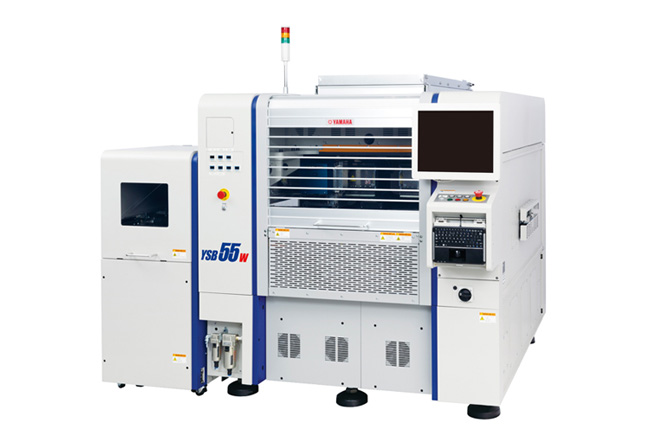 | | |
| --- | --- |
| Name | YSB55w |
| Launch | December 2015 |
| Target Sales | 55 units (first full year from release, both within Japan and internationally) |
Background to Development
Yamaha Motor already has a track record of successfully applying its surface mount technology to the development and manufacture of bonders compatible with flip-chip and other semi-conductor packaging, and has a good reputation for superior bonding accuracy and versatility.
However, growth in the market and production scale for smartphones and wearable devices in recent years has seen even greater penetration of flip-chips, as they meet the more detailed process rules required to make the device modules used in these products smaller, thinner, more energy efficient and functionally superior. This uptake of flip-chips has in turn generated demand for greater bonding accuracy and productivity.
In order to respond to this kind of market demand, Yamaha Motor has loaded the YSB55w with its latest technology and accumulated knowhow, to achieve almost triple the productivity and double the high-precision bonding accuracy of existing models. With the YSB55w, Yamaha Motor aims to strengthen its position in the semiconductor manufacturing equipment industry.
Product Features
High-speed/High-accuracy
Realizing high-speed bonding through parallel processing enabled by a dual flip head and an 8-component synchronized bonding process
Yamaha Motor has pursued flip-chip bonding speed from wafer by designing the bonder to carry out parallel processing of eight flip-chips synchronized pick-up/flux dipping through a multi-die supply which employs a dual bonding head fitted with two multi-nozzle heads (eight nozzles/head), and a dual flip head. These innovations achieve high-speed bonding at a speed of 13,000 UPH (under optimal conditions, includes processing time) which is almost triple that of our existing machines and at the top of the industry
Realizing outstanding positioning accuracy with a high-rigidity frame and control algorithms
The combination of a high-rigidity frame and beams designed through advanced structural analysis, a Yamaha-developed linear motor that enables high-speed and outstanding positioning accuracy, a newly-developed high-accuracy bonding head, and an upgraded version of Yamaha Motor's MACS (Multiple Accuracy Compensation System) have helped achieve a bonding accuracy of ±5μm (3σ) needed for the latest leading-edge flip-chips. Moreover, the introduction of newly-developed thermal analysis/temperature correction algorithms have enabled continuous high-accuracy bonding to be maintained.
Bump recognition camera for high-performance positioning alignment
A newly-developed high-resolution flip-chip recognition camera is employed. High-accuracy bonding is achieved through checking for defective or absent bumps while simultaneously conducting precise placement alignment based on the bump position.
High quality/Flexibility
Compact force control heads
Compact heads which carry out high-precision force control are employed to handle thin flip-chips. These reduce stress on the flip-chip to achieve high quality bonding.
Compatibility with a wide range of flip-chip sizes
The bonder handles a wide range of flip-chip sizes from 2mm square to 30mm square. Moreover the automatic tool replacement option reduces product change-over time to achieve high flexibility coupled with ease of use.
Easy-to-configure Dipping station
The newly-developed Dipping station allows the flux thickness to be changed simply and easily, for significant reductions in set-up time and work.
Basic Specifications
| | |
| --- | --- |
| Model name | YSB55w |
| Applicable PCB | L260 × W200 - L50 × W50mm |
| PBC thickness | 0.2 - 3.0mm |
| PBC transport direction | Left to right (Option: right to left) |
| Bonding capability | 13,000 UPH (under optimal conditions, includes processing time) |
| Bonding accuracy | ±5μm (3σ) (Guaranteed accuracy when using Yamaha Motor standard components) |
| Component supply configuration | 12 inch wafers  |
| External dimensions | L2,090 × D1,866 × H1,550mm |
| Weight | Approx. 3,500kg |