Yamaha Motor to Launch New Model ATVs into North America, 2016 models including new Grizzly scheduled for release
June 5, 2015
IWATA, June 5, 2015 - Yamaha Motor Co., Ltd. (Tokyo: 7272) announces that it will begin the release of its 2016 year North American market ATV (All-Terrain Vehicle) models from June 2015. The range of ATVs, which are highly popular in the North American market, is made up of the new 'Grizzly', the flagship utility model, the new 'Kodiak 700', our volume segment utility model, and the 'Raptor 90' model, aimed at youth customers.

The 'Grizzly' is a utility model principally used for recreational purposes, such as fun rides and hunting on forestry roads and rocky areas. Its main features include 1) newly-designed front and rear fenders, 2) front and rear suspension and 26-inch tires that deliver superior maneuverability and a comfortable ride, 3) a newly-designed DOHC 708cc fuel-injected engine that boasts high-torque yet easy to handle output and natural engine braking, and 4) newly-designed LED headlights and handle-mounted lights.

The 'Kodiak 700' is a utility model principally for practical field applications. Apart from the new design, it features increased functionality and convenience by sharing the 708cc fuel-injected engine, dust- and water-proof rear brakes, and handle-mounted lights (limited to models equipped with EPS) etc. with the Grizzly. The 'Raptor 90' model is aimed at youth customers (aged 10 and over), and features sporty handling characteristics, and increased ride comfort and ease of operation.
As none of these models are able to be registered to obtain license plates, they cannot be driven on public roads.

With its large expanses of ranches and other agricultural land, rough terrain and many unsealed roads, the North American market accounts for approximately 60% of the global demand for ATVs. Yamaha Motor provides a wide range of model variations, from commercial to sports types, to cover a wide variety of customer requirements.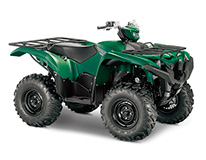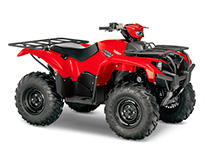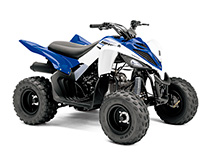 Model
Grizzly
Kodiak 700
Raptor 90
Launch Date
June 2015
RRP
From 8,899 US dollars
From 6,999 US dollars
From 2,799 US dollars
Target Sales
7,000 units
(one year from release, North America)
15,000 units
(one year from release, North America)
2,000 units
(one year from release, North America)