Yamaha Motor Launch Pakistan Motorcycle Manufacturing Base, Gearing up for the Expanding South Asia Motorcycle Market
April 28, 2015
IWATA, April 28, 2015 – Yamaha Motor Co., Ltd (Tokyo:7272) announced today that construction of the Yamaha Motor Pakistan (Private) Ltd. (abbreviated as YMPK) motorcycle manufacturing factory - which commenced in April 2014 - is complete, and a launch ceremony took place on April 27.

The new factory, with a total floor area of 17,000 m2, was built on a 20,000 m2 piece of land in the Bin Qasim industrial park in Karachi City, and commenced operation with approximately 200 employees. In 2015, the first year of production, the new factory is expected to produce 30,000 units, and will target the production between 300,000 to 400,000 units by 2020.

Yamaha Motor formed a joint venture with Pakistan-based company Dawood in 1975, and this company have been undertaking manufacturing and sales of Yamaha-branded motorcycles in the country. The joint venture came to a close in 2008, with Dawood continuing to manufacture and sell Yamaha-branded motorcycles until June 2012 as per the technical support agreement. Since then, Yamaha Motor has been seeking to reestablish its Pakistan base independently, and formed YMPK in 2013, which then led to the launch of the new factory.

The current population in Pakistan is 180 million, and is expected to reach 200 million by 2020. The vigorous consumption that has accompanied this population increase has aided the country's motorcycle market in reaching 1.65 million units in 2014. Furthermore, it is expected to exceed 3 million units by 2020.

Yamaha Motor's establishment of a new company and factory represents the company's reentry into the Pakistani motorcycle market, and is part of the business scale expansion set out in Yamaha Motor's new medium-term management plan.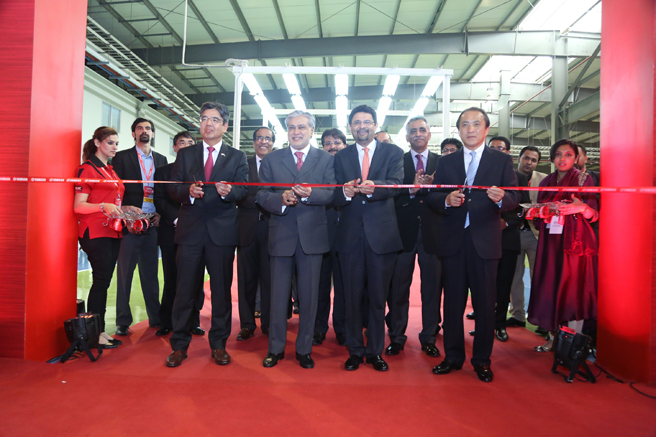 Overview of Yamaha Motor Pakistan
Company Name
:
Yamaha Motor Pakistan (Private) Ltd.
Location
:
Karachi City, Sindh Province, Pakistan
Established
:
March 26, 2013
Factory Launch Date
:
April 27, 2015
Representative
:
Managing Director Yasushi Ito
Capital
:
5.3 billion Pakistani rupees
(approx. 6.2 billion Japanese yen)
*Converted at a rate of 1 rupee = 1.17 Japanese yen
Equity
:
Yamaha Motor Co., Ltd. 100%
Business Operations
:
Manufacturing and sale of motorcycles
No. of Employees
:
Approx. 200
Production Capacity
:
40,000 units in 2015
2020 (outlook): 400,000 units