The MT-07 motorcycle and the JWX-2 power assist unit for wheelchairs, Yamaha Motor Receives Global 'iF Design Award'
February 3, 2015
IWATA, February 3, 2015 – Yamaha Motor Co., Ltd (Tokyo:7272) is pleased to announce that its MT-07 motorcycle model and JWX-2 power assist unit for wheelchairs have received the iF product design award 2015 in the product design division of the globally-prestigious iF design awards. Following the success of the MT-09 last year, this is Yamaha's second consecutive award.

The iF design awards have been awarded since 1953 by the international design promotion organization Industrie Forum Design Hanover (iF), based in Hanover, Germany. Every year, superior designs in the three categories of communication, product, and concept are selected from industrial products etc. from around the world.

Based on the concept of 'sports passion & smart', the MT-07 is a motorcycle that delivers riding enjoyment, fashionable style around town, and a cost-performance balance. Featuring an engine that is both powerful yet accessible in daily use, the lightweight, slim, and compact yet stylish body achieves superior handling and ownership satisfaction. The MT-07 has been sold since 2014 principally in Europe, but also in North America and Japan, and its popularity is growing.

The JWX-2 applies the power assist system technology from Yamaha's PAS electrically power assisted bicycles to wheelchairs, to create a power assist unit that adjusts the level of assistance based on the wheelchair hand rim input load. It can be operated smoothly even on surfaces which demand high input load, such as hills and carpets. It can also be installed on a variety of wheelchair shapes, and features the dedicated 'JW Smart Tune' software, which allows detailed setting of assist force, response, linear advancement capability, left-right balance, etc. to suit the user's condition.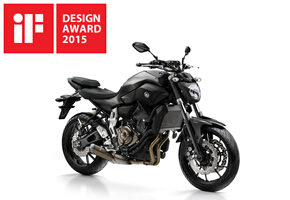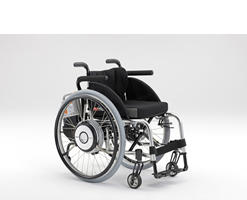 Comment from Akihiro Nagaya, Chief General Manager of the Design Center
 It is a great honor and we are very pleased that two of our products have received the globally-prestigious iF design awards.
 We believe that these designs have been highly rated for their achievements on multiple levels in a single package. The MT-07 delivers both of the seemingly contradictory design themes of the dynamic performance and functional beauty of a sports motorcycle, and accessibility that even beginners can feel peace of mind with. The JWX-2 assists users on the emotional level as well as the practical level, by helping them move from 'I'd like to go there' to 'I'm going there', and thus making everyday activities easier.
 We will continue to aim for exciting, attractive designs that enrich the lives of people around the world.