Yamaha Motor and CFAO Establish Joint Venture Motorcycle, Manufacturing and Sales Company in Nigeria, First manufacturing base in Africa for the company
December 13, 2014
IWATA, December 13, 2014 – Yamaha Motor Co., Ltd. (Tokyo: 7272) announced today that it has formed a joint agreement with CFAO S.A. to establish a motorcycle manufacturing and sales company in Nigeria. Factory operation and commencement are scheduled to commence in summer 2015.

The new company is to be named CFAO Yamaha Motor Nigeria Ltd. (CYMNG), and Yamaha Motor and CFAO (a French company, specialized in distribution of major international brands in Africa in the Toyota Tsusho Group) are to make equal investment contributions toward a start-up capital of one million dollars (approximately 120 million yen).

The CYMNG factory, which is to cover an area of 2,790 m2, will be constructed on a site owned by CFAO in Lagos, Nigeria's biggest city. Scheduled to commence operation in summer 2015, the factory has a production target of 70,000 motorcycles by 2018, the final year in the next medium-term plan.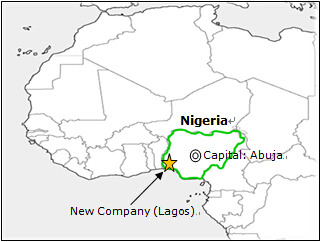 In 1980, Yamaha Motor established a motorcycle factory in Nigeria that carried out manufacture and sale of motorcycles; however, in 2005 Yamaha pulled out of production at the factory due to a decline in the market, and have since been selling motorcycles imported from Japan or India through local dealerships. This joint venture represents Yamaha Motor's second foray into the Nigerian market.

The population of Nigeria is currently 170 million, and explosive growth in the population and economy have contributed to growth of the motorcycle market to reach 1.3 million units in 2013. Moreover, the market is anticipated to grow in scale to 1.8 million units by 2020 as individual demand increases to supplement use of taxis, which currently accounts for 70% of demand.

The establishment of a new company marks Yamaha Motor's re-entry into Nigeria – the market with the greatest motorcycle demand in Africa – and represents a step toward the realization of "business scale expansion", a goal of the medium-term plan.
New Company Outline
Company Name
:
CFAO Yamaha Motor Nigeria Ltd. (Abbreviation: CYMNG)
Location
:
Lagos, Nigeria
Establishment
:
January 2015 (scheduled)
Scheduled Start
:
Summer 2015
Representative
:
Olivier Levigne, Managing Director
Capital
:
One million dollars (approximately 120 million yen)
Capital Contribution
:


CFAO S.A. 50%
Yamaha Motor Co., Ltd. 50%
Business Operations
:


Manufacturing and sale of motorcycles


Employees
:
2018 Approx. 200
Target Production
:
70,000 units in 2018(scheduled)