Yamaha Motor Releases New E-VINO Electric Commuter Bringing more practicality while priced in line with gasoline-run models
November 19, 2014
IWATA, November 19, 2014 – Yamaha Motor Co., Ltd. (Tokyo:7272) will release its new electric commuter model E-VINO from December 2014, which offers the great combination of practicality and affordability. Manufacturing and sales of the new model will be carried out by Yamaha Motor Taiwan Co., Ltd.

The E-VINO is powered by a newly-developed motor and a new 50V lithium-ion battery. Thanks to these, the new model offers both excellent battery life and ride performance - it can cover a distance of 30.1km per charge (when driven on a flat surface at 30km/h)* while featuring a boost function that provides additional power when required, such as when climbing uphill. The E-VINO also offers more practicality. For instance, the battery is removable, and its remaining level can be easily checked on the instrument panel using both a digital gauge and scale, reducing concern regarding battery level. In addition, convenient under-seat storage allows a spare battery (sold separately) to be stored.
Furthermore, by basing the body on the Vino Molfe, a popular 50cc scooter in the Japanese market, the E-VINO has functions required for easy everyday short-distance commuters while being priced similarly to gasoline-powered models.

The Taiwanese motorcycle market recorded an annual demand level of approximately 700,000 units (Yamaha Motor survey, 2013), of which 50cc-class models comprised approximately 10,000 units, and approximately 70% of these are electric scooters. The main users of electric scooters are office workers and housewives – the E-VINO is targeted for the latter, who generally use electric scooters for short-distance trips.
Yamaha Motor is also planning to launch a Japanese-spec model in 2015.
*Standard mode; rider weight 55kg; new battery; temperature 25C; dry track; windless condition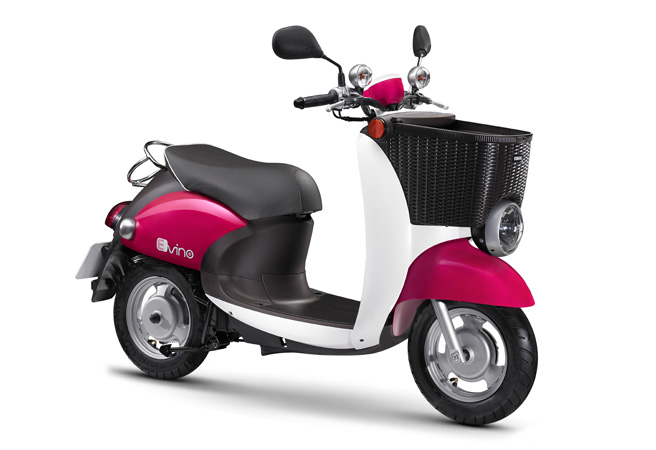 | | |
| --- | --- |
| Model | E-VINO |
| Launch Date | December 2014 |
| RRP | 58,500 TWD |
| Target Sales | 2,000 units (first full year from time of release, in Taiwan) |