Yamaha Motor to Release Two New YZF-R1 Supersport Models in Europe and U.S., YZF-R1 & YZF-R1M share lineage with MotoGP machines
November 4, 2014
IWATA, November 4, 2014 – Yamaha Motor Co., Ltd. (Tokyo: 7272) announced today the planned release of two new supersport flagship models, the YZF-R1 and its high-end counterpart YZF-R1M, first in Europe in early March 2015 and then in North America. Both models feature an entirely new 998cm3 liquid-cooled, in-line four-cylinder engine with crossplane crankshaft.

The all-new 2015 YZF-R1 and YZF-R1M are based on Yamaha's "High Tech Armed Pure Sport" concept of an all-out supersport model fully armed with advanced technology. Designed to be the fastest machines on the circuit, they allow riders to experience firsthand the technical philosophy behind Yamaha's MotoGP racing machine, the YZR-M1. Along with an impressive 200hp, these are the world's first two commercial motorcycles with a 6-axis position sensor that detects 3-axis angular velocity and 3-axis acceleration. Coupled with advanced control technology, Yamaha's sophisticated sensor provides high-dimension handling and performance, allowing the rider to devote more attention to pure riding.

Incorporating hot features from the YZR-M1 MotoGP machine, the design is an entirely new R-DNA based on Yamaha's "Speed Racer" concept, which combines a small silhouette, rider-machine unity and headlight-less front face. The high-end YZF-R1M also boasts an electronically controlled suspension, lightweight carbon fairing and a digital interface that records valuable racing information.

The European market for 1,000cc supersport models has grown considerably, led by users who are passionate about riding their machines on racing circuits. Loaded with signature technologies from Yamaha Motor, the YZF-R1 and YZF-R1M will appeal not only to developed markets, but also to emerging markets and beyond where they are expected to help drive the Yamaha global brand.

Yamaha Motor will exhibit the YZF-R1 and YZF-R1M at the EICMA international motorcycle show in Milan, Italy on November 4.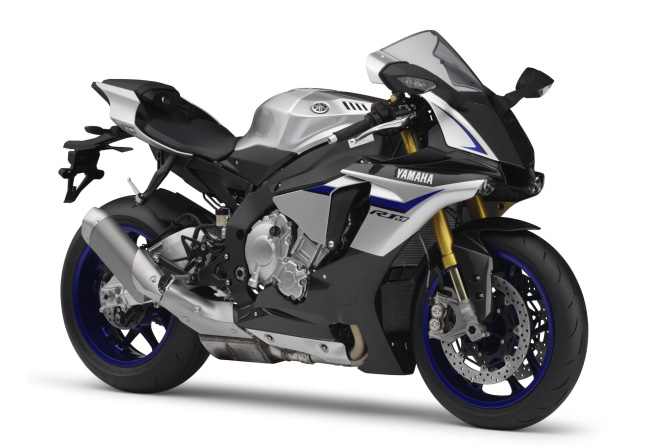 Model
YZF-R1 (Blue & White/Red)
YZF-R1M (Silver)
Launch Date
Early March, 2015
RRP
To be announced by the end of 2014
Target Sales
YZF-R1: 2,300 Units
(first full year from time of release, in the euro area)
YZF-R1M: 500 Units
(first full year from time of release, in the euro area)
YZF-R1 YZF-R1M Main Features
1) New engine developed around the concept "High tech armed Pure Sport"
The newly-designed engine, featuring a 998cm3 liquid-cooled, 4-stroke, in-line four- cylinder, 4-valve system with a crossplane crankshaft, incorporates design to substantially "increase air intake volume" and "reduce horsepower loss". This new engine achieves maximum power of 200PS, an increase of approximately 18PS over the current R1 model. Yamaha Motor's engineers implemented weight reduction technology throughout the new model to lighten it by approximately 4kg. In addition, the engine width is reduced by 34mm.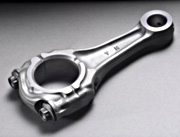 2) FS titanium connecting rod to support weight reduction and higher revs
The FS titanium connecting rod contributes to reducing both weight and loss of horsepower. Lightening the connecting rod, which works to link reciprocating and rotating motion, has led to weight reduction of the engine overall. Additionally, assembly using the FS method (Fracture Split) ensures high circularity at the large end, thereby supporting superior performance in the high revolution range. The connecting rod is made with α + β titanium alloy, which strikes a good balance between weight, strength, and processability.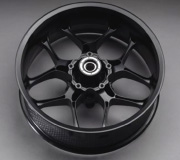 3) Cast magnesium wheels for a superior ride
Lightweight cast magnesium wheels contribute to superior riding performance. Mass production of magnesium wheels has long been considered difficult due to the complex casting mold required for the hubs, spokes and rims. However Yamaha Motor have successfully developed production technology that makes mass production possible.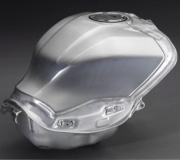 4) Aluminum fuel tank for weight reduction and ride flexibility
An aluminum fuel tank (17L capacity) has been employed to secure weight reduction and riding position flexibility. Using Yamaha Motor's unique processing technology, the deeply sculpted knee pocket is pressed into shape and finished with the latest welding technology and coating techniques to combine an excellent knee grip with stylish appearance. For the YZF-R1M, each fuel tank is carefully buffed by hand before coating with a clear paint, thus further highlighting the unique texture of the aluminum.
5) TFT LCD Digital Meters
The two models employ meters developed to act as an interface between rider and machine. The display functions are collected together on a 4.2 inch screen of fully transparent TFT (Thin Film Transistor) LCDs. The full screen is a digital display, but leverages the minimum unit level dot display to create a "bar display tachometer", accelerometer and brake pressure displays etc. that give a similar visual impression to analog meters. The rider can select from two different display modes: "Street", which is tailored to travel on public roads, and "Track" which prioritizes the information displays required for race and circuit riding.
6) Drive support via a built-in IMU and control system
The two models are fitted with a 6-axis IMU (Inertial Measurement Unit) and five types of control systems. The IMU comprises a gyro sensor that detects rotational motion in the "pitch", "roll", and "yaw" directions, and a G sensor that detects the velocity in the "forward and back", "up and down" and "left and right" directions. The calculated vehicle position information obtained from these two sensors, such as the bank angle, pitch rate, and sideways slide acceleration, is sent to the ECU to be reflected in the sequentially optimal output. This ECU is programmed with the following five types of control systems: (1) a new TCS that also conveys bank angle information (traction control), (2) an SCS that reflects sideways slide of the rear tire (slide control), (3) an LIF that deters loss through wheelies etc. (lift control), (4) an LCS that supports the quick takeoff required in racing (launch control), and (5) a QSS that supports fast gear shift (quick shift).
7) High-end model YZF-R1M
ÖHLINS electronically controlled suspension and ERS (electric racing suspension) are used with the YZF-R1M to further draw out potential for on-circuit performance. The SCU (suspension control unit) supports riding through integrated control of the front and rear suspension extension/compression damping force based on information from the IMU and sensors. In addition, this model employs features such as lightweight highly-textured carbon fairing, data logging functionality that records riding conditions, and 200mm wide rear semi-high grip tires.
8) Fitted with a CCU (Standard fitting on YZF-R1M, option on YZF-R1)
A CCU (Communication Control Unit) is employed to heighten the rider/machine interface through simplifying the settings and checking the vehicle information. Comprised of a CCU unit and GPS antenna, it enables recording of the riding conditions through logging functionality, and automated circuit lap time measurement using GPS. It is also possible to create settings data on smartphones via an application that can be downloaded to any Android-based smartphone.
9) Design that asserts the new R-DNA
Based on the "Speed Racer" concept, the new models have a light, slim, and compact look. This is achieved primarily by emphasizing horizontal lines and minimizing the surface area of the fairings. The new fairing shape features the cross-layered wing – an aerodynamic characteristic which allows airflow to cross between the inside and outside of the fairing. The front face of the new models inherits the twin-headlight configuration found in the R-series of the past, yet it bears a strong resemblance to YZR-M1, thanks to the design that obscures the presence of the headlights and the allocation of a center duct. In addition, fairings and screens with a raised center combine with the wide seat to create an entirely new R-DNA which incorporates the essence of the YZR-M1.
Main Specifications of the 2015 Europe Model YZF-R1
- YZF-R1M specs are given in square brackets
| | |
| --- | --- |
| Length × Width × Height | 2,055 × 690 × 1,150mm |
| Seat Height | 855mm [860mm] |
| Wheelbase | 1,405mm |
| Weight | 199kg [200kg] |
| Engine Type | Liquid-cooled, 4-stroke, DOHC, 4-valve |
| Cylinder Arrangement | In-line 4-cylinder |
| Total Displacement | 998cm3 |
| Bore x Stroke | 79 x 50.9mm |
| Compression Ratio | 13.0: 1 |
| Maximum Output | 147.1kW (200PS)/ 13,500r/min |
| Maximum Torque | 112.4N・m (11.5kgf・m)/ 11,500r/min |
| Starter System | Electric |
| Fuel Capacity | 17L |
| Fuel Delivery | Fuel injection |
| Tire Size (Front/rear) | 120/70ZR17, 190/55ZR17 [200/55ZR17] |
YZF-R1 Features