Top ASEAN Region Riders Aiming for the World Stage Contest the Suzuka 4 Hours Endurance Road Race
July 23, 2014
IWATA, July 23, 2014 – Yamaha Motor Co,. Ltd. (Tokyo: 7272) announced that Yamaha Motor group company PT. Yamaha Indonesia Motor Manufacturing (YIMM) will enter two teams (Yamaha Racing Indonesia A and Yamaha Racing Indonesia B) riding the YZF-R6 in the ST600 Class of the Suzuka 4 Hours Endurance Road Race/Round 4 of the 2014 Suzuka-Kinki Road Race Championship and Suzuka Sunday Road Race series, to be held on July 26, 2014. The race will be run as a joint event (support race) with the "Coca-Cola Zero" Suzuka 8 Hours Endurance Road Race that kicks off on July 24.
The four riders originally scheduled to enter with these two teams are top competitors in Indonesian racing, including the INDOPRIX series, the country's premier race series for sporty underbone type models. However, injuries have unfortunately forced one of the riders to withdraw from the race, and he will be replaced by former Yamaha factory rider, Shigeru Ibaraki.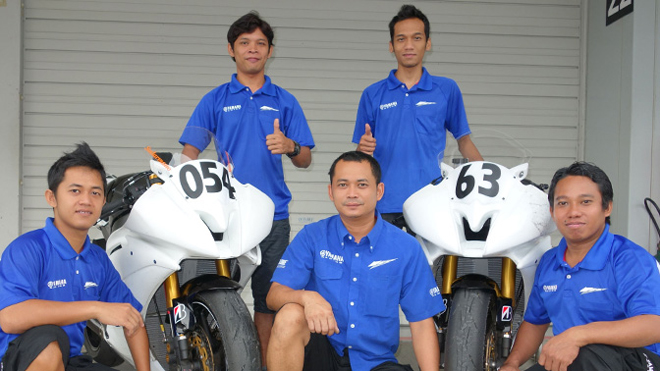 In its efforts to build a sound and prominent motorcycle culture in Indonesia, YIMM makes active use of racing-related promotions not only by supporting and participating in domestic and foreign motorcycle competitions but also by working to nurture the next generation of riders through programs like racing schools and participation in the YAMAHA ASEAN CUP RACE. YIMM also promotes motorsports through sponsorship in MotoGP, the pinnacle class of international motorcycle road racing, and inviting MotoGP riders to Indonesia for fan events. In recent years, Yamaha Motor has also introduced the YZF-R1 and YZF-R6 supersport models and the YZF-R25 full-fledged 250cc supersport model on the Indonesian market. And, with the growing popularity of the Asia Road Race Championships, YIMM has also been engaging in programs to train and nurture top-class Asian riders and mechanics to maintain and build Yamaha's sporty brand image.
The project to compete in the Suzuka 4 Hours this year was launched as a part of these efforts. Due to the riders and mechanics lack of racing experience on the YZF-R6 and knowhow for endurance racing, a program of training sessions at Suzuka circuit and other tracks to build their skills in these areas has been underway since early April of this year.
In June, the teams entered in one of the races of the Suzuka Sunday Road Race series at Suzuka Circuit as their first competition in Japan, and proved their progress by finishing among the top teams while also verifying the areas they needed to work on to reach the next level in their preparation for the Suzuka 4 Hours.

At the same time, Malaysian Yamaha Motor group company Hong Leong Yamaha Motor Sdn. Bhd. (HLYM) is also entering its PETRONAS Hong Leong Yamaha Malaysia team in the ST600 Class of the Suzuka 4 Hours on the YZF-R6. Its riders are the 2013 champion of the Malaysian Cub Prix Championship, and Katsuki Satori, who is currently competing in regional races around Japan for the 41Planning team managed by former GP rider, Youichi Ui.
Yamaha Racing Indonesia A #24

Imanuel Putra Pratna (Age: 17)

Racing career
2013:
2012:
2011:
6th in IRS Supersport class (600cc)
3rd in One-make Race (250cc)
3rd in Round 1 of IRS Supersport (250cc)

Shigeru Ibaraki (Age: 45)

Racing career
2013:
1991:
1990:
2nd in Suzuka 4 Hours Endurance Road Race
2nd in All Japan Road Race Championship (International A F-3 class)
Champion of All Japan Road Race Championship (International A 250cc class)



Yamaha Racing Indonesia B #56

Sudarmono (Age: 29)

Racing career
2013:
2012:

2011:
4th in INDOPRIX (IP125), 3rd in INDOPRIX (IP110)
6th in INDOPRIX (IP125), 3rd in INDOPRIX (IP110)
4th in IRS Supersport 600cc
5th in INDOPRIX (IP125), 3rd in INDOPRIX (IP110)

Sigit Purno Harjono (Age: 26)

Racing career
2013:
2012:
2011:
Two-class champion of INDOPRIX (IP125 and IP110)
2nd in INDOPRIX (IP125), 19th in INDOPRIX (IP110)
2nd in Round 1 and 2 of YCR MP1 (125cc Seeded)



PETRONAS Hong Leong Yamaha Malaysia #50

Ahmad Afif Bin Amran (Age: 19)

Racing career
2013:

2012:
Champion of Malaysian Cub Prix Championship Underbone 115cc
Champion of Malaysian Super Series SS600 (B)
6th in Malaysian Cub Prix Championship CP115

Katsuki Satori (Age: 16)

Racing career
2014:

2013:
2nd in Round 1, 3rd in Round 4 of Motegi Road Race Championship J-GP3
3rd in Round 1 of Suzuka Sunday Road Race series J-GP3
Champion of Tsukuba Road Race Championship J-GP3
1st in Round 3 of Sugo Road Race Championship J-GP3
2nd in Final Round of Motegi Road Race Championship J-GP3