Yamaha Motor Receives Global 'iF Design Award' European-market Sports Model 'MT-09'
February 3, 2014
Yamaha Motor Co., Ltd is pleased to announce that its MT-09 sports model has received the iF product design award 2014 in the product design division of the globally-prestigious iF design awards.
The iF design awards have been awarded since 1953 by the international design promotion organization Industrie Forum Design Hanover (iF), based in Hanover, Germany. Every year, superior designs in the three categories of communication, product, and concept are selected from industrial products etc. from around the world. In FY 2014, a large number of applications were received from 55 countries, and 1,220 items were selected from among various products in the product design division.
On sale principally in Europe from September 2013, the 'MT-09' features a newly-designed engine developed based on the Crossplane Concept, which aims to deliver linear torque generation in response to rider throttle input. This model offers the sharpness of handling at will in sync with the rider's intentions in everyday speed ranges.
The design is a fusion of different elements - the naked and supermotard concepts, and features a mass forward silhouette which delivers nimbleness and freedom of handling, as well as a feeling of concentrated mass that enables unrestricted movement in any direction evoking a free spirit.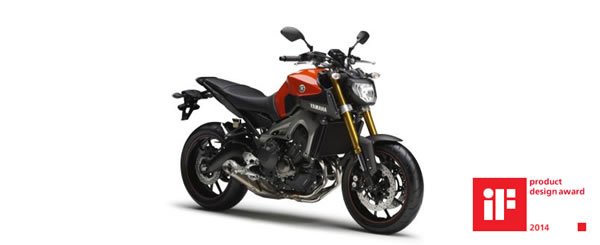 Comment from Kazumasa Sasanami, chief of the Design Development Department of GK Dynamics Incorporated.
Our entire development team is thrilled and very proud that the MT-09 has received one of the world's most prestigious design prizes, the iF design award. We worked very hard to achieve a motorcycle that incorporates a sporty feeling during everyday use by setting a speed range at a lower, more enjoyable level, and a nimble riding position that allows greater freedom of movement. In order to compress a superior riding performance into an extremely compact body, the development team worked as one to create a fresh new, highly-rated type of styling. We will continue to devote ourselves to creating attractive designs the rider can enjoy in their everyday riding.