The 10th YAMAHA ASEAN CUP RACE. Host country Indonesia wins the overall title for the sixth time
December 2, 2013
IWATA, December 2, 2013 - Yamaha Motor Co., Ltd. (Tokyo: 7272) and P.T. Yamaha Indonesia Motor Manufacturing (YIMM) held "The 10th YAMAHA ASEAN CUP RACE" at Sentul International Circuit (Overall length: approx. 3.96 km) in West Java, Indonesia, over the two days of November 30 and December 1, 2013. This event is an international one-make championship competition that aims to crown the No. 1 rider in the ASEAN region.
Large crowds totaling some 50,000 spectators gathered over the two days at the circuit to watch the competition by teams consisting of a total of 41 riders selected through national qualifiers in the five participating countries, including the host country of Indonesia and the Philippines, India, Thailand and Malaysia, and three special-entry riders from Japan. Racing under optimum conditions in an exciting and competitive atmosphere, the riders battled aggressively in thrilling races. When the competition was over, the ST Class (YZF-R15) was won by a Thai rider who finished 1st and 2nd in the two heats, while the MT Class (JUPITER Z1*) was won by an Indonesian rider who placed 3rd in both heats in front of the cheering home crowd. The overall team championship title went to Indonesia for a record sixth time. Other attractions at the event, such as demo runs highlighting the world of larger sport motorcycles recently being introduced in the Indonesian market, helped to further spread the sporty brand image that Yamaha has continued to build in the ASEAN region.
*"JUPITER Z1" is the model's Indonesian market name.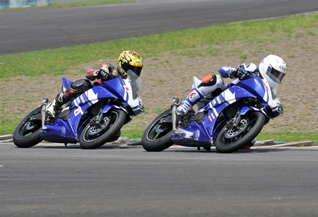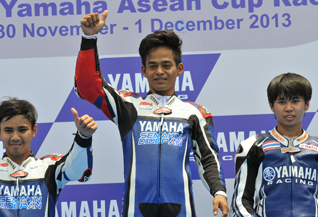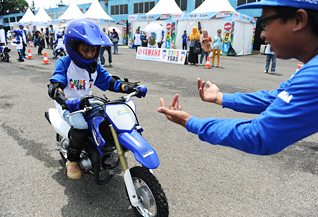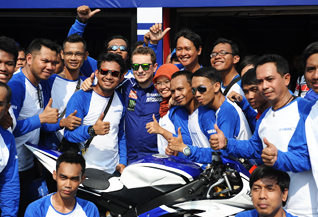 YAMAHA ASEAN CUP RACE Participant Comments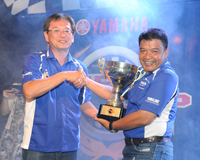 Overall Team Winner: Apmansyah Tajung, Indonesia Team Manager
"We were expecting to have a tough competition again this time, with strong riders and teams from each ASEAN country, but it turned out to be even tougher than we had thought. I believe we were able to win, however, because of the support from YIMM, the great cheers of support from the many spectators that came to the circuit and the excellent performances our riders gave. This fills me with joy and happiness. This was the 10th holding of the YAMAHA ASEAN CUP RACE and it has become a very important event for the riders of the ASEAN region to improve their competitive skills and to raise themselves to the next level. For this reason, I hope that Yamaha will continue to provide opportunities like this and that many young riders will continue to take on the challenge of competing in this event."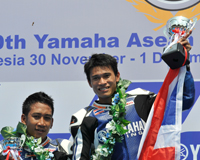 ST Class Champion: Prawat Yannawut (Thailand)
"This was my fifth time competing in this event. I have felt that competing here each year against riders from other countries has helped me improve the level of my racing. Also, I have thought that it is a very important race because of the chance it offers to move up to the next step as a racer. So I am truly happy to have won the championship, and this victory has given me new confidence as a competitor. My dream for the future is to compete in Moto2 or Moto3 of the world championships, but my first goal now is to compete in the 600cc class of the All Japan Road Race Championship. There in Japan, I want to become a champion like our former YAMAHA ASEAN CUP RACE winner from Thailand, Decha Kraisart."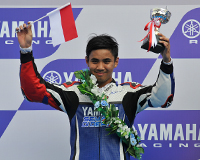 MT Class Champion: Richard Taroreh (Indonesia)
"This was my first time competing in this event. In fact, I had tried to qualify for our national team several times in the past and I was satisfied to simply make the team this time. But to also win the champion's title makes me so completely happy. With all of the highly skilled riders here, I was also able to learn new things, and I think it gave me the opportunity to improve my level as a rider. I now want to use this experience to move up to higher levels of competition, and my eventual dream is to become a MotoGP rider. Finally, I want to say how grateful I am to YIMM and the team for the support they gave me and to all the spectators that cheered for us. Thank you all."
Race Results by Team
| Place | Team | ST Class Points | MT Class Points | Total |
| --- | --- | --- | --- | --- |
| 1 | Indonesia | 63 | 125 | 188 |
| 2 | Thailand | 103 | 74 | 177 |
| 3 | Malaysia | 69 | 47 | 116 |
ST Class Race Results
Place

No.

Rider

Team

Points

Total

Heat 1

Heat 2

1

28

Prawat Yannawut

Thailand

25

20

45

2

48

Izzat Zaidi Salehan

Malaysia

10

25

35

3

15

Paitoon Nakthong

Thailand

9

13

22

4

6

Taiga Hada

Japan

13

7

20

5

12

Ketut Madiasta

Indonesia

20

0

20

6

126

Ervantona

Indonesia

8

11

19

7

52

Mohd Shariffuddin Shamshuddin

Malaysia

11

8

19

8

98

Sirichai Yuankoed

Thailand

16

3

19

9

95

Sulung Giwa

Indonesia

0

16

16

10

8

Ernie Daguio Jr.

Philippines

3

9

12
MT Class Race Results
Place

No.

Rider

Team

Points

Total

Heat 1

Heat 2

1

179

Richard Taroreh

Indonesia

16

16

32

2

2

Herman Bass

Indonesia

25

7

32

3

24

Peerapong Louisboonpeng

Thailand

20

11

31

4

118

Muhammad Adib Rosley

Malaysia

3

25

28

5

99

Galang Hendra

Indonesia

4

20

24

6

199

Syahrul Amin

Indonesia

8

13

21

7

5

Peerapong Boonlert

Thailand

10

10

20

8

123

Reza Dhanica

Indonesia

13

3

16

9

10

Kazunori Kaizaki

Japan

9

6

15

10

9

Akkarat Penjan

Thailand

11

2

13