Release of the "Xeon RC" AT commuter model for the Indonesian market. Now with fuel injection and other features for greater economy and acceleration
January 15, 2013
Yamaha Motor Co., Ltd. announces the mid-January 2013 release of the new "Xeon RC," an automatic transmission (AT) model for the Indonesian market powered by a 125cc liquid-cooled 4-stroke engine. This model is manufactured and marketed by group company PT. Yamaha Indonesia Motor Manufacturing (YIMM).

The current Xeon model was launched in 2010 and has sold approximately 360,000 units in Indonesia. In line with Yamaha Motor's drive to increase competitiveness of its motorcycles in the ASEAN region by outfitting them with fuel injection systems, the Xeon RC mounts Yamaha's exclusive YMJET-FI* fuel injection system along with other new features that improve fuel efficiency, boost acceleration and overall running performance. In addition, the body has been redesigned for a more sporty and dynamic new look. The coloring of the model is based on the concept of an "X-TREME SPORT RACING CAR" and expresses the speed and power of a high-performance sports car that is sure to appeal to many Indonesian customers' preference for sporty appeal.

As demand in Indonesia's motorcycle market continues to shift toward automatic transmission models, the new Xeon RC answers the calls of users looking for value that makes their motorcycle more than simply a means of transportation; with its fuel injection system and other features that improve fuel economy and boost acceleration performance, plus the sporty new coloring and design. This heightened product appeal will surely lead to another expansion of sales in the Indonesian market.
All this makes the new Xeon RC another model that will contribute to the aim of "expanding business scale and increasing profitability" laid down in Yamaha Motor's new medium-term management plan announced in December 2012.
*YMJET-FI (Yamaha Mixture Jet-Fuel Injection): A fuel injection system employing an auxiliary air intake passage besides the main passage to provide an "air assist" for more efficient mixing of the air and fuel that helps improve fuel economy in the practical use range.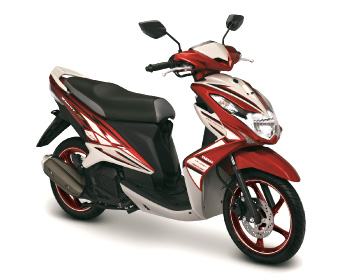 | | |
| --- | --- |
| Model name: | Xeon RC |
| Release date: | Mid-January 2013 |
| Manufacturer's suggested retail price: | 15,100,000 IDR (on the road price in Jakarta) |
| Sales target: | 250,000 units (first year from time of release in Indonesia) |