Yamaha's European market sporty commuter model TMAX. Wins world-renowned "red dot design award"
| | |
| --- | --- |
| | June 5, 2012 |
Yamaha Motor Co., Ltd. proudly announces that its 2012 model TMAX, a European market sporty commuter model powered by a 530cc engine with CVT, has won the internationally renowned red dot design award in the "product design 2012" category.
The red dot design award, organized by Germany's Design Zentrum Nordrhein Westfalen, is one of the world's largest and most distinguished design competitions. Internationally prominent design professionals judge designs in nine categories including innovation, functionality, quality and ergonomics to select products with designs of outstanding quality.
In 2012, 1,800 companies and designers from 58 countries registered to the "red dot award: product design," submitting a total of 4,515 products in the competition's 19 categories ranging from automobiles and motorcycles to home electronics, furniture, homes, eyeglasses and cameras. Among the eventual winners of the "red dot award: product design 2012" was the Yamaha TMAX, which became the first Yamaha Motor product ever to win this prestigious award.
Since its initial release in 2000, the TMAX has held a high reputation primarily in the European markets as a "sporty commuter" model. The 2012 European model TMAX underwent a full model change, heightening engine and drive train performance to take the running performance to an even higher level. At the same time, it received a new exterior design that achieves a more aggressive look while maintaining the TMAX's distinctive design character based on visually linking the front and rear wheels.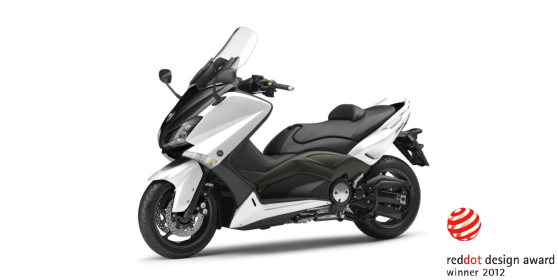 The 2012 European market spec TMAX
Comment from Kenji Otombe, Design Manager for the TMAX, ELM DESIGN CO., LTD.
On behalf of the entire design team, I would like to say how excited we are that the TMAX's concepts, styling and functions were recognized with the red dot award, one of the world's most prestigious awards for design. I believe this award represents recognition of the way our design expresses the TMAX's excellent comfort as a commuter, stellar running performance, the attention to detail in creating a feeling of true quality and working a sense of excitement into the styling. Accepting this award renews our commitment to creating newer and even more attractive designs going forward.
*The red dot design awards have been presented annually by the Design Zentrum Nordrhein Westfalen of Germany since 1955 and are widely recognized as one of the most prestigious design awards in the world. The awards are given in the three categories of product design, design concept and communication design. Of these, the product design category is open to products released within the last two years. The products are judged in nine areas, including innovation, functionality, quality and ergonomics. The awards ceremony for the 2012 winners will be held on July 2nd in Essen, Germany and the awarded products are to be displayed in a special exhibition at the red dot design museum.